Spring Clean the Toxins: How to Get Started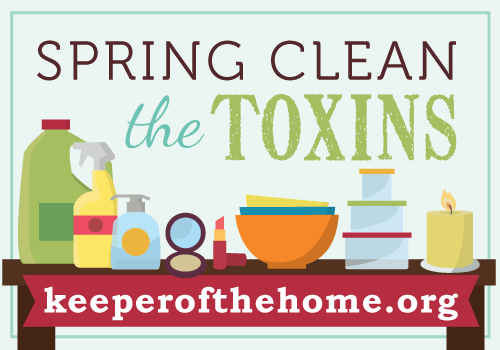 Not only is spring a perfect time to freshen up your house when it comes to scrubbing baseboards and washing blinds and all those "cleanliness" tasks, but it's also an idea time to think about the unseen invaders lurking in your home…
That's right– dangerous toxins!
It's beginning to be common knowledge that many of the beauty and skincare products, cleaning supplies, foods, kitchen items, and even furniture, decor and clothing in our homes contain harmful chemicals that make their way into our body through our skin, our mouths, and our lungs.
Though invisible to the naked eye, and often absorbed in minute amounts, these toxins have very real and serious effects.
So what do we do about it?
Never wanting to overwhelm anyone, I opted not to run a formal day by day challenge to hold you accountable to setting goals and accomplishing them. That can be a useful way to do it, but I know that as an eager, but very busy mom, I sometimes get idealistic and bite off more than I can chew when it comes to making healthy changes for myself and my family.
What I opted for instead is to run a "Spring Clean the Toxins" month, where we will be sharing information and helpful resources on various toxins, with ideas for you to make simple changes to avoid them. These posts will not be every single day, but interspersed throughout the month, giving you regular food for thought.
The point isn't for you to take on each area that we post about. Instead, we hope to:
Bring some awareness to toxins that you might not have known were in your home or in particular products, and to educate on what makes those toxins so harmful in the first place.
Point you to resources for those who are ready to pursue removing that particular toxin from their lives as much as possible.
Suggest simple steps that you can take to make it happen.
Have a permanent resource so that when you decide you'd like to switch to a homemade air freshener (for example) four months down the road, you know where to find the info that you need.
Ready to get started?
For those who feel eager and ready to jump into the task of detoxifying their homes and lives, I've gathered up as many previous posts written by myself or my contributing writers, touching on various elements of avoiding toxins or switching over to more natural and healthy alternatives.
This list includes helpful posts from the archives, and will also be updated throughout the month as new posts go up:
Cleaning
Two Recipes for Odor-Eliminating, Air-Freshening Sprays
Back to the Basics: Frugal, Non Toxic, Green Cleaning
Forget the Bleach: How to Use the Sun to Whiten Your Whites
Clean Your Shower or Bathtub Simply
A Natural Stain Remover that Really Works
The Stain Removal Trick that Saves Kids Clothes, Money and My Sanity
How to Get Set in Stains Out of Almost Anything
Better, Cheaper, Safer 4-Way Soft Scrubber
Non-Toxic Cleaners You Can Make at Home
Natural and Eco-Friendly Laundry Soap Review: 5 Moms Test and Compare
Beauty, Skincare and Hygiene
Gentle, All Natural Deodorant Stick Recipe
My Mama Cloth Adventure and Review of Four Sources
My Thoughts on Sunscreen Part 1 and Part 2
Safe and All Natural Beauty Products You Can Make at Home
Making My Own Shampoo and Conditioner (Using the No 'Poo Method)
How to Wash Your Face Using the Oil Cleansing Method
Identifying and Avoiding Toxins in Beauty and Personal Care Products
Gardening/Yard Care
Heirloom Seeds: What They Are and Why I Think You Should Grow Them
Naturally Controlling Pests in the Organic Garden
In the Home
Harmful Handwashing: The Dangers of Antibacterial Soaps
How to Protect Your Family from the Dangers of Formaldehyde
How I Stock my Natural Medicine Cabinet
Using Houseplants to Reduce Toxins and Grow Fresh Air
In the Kitchen
My Simple Cast Iron Care Routine
The Great Debate: Washing Our Fruits and Vegetables
The Dirty Dozen: Making the Most of the Money You Spend on Organics
Using Stoneware for Baking and Cooking
31 Ways to Use a Mason Jar in Your Kitchen
Babies and Children
Safe and Natural Children's Toys
Healing Rashes While Cloth Diapering
Children's Sleepwear: Avoiding Flame Retardent Chemicals
General Ideas
9 Toxins to Remove From Your Life
What will you do next?
I find it helping when making changes like these to pick one or two that I'm ready to focus on next, and create goals or timelines for myself to ensure that the changes actually happen.
Is there an area that stands out to you? 
Maybe it's getting rid of the teflon in your kitchen and moving towards cast iron or stoneware instead. Maybe you've recently heard some concerns about antibacterial soap and you want to consider whether you should stop buying it. You might choose to replace one conventional cleaner with a more natural one, like a soft scrub or air freshener. Or as a green thumb, learning to use plants in your home to effectively reduce toxins might be right up your alley.
The options are limitless, but all you have to do is start somewhere. Anywhere.
And it really doesn't matter what it is, just that you're making changes towards healthy living in small but positive steps.
Take your pick (and keep watching throughout the month for more ideas), then write your goals in your planner, on a white board, on an index card stuck to your fridge… anywhere that you'll see them and be reminded.
Tell us… what will you do next as you move towards a less toxic home and lifestyle?