My Mama Cloth Adventures and Review of Four Sources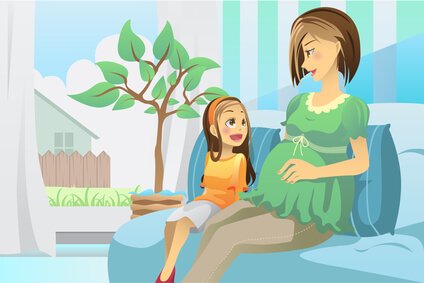 Written by Natalie Klejwa, Contributing Writer
What in the World is Mama Cloth?
Eighteen years ago I cloth diapered my first two babies in white cotton pre-folds coupled with Gerber's hard, crinkly plastic pants. Not because it was fun and I wanted to. I did it because we were dirt poor. We didn't have a "pot to pee in", as my mother would say.
Since the baby boys couldn't pee in a pot yet anyway, we had to find a cheaper alternative than disposables. By the time #3 came along, we were able to indulge in the luxury of disposables, and I never looked back.
Until four years ago.
Number seven came along, and one of my younger, more hip friends introduced me to the *new* cloth diapering wave. I was HOOKED! (Are you wondering what this post is really about? Bear with me. I'm getting to the Mama Cloth.)
I became infected with "cloth diaper addiction" and learned all the lingo on Diaper Swappers. And that, girlfriends, is where I first heard the term, "Mama Cloth".
I knew immediately what it meant. 
A trip back to Bible times. Bloody strips of stained cotton. Scrubbing those strips in the river nearby with the other women. That is what I envisioned, and let me tell you…there was NO WAY on God's green earth I was going there. The very thought made me feel the cookies coming up.
Fast forward a couple of years. I was still hooked on cloth diapers, and I had read a few reviews of Mama Cloth…mainly out of morbid fascination. I wanted to know what these "Bible times" (or maybe hippie??) ladies had to say about their bloody strips of cotton.
I found out they weren't bloody strips of cotton, after all. They were these lovely, soft, luxurious, trim little things that didn't leak, felt comfy, and were easy to wash…especially if you were already cloth diapering. (Just throw them in with the diapers!)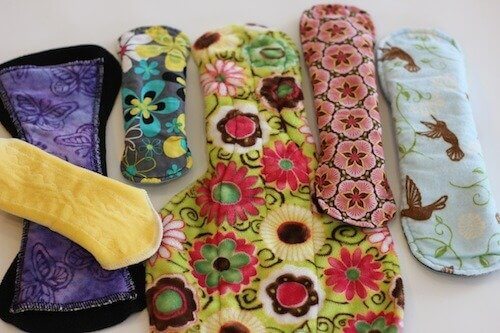 Hummmmm…pretty? Comfy? Didn't leak? I tucked all that in the back of my mind. And then, a few months ago, my oldest daughter started showing all the signs that she would be cycling soon. (And not on her bicycle, either.)  That got me thinking about the three other little girls that are growing up so fast, and how, one day, there will be four of them (I'm sure I'll be in menopause by then) cycling every month.
And THAT got me thinking about all the pads we'd need to buy.  The money we'd need to spend. The garbage that would be piling up. Just from our family! I jumped over to Diaper Swappers and started reading MORE about Mama Cloth…this time with an eye to try some. I was expecting a baby in March, and I thought perhaps a postpartum experiment would be in order.
Based on the reviews, I chose four companies that sounded promising, and I bought a few pads from each just to try them out. The rest of this post is just my personal opinion about these pads. What I love, you might hate. What I did NOT love…you may find to be the ultimate solution to your personal happiness. I will tell you that I paid full price for these pads, so at least you know my opinion is unbiased and not based on a feeling of gratitude to someone for giving me free Mama Cloth.
The Essence of Eve panty liners ~$5.00 each
The Essence of Eve
I decided that the pad I use most is a panty liner. I use those every single day, and now that my daughter is in "pre-cycle" mode, she needs to use them every day too. I found some very simple, economical liners at Essence of Eve for only $5 each. My daughter and I have been using these every day for several months, and they are still in fabulous condition after being laundered over and over.
There's nothing fancy or pretty about these liners, but they are practical and cheap. And they'll probably last a few years. This was my very first Mama Cloth experience, and I was pleasantly surprised to find that I MUCH preferred the soft fleece to the papery disposable liners. I was looking forward to expanding my Mama Cloth repertoire now!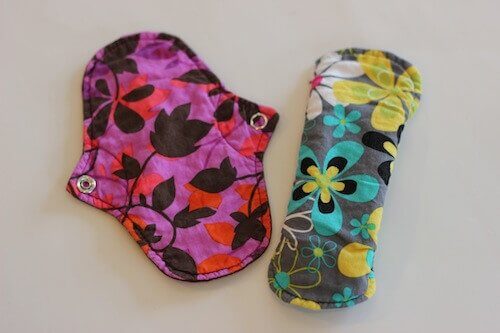 Party in My Pants  Mini liners $9.99 each
Party in My Pants
While I'm not super excited about the name of this company (I am a Christian woman, after all), if you can get past the name, this company has some pluses.
Their customer service is AMAZING. I ordered my "personal party" on a Friday morning…and got my little lovelies the very next day!   They were wrapped in tissue paper (like a gift) and came with a chocolate. Why, by George, if I didn't just sit down and have a party!
So now that I could understand the company name a little bit better, with chocolate lips, I unwrapped the goods. I purchased two beautiful, thin, cotton panty liners. The fabric selections were all so pretty…it was hard (and loads of fun) to choose! Now these liners were TWICE the cost of the Essence of Eve liners, but they were also more professionally made.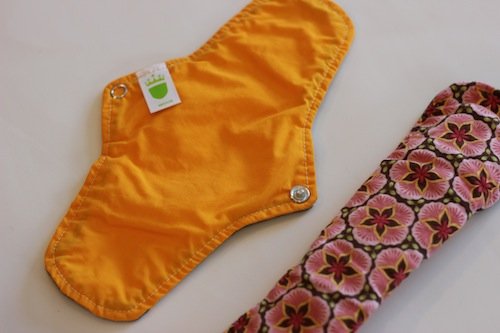 Party in My Pants has a waterproof backing to prevent leaks
All PIMPS pads (yes, cringe if you must, I certainly am) have a leak proof backing which is awfully nice, especially if you are nervous about leaks, like I am. The other neat thing about these pads (all sizes) is that they are as thin as a razor. (OK…not that thin…but THIN.) So if you worry about a big thick bulge in your back side…one modest option is to cover it up with a longer top, but if it must show…and you don't want the bulge to distract…then these pads are certainly something to consider.
Party in My Pants: two medium, all cotton pads for $12.99
I also purchased two medium, all cotton pads for $12.99 each and four of their super pads in the flannel version for $13.99 each. They offer free shipping if you place an order over $100, and they also give you $1 discount per pad if you order three or more.
After I had my baby, I tried both the cotton and the flannel versions of these pads and found that the flannel was softer and nicer than the cotton. I *think* the leak proof backing actually adds a stiffness to these pads that make them a little less comfy than all the other pads I tried. The flannel helped to offset some of that stiffness, but the cotton pads were too stiff for my liking.
Party in my Pants super pad in flannel $13.99 each
The bottom line for me was that these pads are not as comfortable as some of the others I tried, and the benefits of the leak proof backing and the razor thinness of the pads (not to mention the delicious chocolate) are not worth the uncomfortable feeling I had in my pants when I was wearing them.
Party? Not so much.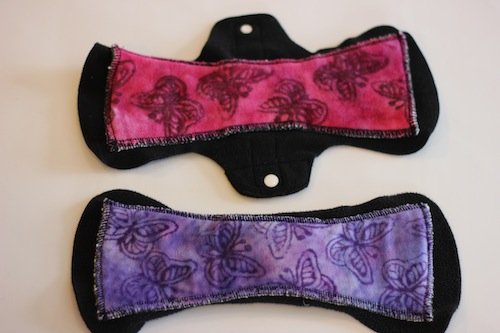 Domino Pads  Medium Regulars $12.80  Heavy Regulars $13.95
A few nights ago as I sat up in the wee hours of the morning with my newborn, I got to thinking. What does the word 'Domino' have to do with a woman's cycle? I don't know, maybe it's just me. Maybe it's because I'm sleep deprived, but I don't get it. Regardless of what the connection is (or isn't), these pads are terrific. 
Oh Domino Pads, how do I love thee? Let me count the ways:
I love the super soft, absorbent, natural bamboo material that they use.
I love the contour fit.
They wash up beautifully.
They are cushy and comfy.
Super soft. (Did I already say that?)
No leaks.
The dark, swirly colors make it hard for stains to show.
These are my top pick. In fact, I loved the four pads I bought so much, I went back and bought some more. I have to say, the comforting feel of these pads on a sore, postpartum mama was a real blessing.
While I love Domino pads, there was a final company that came in a very, very close second for me.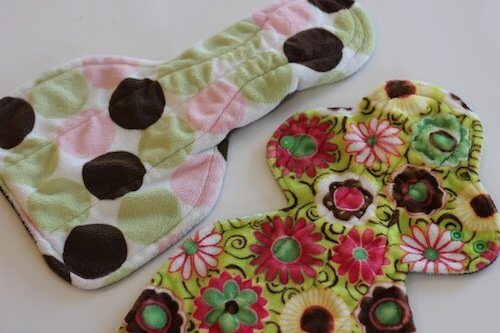 Talulah Bean Baby Moon Super $15.95
So…I don't know what a talulah bean is. I've never seen them in the canned goods section of Walmart, anyway. Bean rhymes with green though…and cloth pads are a very "green" choice these days. These particular pads are as dreamy to wear as they are to look at. I only bought two of their Baby Moon Supers for my postpartum nights, and they did the trick quite nicely.
This company uses minky material to make their gorgeous pads. I LOVE minky. Plus I love the WORD, "minky". It makes me think of "silky", "pretty", "cutie", and a host of other appealing things. You know…sort of helps to disassociate oneself with the actual reality of one's cycle, which is not quite so "minky".
I loved these pads so much, that I went and bought a little stash of pretty pads for my daughter who will be getting her cycle in earnest very soon. They are a little smaller in size than the Domino Pads, making them a good choice for your medium days, although they do have these wonderfully large Baby Moon pads that are PERFECT for nighttime.
Thus ends my own Mama Cloth adventure. Now it's YOUR turn. If you use Mama Cloth, what are your favorites? And if you don't use them, feel free to share why.
Or maybe this post has you thinking for the very first time…"why not?"
Stephanie's note: Adding my two cents in, as usual… I love Natalie's reviews and might have to go purchase a few new lovelies for myself (mmm, chocolate), but did you know that it's also easy to make your own, if you are "sew" inclined and want to make it even more cost effective? I prefer my bought pads to the ones that I've made, but nonetheless. It's a good option for some.