Two Recipes for Odor Eliminating, Air Freshening Sprays
I love the concept of Febreze and other products that are intended to remove odors and freshen things up. Goodness knows that our home has lots of places that can use just such a spray– the kitchen garbage can, the diaper pail, the downstairs bathroom, the minivan.
When I began to switch over my household cleaning supplies to gentler versions that cleaned minus the toxic chemicals, I thought that my air-freshener days were over. Though it smells great, when you start researching the ingredients in products like Febreze (Benzisothiazolinone, Sodium Polyacrylate, Cyclodextrin, and synthetic fragrance, for example), you quickly discover that it's not the sort of thing that you want floating through your home.
Sometime last year, I discovered these two simple recipes for making my own freshening sprays. They're incredibly inexpensive, they smell pretty, they work on odors and they take so little time to make.
Two Natural and Simple Air Freshening Recipes

Recipe #1

You can double this depending on the size of your bottle.

12-15 drops of pure essential oil (I like grapefruit, orange, lemon, and lavender, but go with any scent that you enjoy)

1/2 cup white vinegar

1 1/2 cups water
You can also make an even stronger version of this spray by using a higher ratio of vinegar to water and upping the essential oils (more like 20 drops) to use in a small diffuser bottle. This works better for just a quick spray into the air to freshen up a bathroom before guests, as opposed to the less concentrated spray that you would spray directly onto/into items.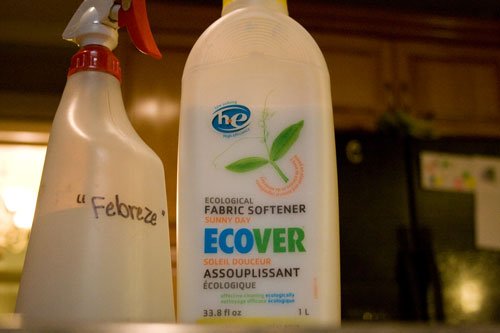 Recipe #2

4 Tbsp natural/eco-friendly fabric softener (I'm currently using Ecover's Sunny Day fabric softener, but there are many brands available in your favorite natural grocery store)

Fill rest of a regular size spray bottle with water.
This one is my personal favorite, because it is just so fast and easy to make, and I happen to love the scent I'm currently using.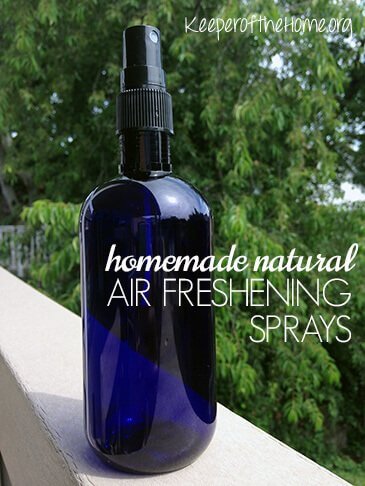 What do you use to take away odors and keep things smelling fresh?
Other Related Posts You May Enjoy