Natural and Eco-Friendly Laundry Soap Reviews: 5 Moms Test and Compare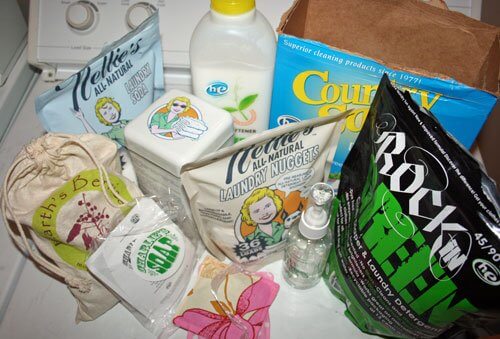 In light of the growing interest in more natural and environmentally friendly products over the past several years, the number of cleaning products lining the shelves of your local health food store (and even conventional stores) has grown enormously!
For a mom with a limited budget and barely enough time to get through the mountains of laundry, who has time to purposefully buy and compare various brands to know what works and what doesn't?
This fall, I asked 4 of my dear friends who also happen to love natural living, to help me sort through the products that are out there. We partnered with some of the most popular brands to give their products a solid test drive, rating them, and sharing our thoughts and comments.
With overflowing laundry room cupboards, we went to work. Who knew the time and effort it would take to work through all of these different brands? (Fortunately for us, our husbands and children were ever-so-helpful as they provided us with load after load of dirty laundry to use for the project– we couldn't have done it without them, that's for sure!)
Allow me to introduce you to the 5 test moms:
Jess :: A mom of 2 littles (soon to be 3), a husband who does a physical job in uniforms (ie. she deals with stink), a cloth diaperer, and HE machine user. She's a fantastic reviewer because she has strong opinions and preferences.
Katy :: Just welcomed her 3rd darling this summer, also uses an HE machine and cloth diapers. She's wonderfully easy going and practical.
Shannon :: Mom of 4 kids aged 3-10, who bring her plenty of stains and dirt of every variety. She brings a background in working for Alive natural health magazine, she loves local products, and is so thoughtful and detailed (and another HE user).
Diane :: With 3 kids aged 1-6 (including one in cloth diapers) she's busy and likes to keep her laundry simple. She's frugal, likes things that truly smell and look clean, without much fuss.
Stephanie (that's me!) :: I'm also using cloth diapers for my youngest (of 3 kids). Homeschooling and kids who like to cook gives me lots of fun stains to work with. I like pretty smells, but I'm super frugal and definitely pragmatic. Laundry should be easy, right?
A Quick Look at How the Brands Stack Up
Based on our numeric ratings, I have come up with an overall rating for each product used, to give you an at-a-glance look at how they compared.
Nellie's Oxygen Brightener  8.67
Nellie's Laundry Soda/Laundry Nuggets  8.5
Charlie's Soap  8.39
Ecover Fabric Softener 8.13
Seventh Generation 2x Concentrated Liquid  7.75
Rockin' Green 7.54
Country Save 7.52
Earth's Berries Soap Nuts 5.35
It's important to note just how close and insignificant some of these ratings really are. Look at Seventh Generation, Rockin' Green and Country Save. Those differences are really trivial, and highly unscientific (trust me, I'm no scientist and this is not highly accurate data collection!). Don't let small number differences like those have much of an effect on how you think of the soaps. Read on for far more detailed information!
Let's get started, shall we? Here are the brands that we compared:
Overall Rating 8.39
One of the most popular brands for cloth diapers, we were all eager to try Charlie's Soap and it didn't disappoint. We used the laundry powder, which requires only 1 Tbsp for a large load of wash. It doesn't use scents or brighteners, and is hypoallergenic (great for those with sensitive skin). HE compatible, it works well in any machine, although all machines use the same amount of powder (which is thankfully quite concentrated).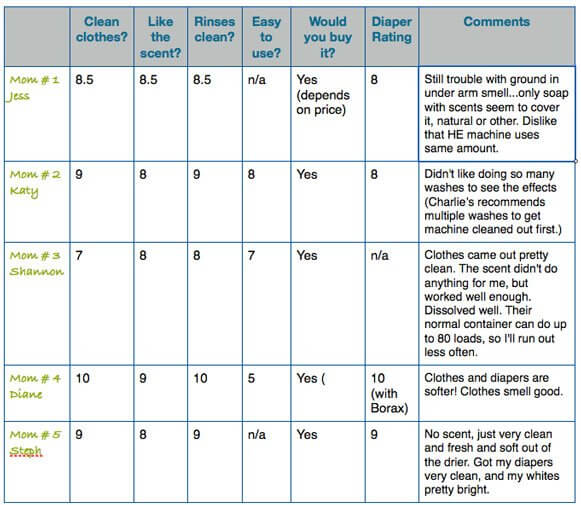 Overall Rating 7.52
Another brand of laundry powder with simple ingredients, safe for cloth diapers and sensitive skin. It's been around for a long time and has a proven track record. One of the main benefits of Country Save is the cost, especially when bought in bulk. I've been buying it for my cloth diapers in particular for a number of years for the savings and effectiveness. Bonus for HE users- only half as much is needed, even though it is a low-sudsing formula.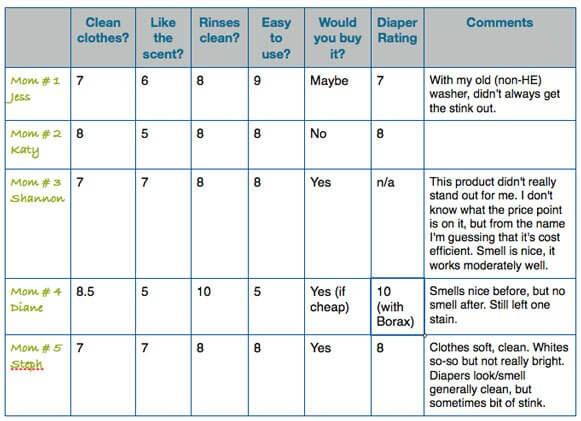 Overall Rating 5.35
Soap Berries are one of the most novel approaches to laundry in the last few years, at least on this continent. They've been used in South East Asia for centuries! They contain naturally-occurring Saponin, the ingredient that makes soap suds up. A truly renewable and sustainable option, since soap berries grow on trees! They can be used either by putting a handful of soap nuts in a small, muslin bag or by creating a laundry liquid by boiling the berries in water. There are many brands available, but ours came from a great mom-owned company called Earth's Berries.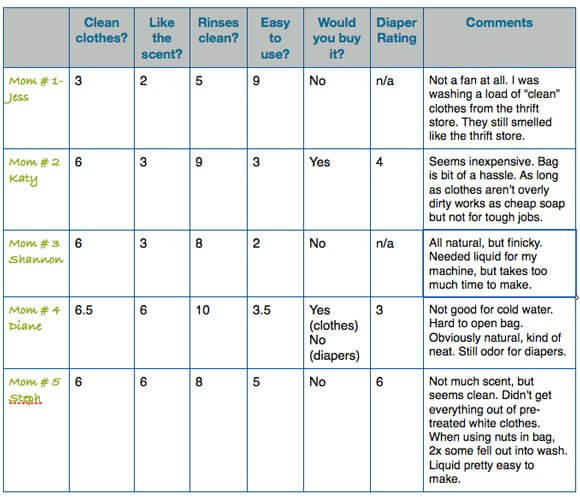 Stephanie's note- Though not my favorite for laundry, I actually quite liked using the soap berries liquid that I made for other cleaning purposes. It cleaned my diaper pail out nice and fresh, worked well as a direct pre-treatment for stains, and also as an all-purpose cleaner!
I also feel compelled to note that although our particular group didn't fall in love with soap nuts as we hoped we would, there are other moms out there who truly love using soap nuts. Lindsay at Passionate Homemaking is one of them, and she's written about them as well as answered some FAQ.
Overall Rating 8.5
This is a brand that is local to all of us (in the Vancouver, Canada area)! Not only did Nellie's generously provide us with a ton of product to test, but it also came out as the obvious winner in our review. Considered a washing soda, Nellie's is completely hypoallergenic, has no scent, and rinses very clean. It uses only 1 Tbsp of powder per load, and we were also able to try their pre-measured laundry "nuggets", with the same washing soda but in a biodegradable wrapper that instantly dissolves once tossed in the wash! And did I mention that their retro 50's branding and clever packaging won us all over?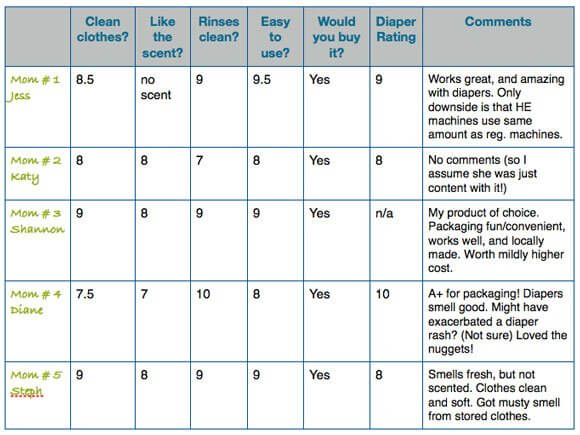 Overall Rating 7.54
Designed by a mom, Rockin' Green soap does really rock (or so most of us thought). What really intrigued me about this brand (besides the funky 80's rock branding!) is that it comes in 3 different formulations, so that you can select the right one for your water type– Hard Rock, Soft Rock, and Classic Rock. Though we all tried the Classic Rock with fairly good results, I wonder if we would have liked it even better if we had been able to try the specific formula best suited to our local water. The site does provide inexpensive samples so that you can find out which formula is right for you. The scents available are absolutely yummy, as well!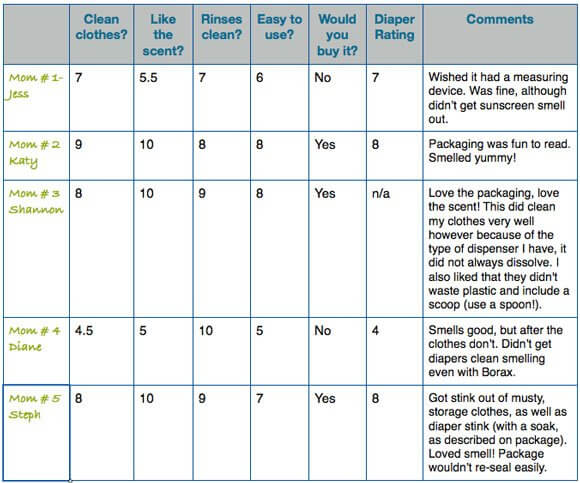 Overall Rating 7.75
This was the only liquid soap that we tested. It has long been one of my favorites. This laundry liquid contains enzyme soil removers and water softeners. For being a liquid, it is relatively concentrated and I sometimes find that I can use even less than the full capful for a mid-sized load. Seventh Generation is one of the biggest brands out there as far as natural cleaning products and for good reason! Their products are reliable and usually very well rated, and I have yet to try one that I wasn't happy with (and they put out fantastic coupons for both US and CAN!).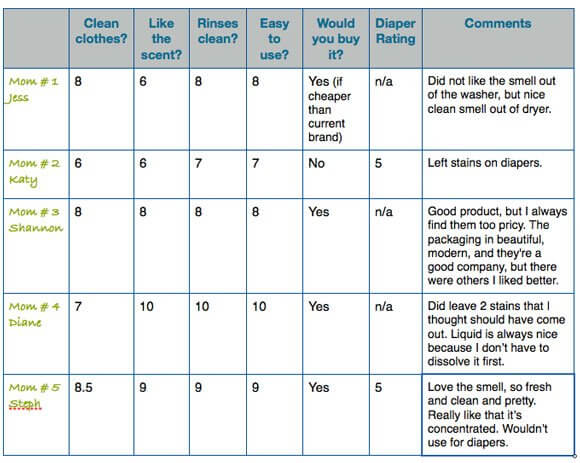 Other products we tried:
Charlie's Pocket Stain Remover
This was a fun addition to the review, as none of us had ever tried it before. I couldn't find much online information about the Stain Remover in particular (although Charlie's Soap website has plenty of information about their other products). In general, we thought the stain remover worked well, although we received it very close to the review deadline and not everyone had a chance to sufficiently test it out.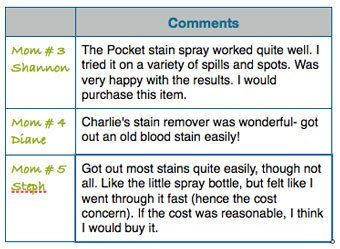 Overall Rating 8.13
I was initially worried about the possible ingredients in a fabric softener, even a "natural" one, but I have been pleased to not find anything concerning come up in the research that I did on the ingredients for this Ecover Fabric Softener. What a pleasant surprise, to find a fabric softener that I can use guilt-free! It is a really wonderful (albeit luxurious) addition to a laundry routine. I do have to admit that as an old washing machine user (no HE for me!) I didn't add it properly to the rinse cycle as directed, but tossed it in at the beginning (unlike my friend Diane who plays by the rules!), and I was still satisfied with the results.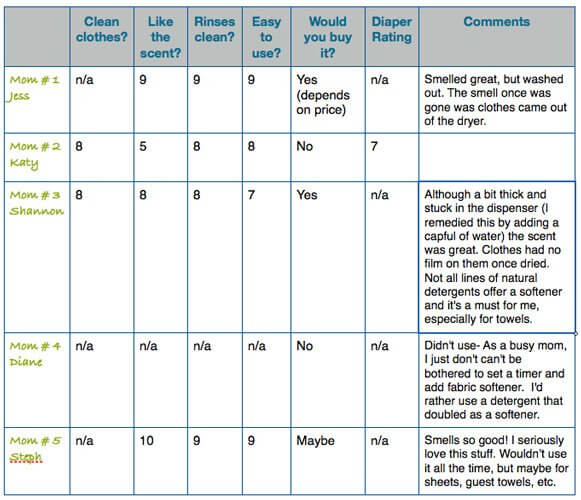 Overall Rating 8.67
How funny that an oxygen brightener would steal the show and garner the highest reviews of all! According to Nellie's, their oxygen brightener is color-safe, septic-safe, and environmentally-safe. It's purpose is to brighten and whiten your whites and light colors. Though I don't think that any of us were regularly using a brightener at the time of review, we all had a great experience trying this one out and said that we would consider buying it again!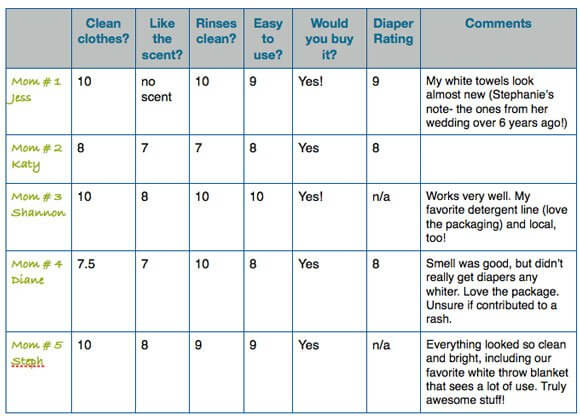 And there you have it!
Now, I know that there are just so many amazing brands out there and we couldn't possibly test them all. I know that we missed Biokleen, LifeTree, Ecos, Nature Clean and so many others. Many women also use homemade laundry detergents with great success.
The intention of this review was not to thoroughly cover every possible option available, but to sift through some of the popular options and give some feedback on them. We had a lot of fun trying everything out and getting to promote some fantastic companies, and we hope that we have served you a little bit in the process!
Price Comparisons
For the moms that reviewed, and I know for many of you, price matters. It matters a lot to me as well, and so I've put together a price comparison analysis over at my other blog, Saving Naturally. This will give you some idea of how the various soaps rank cost-wise, and then you can use the information in our review to help you narrow down your choices.
Your turn! Which laundry soaps or other laundry products do you use and what do you think of them?
Disclosure: All five of the moms involved in this review received product (how else could we wash a gazillion loads of laundry and tell you all about it?). No one has received any other compensation at all, so we're just sharing our honest, personal opinions on each of these products.
Other Related Posts You May Enjoy
Disclosure: This post includes affiliate links.