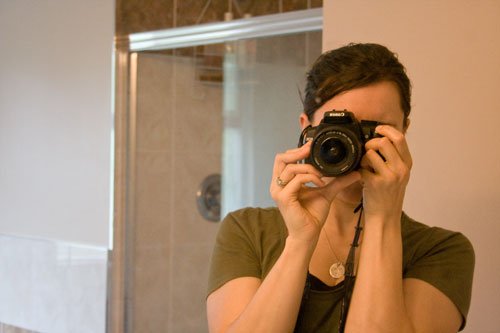 A stylin' self-portrait of me in my bathroom seemed right for a post that takes you through a day-in-the-life of my frugal beauty routine.
Beauty and skin care doesn't have to be complicated or expensive (or toxic, for that matter). I'm choosy about the few things I use and I like to keep things simple when it comes to the time I spend in front of the mirror. Ever wondered what products grace my bathroom counter? Wonder no more.
7:07 am – I take a shower
Body: I use simple homemade soaps, either handmade by my health-conscious mother-in-law (we get a basket of soap each Christmas, which I love), or something else with pure ingredients like the ones I'm reviewing from Apple Valley Natural Soap (speaking of which, don't miss this month's giveaway!).
Shampooing: Up until recently, I had been using the "no shampoo" method for over 2 years and loved it the frugal simplicity of it. My hair always felt clean and fresh.
This winter I began to have some issues with hair breakage (I have particularly thin and fine hair that breaks easy, but it got worse for some reason this winter). I was worried that the baking soda might not be a fit for my hair during this season, so I went back to JASON shampoo and conditioner for a spell (free of parabens, sodium lauryl sulfates, etc. and one of the more cost effective natural options out there). Now I'm trying the Shampoo Bars from Apple Valley and so far so good, although I may still like to go back to "no shampoo" ultimately.
**Frugal tip– You can't get cheaper than the "no shampoo" method. Baking soda. Vinegar. How cheap is that?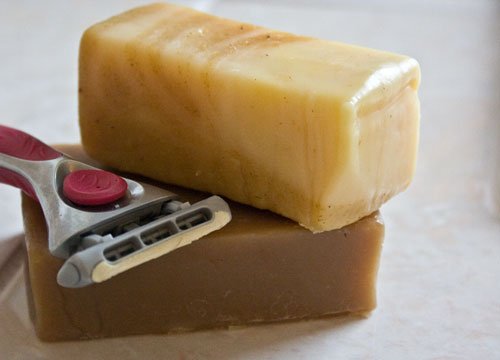 Shaving: I either do a dry method with my cheap little electric razor, or I just lather up with bar soap or Dr. Bronner's in the shower to do a wet shave.
7:19 am – I get ready for the day
Hair styling: I do have a natural mousse (from Lavera) that I use a little squirt of about once a week (usually for Sundays or going out on dates with my hubby). Other than that, I just keep my hair au naturel.
**Frugal tip– I bought my mousse and some gel for the boys in the house from the Lavera clearance section. Though I would never pay full price for most of the things they sell, every once in a while they have a stellar sale in their clearance section. I think I paid around $2-3 each for these natural styling products that retail for $16. Worth checking every once in a while if they have products that you are interested in.
Face: For moisturizing, coconut oil (the same kind that we eat) is my preferred choice. I've currently got some Terralina moisturizer that I got for free (yes, blogging has perks) but honestly coconut oil works just as well at a fraction of the price.
**Frugal tip– If you do like fancier products like Terralina, watch the daily deal sites like Jasmere and Eversave. They have both previously had 1/2 price vouchers for Terralina as well as other natural beauty care products.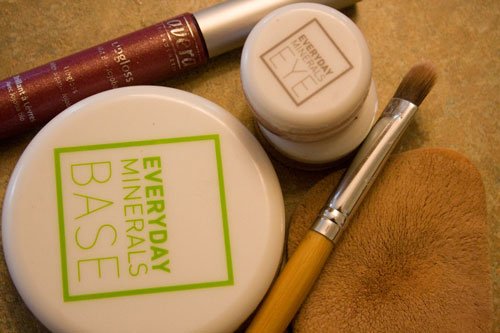 Makeup: Most days I don't wear much except a natural lip balm. A few days a week I use a light foundation powder from Everyday Minerals. Usually one day a week I will add one or two shades of eye shadow (also from EM), a light dust of transluscent finishing powder and a colored lip gloss (I have a few- Burt's Bees, Lavera, etc.).
**Frugal tip– If you've never tried mineral makeup and you would like to, Everyday Minerals has free sample kits available. Sometimes you can get coupon codes for a discount or a free item with your order. Check out RetailMeNot to find current coupons.
Deodorant: I've tried so many over the years and have never come up with one I really love. All sorts of natural brands (Tom's of Maine, JASON, Dessert Essence, deodorant crystal, etc.). I'm currently trying a homemade one and I have a feeling this most-frugal option will be the winner!
Teeth: See below.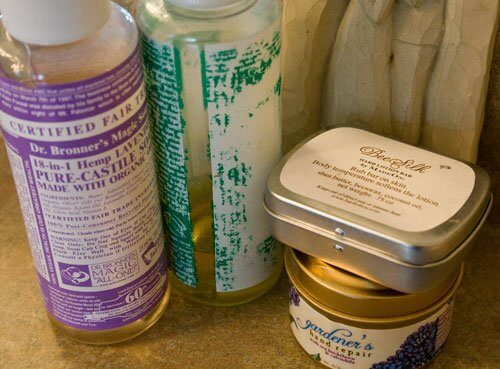 9:04 am – I finish cleaning the kitchen after breakfast
Hands: After cleaning the kitchen and prepping for lunch and/or dinner, my hands are usually a bit dry. I treat them to one of my hard lotion bars, which work so well on my dry skin (that used to get eczema but rarely breaks out in it these days).
My favorite hard lotion bars come from MadeOn Skin Care (a more solid bar that requires more rubbing but lasts a long time, with a light scent of beeswax or cocoa butter, depending on the bar) and Graham Gardens (a slightly softer bar that rubs on easily, may not last quite as long as the MadeOn bar, but smells exquisite).
4:37 pm – I realize my lips are dry
Lips: Lately I just rub them with hard lotion bars, since the ingredients are basically the same as lip balm, or I use Burt's Bees original lip balm, which is my hubby's favorite. Homemade lip balms (or lotion bars) are easy to make as well.
10:05 pm (or somewhere thereafter) – I'm heading to bed
Face: I am a self-confessed lazy face washer. However. When I do wash my face properly before bed, I love the oil cleansing method. It feels fantastic, it makes my skin looks good and it's very frugal to boot. Watch my video tutorial and see how easy this fabulous method is. I don't necessarily feel that I need any moisturizer after this, but if I do, it will usually be coconut oil.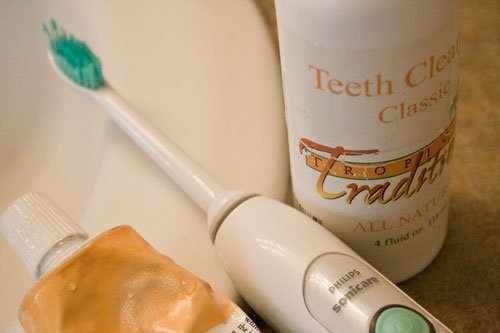 Teeth: We either use a non-toxic and fluoride-free toothpaste like Tom's of Maine or JASON, or our latest attempt to use a tooth cleaner instead of toothpaste.
The difference is in the glycerin, which supposedly coats teeth and prevents saliva from doing its job of neutralizing the bacteria and acid balance in the mouth (or at least, that's my understanding of it). We're hoping it helps to prevent cavities, but the jury is still out and frankly we still like toothpaste better. And we floss… just plain old floss.
Skin: If needed, I give my hands and legs a once over with one of my hard lotion bars.
And that, my friends, is basically all of the products that touch my skin in any way, shape or form.
I do have one remaining bottle of conventional perfume that I use every now and then, although I just received some Jasmine Body Oil from Graham Gardens and I'd love to switch over to just using products made with essential oils for fragrance. Most days, I just skip fancy scents. I also have one small bag of nail polish that is lingering from my university days (which were much longer ago than I care to admit) and should just be thrown out since I avoid those toxic polishes now.
I actually love the simplicity of what I use now, compared to all the stuff that used to clutter up my bathroom counter before I went natural (although my husband would probably beg to differ about whether the bathroom counter is still cluttered up or not).
What does your beauty care routine consist of?
Disclaimer: All times listed are approximate. I may or may not struggle with going to bed after 11pm or not getting up with my alarm to exercise and do devotions at 6am. I'm just sayin'.