Excellent (and affordable) home education resources for Kindergarten
I just love it when I find affordable resources that really work for both Abbie (my almost 4 year old) and I, and these past couple of weeks I have loved what we've been using, so I though I would share them with you.
Though Abbie is not quite 4 (her birthday is in just a couple of weeks), she's very motivated to learn to read and write, so aside from character training, that is our major focus during our learning times right now. She's not officially Kindergarten age yet (she would be starting next September), but realistically, that's the work she's doing and I'm just going with where she's at. I shared some of my other favorite resources not so long ago, and we are still using several of them (especially Big Truths for Little Kids, the Bob books and the Japanese book).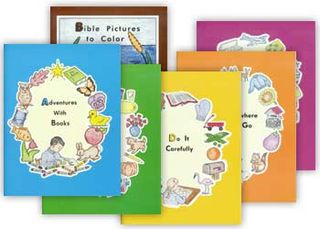 Rod and Staff Preschool Workbooks
We were blessed to have been given books # 4, 5 and 6 in the set from another homeschooling family. I was so surprised to look online today and discover that the set of 6 only costs $14.95 anyways, which I think is a great price!
Rod and Staff are Amish written and published, and they are fantastic. Academically solid, challenging, wholesome and fun. Abbie loves these and they are one of her favorite activities at the moment. Though they are called preschool, I would say that the books we have (Do It Carefully, Everywhere We Go, Finding The Answers) lean more towards kindergarten concepts, such as letter learning, early writing skills, reading, rhyming, etc. They also include some cutting, coloring and gluing activities. At her age, Do It Carefully is a perfect level for Abbie, just challenging enough to be hard, but not frustrating. I love it!


Rod and Staff Little Jewel Books
Again, so reasonably priced (each book is $2.70 or cheaper if you buy more than 4 at once), but wonderful little books! These we are borrowing from the same family who gave us the workbooks, and I would really like to purchase some for our family's library. The stories usually address character and heart issues, respecting and helping parents, learning to work, being kind and forgiving to others, serving others, learning about Creation, etc. Of course, the families usually live on a farm and the mothers wear head coverings, but I don't find those factors to be a big deal at all. (Thanks Crystal, for first mentioning these great books!)


Starfall.com
Naturally, Abbie's favorite thing is to watch the little videos and games with letter sounds, phonics, reading concepts and songs. The videos are so-so (in my opinion). I don't let her watch them very often, but she enjoys them and I'm sure that they do help to drive home some of the reading concepts that we are working on.
What I really love are the downloads I got for free, and that I have printed out to use each day! We're using the Level K- ABC Printouts, which work through the alphabet, with printing practice, big and small letter recognition, letter sounds activities, etc. These worksheets will last us through til January or February, doing one or two a day, and they're such great practice for Abbie!
One last link I just recently discovered, which I haven't fully explored yet, is Ambleside Online. It is a free curriculum, based on Charlotte Mason's own curriculum.
It includes wonderful book lists for reading, as well as a week by week curriculum from Gr.1 upwards. I'm not sure yet  if or how much of this I'll use, but I'm really enjoying what I've read of Charlotte Mason
so far. I thought I would include this, as it is a free curriculum that looks promising. Is anyone else using this at all?
What other free or low-cost resources have you been using and loving for your preschool and early elementary aged children?

Lots of other great, frugal resources at Frugal Fridays, hosted by Biblical Womanhood!