Safe and Natural Children's Toys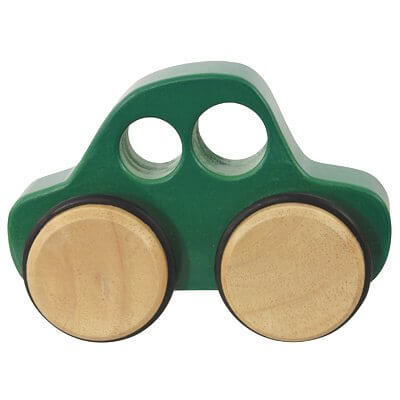 Wooden car made by Bajo
Why We Care About the Toys We Choose
It all started a little over two years ago. Recalls on toys (particularly from China) were coming out left, right and center. Our little guy was about 5-6 months old and just starting to put absolutely everything in his mouth. I found a recalled toy among our bunch- a very non-threatening looking set of cloth baby blocks made by Baby Einstein. There was too much lead in the paint designs on it's side. It sort of pushed me over the edge, and thus my search for something better began. No way, no how was I going to let my baby and toddler suck, bite, gnaw, lick (come on, admit it, your kids do the same things!) on highly toxic, junky plastic, phthalate-enriched, heavy-metal laced toys of unknown origins.
Add to that our growing desire as parents to stay away from all of the blinking-light, loud-noise-making, battery-requiring toys, and instead fill our home up with items that truly fostered imagination, rather than encouraging passivity. We decided that we really wanted to avoid toys that simply entertain. Instead, we wanted things that spurred them on to creative play. We also wanted to steer clear of all the tv and movie character toys out there (Dora, Disney princesses, Sponge Bob, and the likes).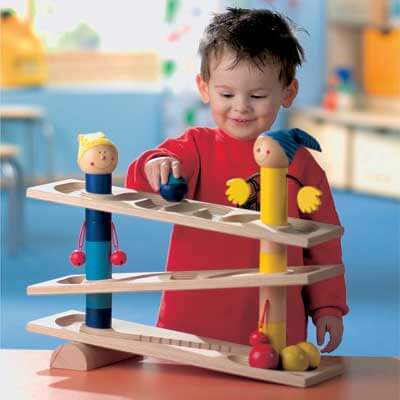 Nope, this isn't my son, but he received this gorgeous Haba toy last Christmas
I love the motto at one of my favorite toy stores, Oompa: "No batteries. No blinking lights. No cartoon-themed toys. Period."
Now, I'm the first to admit that we're not purists and we do own a lot of toys (more than I'd like, actually), but we still keep a really close eye on what comes in, and we've been working hard to get rid of toys we're not so keen on. As we get rid of them (donating them to charity or thrift stores), we slowly add in higher-quality toys. We will probably have a few less in the end (which actually sounds great to me), but they will be toys that go the distance through many different children (we're going for 12, remember?) and our children will appreciate what they have more if they aren't inundated with an entire roomful of toys.
What We Look For:
Not battery operated. Toys that don't "perform" for you. Preferably from Canada, USA or Europe (though I know that some toys are responsibly made in other parts of the world, including China, and so this isn't a strict rule). Something that I think will enhance and support my children's natural creativity. Toys that are fun, interesting or appealing somehow (something bright made with non-toxic paints, or a soft and adorable plush doll, or a really unique game or puzzle). Toys that appear to be well-made and that will go the distance and handle lots of childish abuse.

A push-cart from Haba (just might be my favorite toy maker), our son's 1 year birthday present
A few important things to look for:
If it's a painted item, you want to specifically see that they've used a non-toxic paint or finish, because even cute wooden toys can be painted with lead-based paints (or other paints that still have a lot of chemicals in them). Water based paints are best. Another option is to purchase unfinished wooden toys and paint or finish them yourself.
Check to see if it's certified according to European specifications. They are much stricter than any North American standards for manufacturers. Some excellent European brands to look for: Haba, Kathy Kruse, Vulli, Keptin Jr., Sigikid, Bajo. Plan Toys is another that meets their specifications.
So what kind of toys do we own?
Building sets- lego, wooden blocks, Wedgits, peg boards.
Dress up clothes, costumes, hats, purses.
Kitchen play- We have a wooden play kitchen, plus plenty of dishes, pretend foods, a tea set, etc.
Dolls- plus carriages, beds, blankets, clothing, and even a little baby doll sling I made for my daughter when I was pregnant with my son.
Puzzles and games.
Vehicles- We especially love all things wooden! Trains, cars, planes, emergency vehicles, even wooden animals with wheels.
Animals- We have both a farm and a zoo and plenty of animals to fill them with. We've just recently fallen in love with the brand Schleich, which makes incredibly detailed, very solidly made animal figurines (and other accessories). German brand, made in China, but they're still high quality, and we're starting to collect them this year.
For baby- a few simple teething toys suffice. Our little one (though she's not quite there yet at 3 1/2 mths) has a couple of colorful wooden ones, one round wooden teether with a soft bear on it, and an organic cotton soft baby doll.
Musical instruments- For Christmas, we bought the older kids a wooden drum set made by Plan Toys. Last year Abbie received a child-sized guitar (you know you've got a musician for a father when…). Lots of tambourines, shakers, bells, etc.
For outdoors- We have a few balls and bikes. That seems to suffice, because there are so many things in nature that are infinitely more interesting than toys!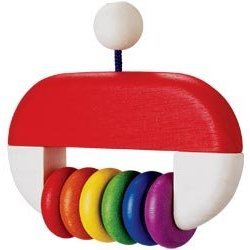 A wooden teether from Plan Toys, one of the first "natural" baby toys we bought
Where to Get Great Toys:
Oompa– Probably my favorite online toy store, simply because they have such an incredibly large selection of toys, games and puzzles, furniture, decor, dress up, baby stuff, etc. and it's basically all non-toxic, made with natural materials, eco-friendly and adheres to our creativity-enhancing criteria. Prices are reasonable, customer service is good, and I promise you'll have fun looking through what they sell!
Baby Naturopathics– I love this "kid and earth friendly boutique". They carry many of the same types of toys as Oompa, and also have things like organic children's clothing, glass bottles, etc. This store happens to be Canadian! Yay!
Amazon– Yes, surprisingly (or maybe not with how Amazon is expanding these days) they carry a great supply of safe and adorable toys! Furniture, baby teething toys, organic dolls and stuffies, wooden puzzles and blocks. Lots of the big names out there (Haba, Plan Toys, Under the Nile, etc.). We got Johanna's Christmas presents through Amazon (a wooden teether and an organic cloth clutching doll) using our Swagbucks.
Baby Because- I first discovered this store when buying some cloth diapering supplies, but they also have a nice selection of playthings, plus baby feeding supplies, infant carriers, etc.
Tons of small, independent toy makers– Truly, there are just so many of them out there! I realized this year that Etsy is a fabulous place to look, with shops like Small Town Toys and The Wood Garden (both carry handcrafted wooden toys) or BeckyM's shop (with the most adorable play food I may have ever seen!). You can also often find independent toy makers at craft fairs or festivals. Last year our kids received beautiful, hand-crafted and very unique wooden puzzles from a lady my Nana discovered at a craft fair. My parents found someone a few hours north of where we live who makes sturdy wooden vehicles. (So yes, my kids were spoiled last year!)
Waldorf Toys– To learn more about the Waldorf methods and philosophy, read this excellent guest post on my blog. There are many online shops selling absolutely beautiful Waldorf-style toys, such as Waldorf Treasures or Bella Luna Toys.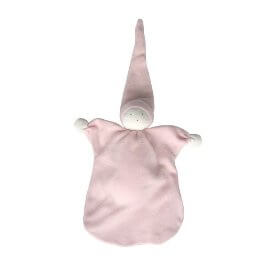 The doll we bought Johanna for Christmas, in organic cotton by Under the Nile. Similar in style to some Waldorf dolls.
More places to find safe and amazing toys:
The Cool Mom Picks Safer Toy Guide
Safe Mama's 2008 Safe Toy Guide (sorry, but there doesn't appear to be a 2009)
The Daily Green: Safe Toy Watch
And another wonderful option: Making your own toys!
You can make your own Waldorf dolls, or your own teething toys (with organic cloth even). Some friends of ours once made a simple and small set of wooden blocks with our daughter's name carved into them, and they finished the wood by rubbing them with Crisco (ok, so it's not a fat that I would choose to eat– lard or tallow or butter are much better choices!– but it's a far cry from varnish or lacquer!). Michele at Frugal Granola has also made play food for her daughter out of felt– so cute!
I'm not the handiest person around, so I don't pretend to know how to make my own toys, but there are so many resources out there (books, websites, etc.) if you just take a look!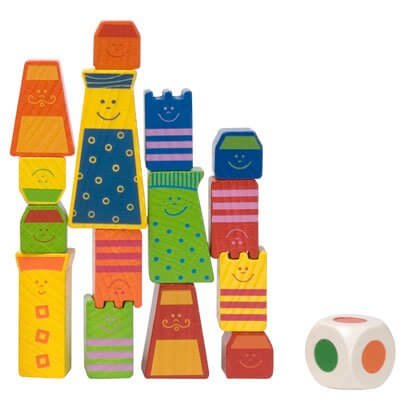 One of our daughter's favorite games, Tottering Towers by Haba.
How do you feel about toys and what are the guidelines for the toys that you allow in your home? Any other resources to share with us for purchasing safe and natural toys, or even for making some of our own?