Rethinking Oral Health Care: A Homemade Toothpaste Recipe for Tooth Remineralization
Several years ago, I started to question some of the ingredients in commercial toothpastes as well as the approach of modern dentistry in general. I view some modern dentistry practices as appropriate and beneficial.
Consider, though, that the foundation of today's dental philosophy is similar to the mainstream medical model in that it focuses on treatment and not prevention.
I believe the focus of dentistry (like medicine) should be prevention of decay and disease through sound nutrition and a healthy lifestyle.
This begins in utero (even pre-conception), when the teeth and jaw structure are formed, is well established through breastfeeding, and must be adhered to for one's lifetime.
Avoiding dental decay and disease through diet is challenging, because it means one must stray far from the standard American diet.
Spark Health has a DIY Dental eCourse available. The step-by-step video tutorials, teach you to make a simple, homemade tooth remineralizing powder, a powerful teeth-whitening blend, a gentle, soothing herbal mouthwash, and earthy toothpaste powder.
Remineralization
When most dentists detect a cavity, they suggest filling it, usually without thinking twice. However, what if teeth could be remineralized through a proper diet and oral hygiene routine? I believe they can.
Once drilled and filled, teeth are weakened and susceptible to further decay, but I believe that if we focus on prevention, we can avoid most cavities and subsequent oral health decline as a result of filling cavities.
Most of my teeth were drilled and filled in childhood and young adulthood. However, I don't want my children to go down the same path and struggle with susceptibility to decay for a lifetime because of it.
I'm trying to learn more about prevention and remineralization so that my children can reap the benefits of a healthy mouth, which contributes to overall health.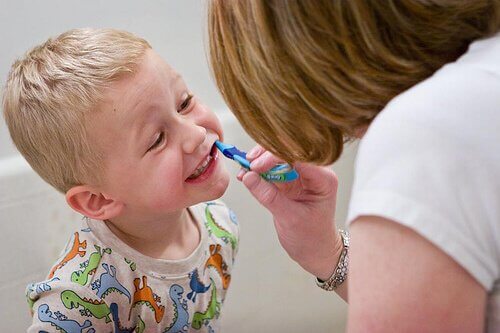 There are several factors involved in tooth remineralization, mainly diet, Ph of saliva, and oral hygiene practices. Diet and saliva are interrelated and quite complex, so I encourage you to dig deeply into the link between nutrition and oral health and possibly reexamine your own assumptions there.
I hope you will take a closer look at your own oral hygiene routine as well, as what I'm sharing with you today is based solely on my research and conclusions as a mom. I am not a dentist!
Toothpaste cleans teeth and remove plaque, which is beneficial, but if your goal is to maintain healthy teeth through a proper diet, mainstream toothpastes will work against your efforts. Furthermore, they contain questionable ingredients that may do more harm than good.
Glycerin – Certainly not bad in and of itself if properly sourced, but its use in toothpaste may not be ideal. Some suggest it may leave a layer of film on the teeth that prevents remineralization. It can also be dangerous to our health if processed with dangerous chemicals, and I assume most toothpastes contain the cheapest possible source.
Sodium Laurel Sulfate – SLS is a known carcinogen. Some natural companies still stand behind its use and claim it is safe, but I prefer to stay on the safe side here.
Saccharin – This was the first ingredient I questioned when I started to rethink my approach to dental health and toothpaste several years ago. I avoid artificial sweeteners like the plague, as most of them are proven carcinogens, several contribute to obesity and other health problems, and some are excitotoxins, meaning they cause rapid firing and death of brain cells. And yet, we see this artificial sweetener, saccharin, in our toothpaste.
Fluoride – You knew I'd get to this one. I don't claim to be an expert on fluoride, but from my basic understanding, fluoride is highly toxic in the form found in toothpaste and never found in nature in this state. If you're trying to rebuild tooth enamel, just like with glycerin, a "protective" layer of fluoride is not ideal. It is also suggested that the layer it forms on teeth is much thinner than originally thought and is useless against protecting teeth from decay anyway.

A Safer Alternative
If you're looking for a safe alternative to the common toothpastes, there are many options (like this one), from the more expensive natural toothpastes (be careful⏤some contain some of these questionable ingredients) to simple recipes you can make at home.
I've been experimenting with my own homemade toothpaste recipe for a while now, after I realized how easy it is to make on my own and that I don't need to spend a fortune on store-bought brands.
The most basic toothpaste alternative is a simple tooth powder. You can use baking soda alone or combine it with salt for a gentle yet abrasive clean, or you can use a mineral powder such as calcium and/or magnesium. I use Natural Calm brand.
Some people prefer to add hydrogen peroxide to their tooth powder right before use. I rinse with hydrogen peroxide, so I don't add it to my powder or paste.
I began to add coconut oil to my recipe to form a paste (and for its beneficial antibacterial properties) and essential oils for flavor. For a while, my recipe included coconut oil, baking soda, a dash of salt, and essential oils.
I've since been searching for a solution to the salty taste of the baking soda and salt, which my children aren't crazy about, and have recently decided to add xylitol to help combat the saltiness.
I'm new to the use of xylitol, but it does appear to be safe and even looks promising for cavity prevention.
I also recently added trace mineral drops to my paste. I use these to add minerals back into our reverse osmosis filtered water when making water kefir and I thought it would be a great addition to our toothpaste as well.
Homemade All-Natural Toothpaste
The recipe I keep in my head and use would simply read like this:
Equal parts coconut oil, baking soda, calcium/magnesium powder, and xylitol
A dash of salt
A few drops trace minerals
Essential oils to taste
This toothpaste is a great follow up to oil pulling. Have you looked into oil pulling? Both oil pulling and a natural toothpaste like this one, in addition to flossing, can keep your teeth clean and healthy.
With a proper diet that supports the necessary minerals for remineralization of teeth, I believe teeth can be both healthier and whiter.
From what I understand, yellow teeth can be the result of reduced/demineralized enamel that allows the dentin beneath to show through. By strengthening that enamel through re-mineralization, teeth are not only healthier and free of cavities but also naturally whiter.
For more on the importance of diet for both preventing and reversing tooth decay, and the process of remineralizing teeth, I would highly recommend the book Cure Tooth Decay by Ramiel Nagel. Even though I had learned some of these things previously (through Weston Price, etc.), I wish that I had looked more specifically into this topic long ago!
What are your thoughts on using a homemade toothpaste?