My Simple Cast Iron Care Routine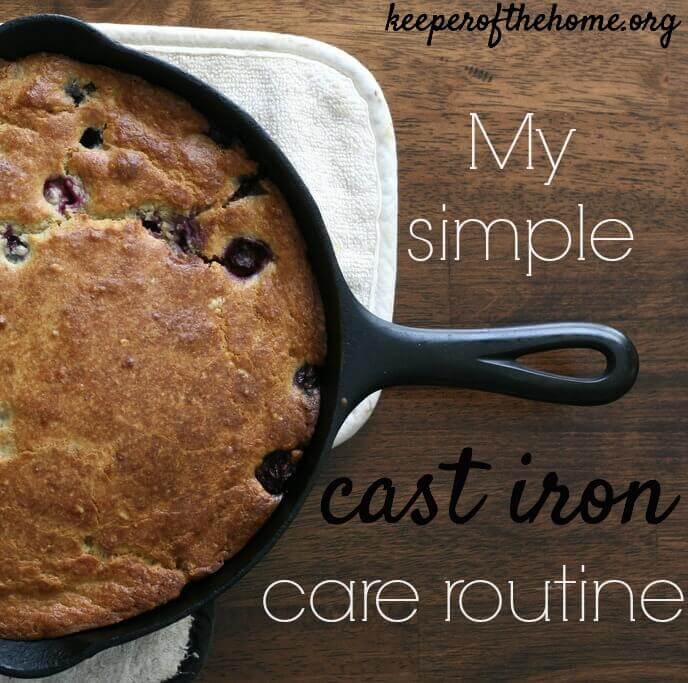 Written by Shannon, Contributing Writer
For so long I avoided cast iron because I was intimidated by the seasoning and care process that I had read about. Then my husband came home and surprised me one day with a cast iron skillet. Of course I swooned – who needs flowers when you have Ma Ingalls-style cookware?
Still I procrastinated on putting it to use in my kitchen. When I finally did break down and prepare the pan for cooking I couldn't believe how easy it was. Now I use this pan most days of the week and love to fry eggs, make frittatas, and bake skillet breads with this non-stick wonder. All you have to do is keep it simple and you'll have a pan that cooks like a dream and will last a lifetime.
Why Cast-Iron?
Most of us know by now that teflon is a toxic form of cookware. When I ditched my teflon I opted for stainless steel cookware – which I love for sauces and soups. But I still believe cast-iron is superior for so many reasons:
Inexpensive – the average skillet runs $15-$20.
Non-stick for everything from eggs to fish to pancakes to bread.
Once seasoned properly it is really easy to clean.
So heavy duty it will last a lifetime.
Suitable in all conditions – from the top of the line kitchen to the open fire pit.
Holds heat extremely well and therefore makes a superior steak or stir-fried vegetable.

Purchasing Your Cast-Iron
Walk into any hardware store and you'll probably find a Lodge cast iron skillet just like mine. A lot of them come "pre-seasoned" which according to their website means:
The cast iron is sprayed with a soy-based vegetable oil and then baked on at a very high temperature.
If you're like me and avoid soy because it is not a health food, then you'll want to scrub this off with hot soapy water. Then place it on your stove over low heat and allow it to dry completely.
Seasoning Cast-Iron
Cast-iron pans are only non-stick when they are properly seasoned. Seasoning a pan involves coating the pan with a heat-tolerant fat and then allowing it to bake into the iron, creating a slick surface.
Cast-iron pans are often used for high heat cooking, whether you're frying an egg or baking corn bread. For that reason I prefer to use a saturated fat, which is more stable over high heat, for seasoning. Good choices include:
Once your pan is clean and dry, and still warm from your stove top, add just enough fat to coat the pan bottom and sides. I then use an old cloth napkin to distribute the oil all over and soak up any extra. Then put your pan in a 250 degree oven for a few hours. You now have your initial layer of seasoning. You can repeat this process anytime you find that your initial seasoning isn't holding up.
Washing Cast-Iron
The first thing to know when washing your pan is do not use soap. Soap will remove the layer of seasoning you just added. So, this is how I clean my skillet:
Take a soap-free dish rag and wipe out the pan while running under hot water. Get everything out, but don't be too rough.
Once the pan looks clean place it on a burner over medium-low heat until all of the liquid has evaporated from the pan and it has gotten fairly hot.
At this point you can store your skillet in a dry place or do a seasoning upkeep by placing a dab of fat in the hot pan, swirling, and wiping as you did when you initially seasoned it.
That's it! It sounds a bit more complicated than the care of your stainless steel pans, but really it is just a different process and no more difficult. I highly recommend cast iron cookware, and a simple care routine to keep it healthy.
How do you care for your cast-iron?
Disclosure: This post includes affiliate links.