Getting Help with Meal Planning
While I'd love to come over, share some kombucha with you and help with your piles of laundry or sink of dishes, today I have something even better: help with meal planning!
I don't know about you, but meal planning might be the death of me. But it's also one of the most important pieces of my sanity!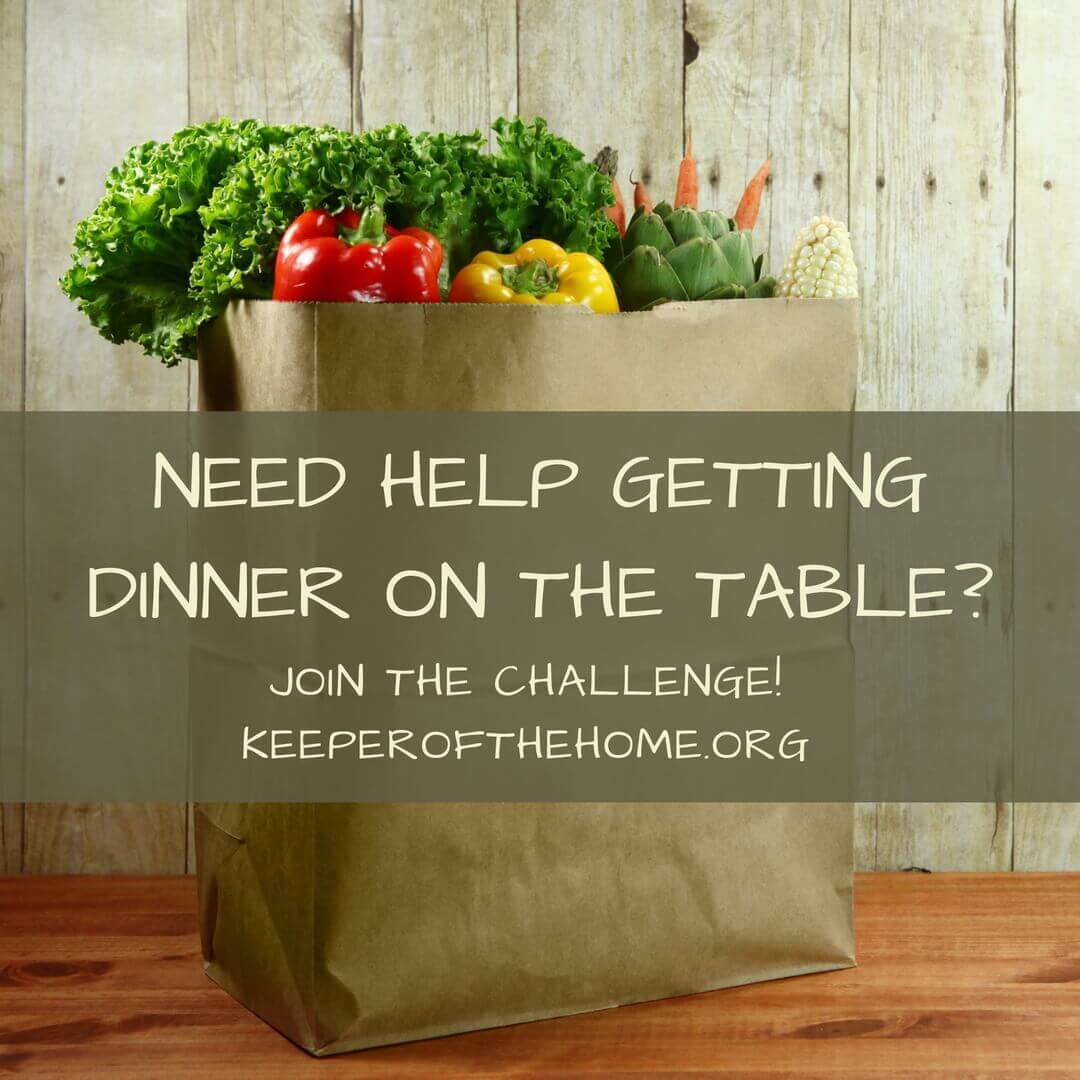 That's why I'm so excited about the Make Ahead Meal Plan Challenge that Plan to Eat is spearheading this month.
Their Make Ahead Meal Plan Challenge is the perfect opportunity to make 2017 the year that you discover the benefits of meal planning and how to do it effectively!
Or, if you're like me (and I know many of you are!), it will remind you of why meal planning is worth the effort and give you tips and tools for improving.
And the best part…the Make Ahead Meal Plan Challenge is easy, free, and open to everyone!
If you already have a Plan to Eat account, add "Make Ahead Meal Plan Challenge" as a friend from your Add a Friend page. That gives you instant access to the recipes and Menus used in the challenge.
(Be sure to add "Keeper of the Home" as a friend too! We've been hard at work adding recipes for the last year!)
I've been using Plan to Eat for over a year and it has been a huge help to me and my family.
Some of the things I love most about Plan to Eat:
It's easy to use.
It lets me use my own recipes.
It makes meal-planning a "one and done" thing, including my grocery lists.
It has features I can't live without, like recipe storage and sharing and the ability to get to it from different devices (my phone and my computer and hubby's phone…).
Plan to Eat isn't something extra: it has become central to what I do as I feed my family. I no longer go to the store without pulling up my shopping list on Plan to Eat. I no longer make a shopping list without consulting what we're eating in the next couple of days according to my Plan to Eat menu.
It's not set in stone: I have a large family and things are constantly changing. Thanks to the ways Plan to Eat helps me get organized, I know what ingredients I have on hand for those nights when there's no time for shepherd's pie and we have to settle for pancakes instead.
If, like me, you struggle with meal planning, be sure to sign up for the Make Ahead Meal Plan Challenge and take your family's dinnertime to the next level (and save your sanity!).
And be sure to let me know you're doing the challenge. We'll need to cheer each other on! 🙂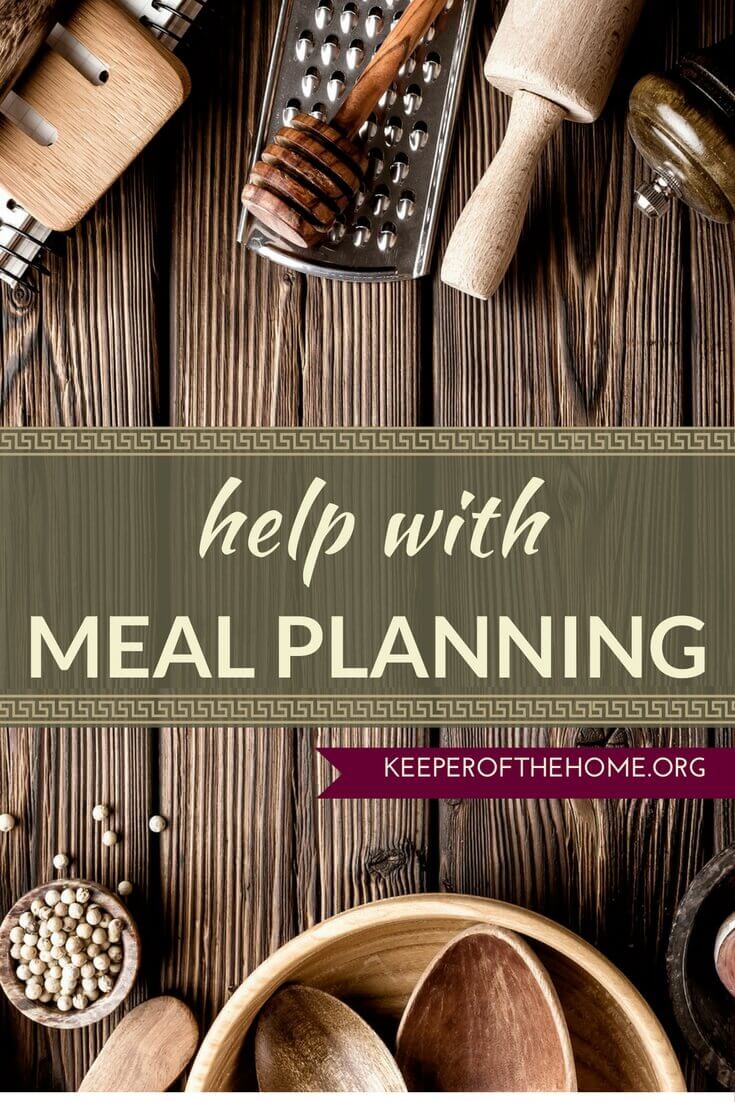 Many of these recipes are from cookbooks, have been given to Stephanie over the years, or sometimes things she makes up on her own, but she has included links to recipes or cookbooks when they're available.
Beef Stew
Soft Tacos
Honey Garlic Chicken with Roasted Potatoes and Veggies
Orange Sesame Crockpot Chicken from Against All Grain
Meatloaf from Nourishing Traditions with Veggies and Potatoes or Rice
Simple Stir-fry over Rice
Salmon Patties with Oven-baked French Fries and a Veggie
Large, Meal-sized Salad with Chicken, Hard-boiled Eggs and Various Veggies
Homemade Pizza Crust (currently experimenting with various grain-free crusts like this one)
Crockpot Roast Beef with Potatoes, Onions and Carrots
Lemon Greek Chicken with Seasoned Rice and Greek Salad
Baked Salmon or White Fish in Cream Sauce from The Nourished Kitchen with Veggie and Quinoa
Shepherd's Pie
Chicken Pot Pie with Salad
Quiche from Against All Grain (sometimes a crust, sometimes crustless) with a Side Veggie
Roast Chicken (crockpot) with Roasted Root Veggies (beets, carrots, potatoes, onions) (and here's a non-crockpot alternative)
Meatballs (beef, turkey or chicken, depends on what's on hand) with Mashed Potatoes and Veggie Side
And most of her veggie sides use this method.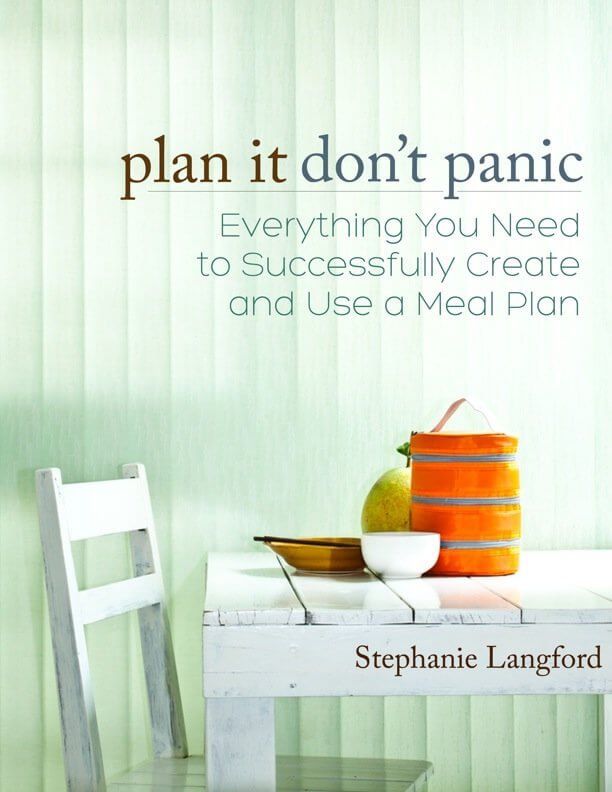 As promised in the eBook Plan It, Don't Panic, here are 4 weeks worth of real food meal plans for you to use and enjoy!
First, a few notes about the meal plans…
Dinners
Based on the concept of using nightly themes for planning, here are the themes I've used to create this meal plan:
Monday- Chicken
Tuesday- Soup or stew, sandwiches
Wednesday- Fish
Thursday- Ethnic
Friday- Family favorite
Saturday- Beef
Sunday- Crockpot
For breakfasts and lunch, I went with a versatile weekly routine. Basic ideas for each day of the week, but slight variety from week to week:
Breakfasts
Monday- Muffins
Tuesday- Oatmeal
Wednesday- Egg based
Thursday- Yogurt or smoothies
Friday- Other types of cereal (hot or cold)
Saturday- Pancake variations
Sunday- Heartier meals
Lunches
Monday- Simple Mexican
Tuesday- Sandwiches
Wednesday- Soup leftovers
Thursday- Finger foods
Friday- Sandwiches
Saturday- Grilled/melted sandwiches
Sunday- Leftovers
Things to note about this 4-week menu plan:
:: You can always add in extra raw or cooked vegetables or fruit to any meal, or use them as a snack in-between. Sometimes I've listed suggestions along these lines, other times I leave it to you to fill in with what's seasonal, family preferences or what you already have in the house.
:: Although I did use the above daily meal themes about 90-95% of the time, I occasionally strayed to include a meal that sounded good or that I thought fit in well for a certain day. These types of themes are fantastic guidelines, but don't feel that they need to be a rule that can't ever be broken.
:: This meal plan won't suit every family, but it is based on real, whole foods and so are the recipes I've linked to. If you have particular food sensitivities or allergies, try adding in easy substitutions wherever possible (dairy alternatives in recipes that call for milk, wheat-free flours in place of wheat flour, etc.), and then use the rest of the meal plan as a skeleton or starting place for creating a plan that has diet-friendly allergies that work for you.
To see the meal plan at a glance, you can download the PDF file here.
Week 1
Monday
Tuesday
Wednesday
Thursday
Friday
Saturday
Sunday
Week 2
Monday
Tuesday
Wednesday
Thursday
Friday
Saturday
Sunday
Week 3
Monday
Tuesday
Wednesday
Thursday
Friday
Saturday
Sunday
Week 4
Monday
Tuesday
Wednesday
Thursday
Friday
B – Almond Crunch Coffee Cake and fresh or home-canned fruit
L – Tuna Salad Sandwiches, carrot sticks and red pepper strips
Saturday
Sunday
;