Why I'm Going to Start Using Plan to Eat For Meal Planning (and You Might Want To, Too)
Meal planning might be the death of me…or not, thanks to Plan to Eat. Here's why I'm going to start using Plan to Eat for meal planning starting NOW.
By Ann Timm
I don't use a meal planning service, though I certainly meal plan.
Lately, I've had this feeling that my meal planning could use a bit of … help. Especially with the holidays coming up and family visiting from out of town. With that in mind, I discovered, thanks to my work here at Keeper of the Home, that the solution might be as easy as Plan to Eat.
As I read through it and explored, I realized: I'm really missing out on something here!
While I haven't started using Plan to Eat, I can't help but add the word "yet," and here's why:
It's easy to use.
You don't have to be a techie or employ a teenager to teach you how to use this: it's as easy as clicking on your favorite food sites or saving recipes from wherever you are online.
Did I mention you can also add your favorites from that notebook on the second shelf in your kitchen cupboard and from the dog-eared copy of the cookbook you got at your wedding? Yep, that's a big plus.
I also love that you can use tags and categories to organize your recipes. If I'm looking for something meatless, for example, I can look for something tagged that way. Same with gluten- or dairy-free or, for that matter, mushroom-free.
My youngest daughter, Grace, is always asking for pasta. Easy! I can have as many recipes tagged with pasta as I want.
The same recipes can even be tagged gluten-free or dairy-free. So when my niece, who is gluten intolerant, comes to visit I can just search the recipes with those tags I want and have them all organized right there at my fingertips (instead of searching forever through my completely unorganized binder with torn out pages falling to the floor! No more with Plan to Eat!).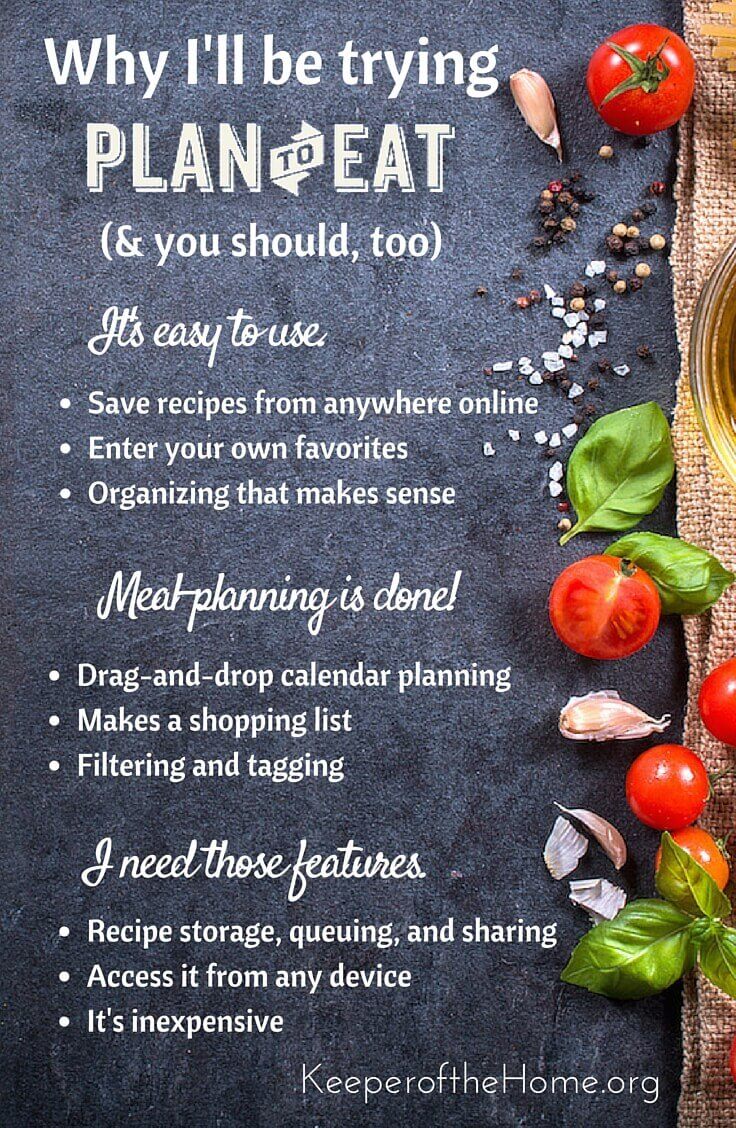 Meal planning looks already done.
As I was looking around, I started to wonder just how much time I would save using this. For one thing, there's a drag-and-drop feature that looks about as hard as starting my car. (In other words, it isn't!)
There are also many filtering options and automatically generated shopping lists with—get this!—automatically categorized ingredients, so I just saved some time shopping, too! Once you have your shopping list, you can choose whether to print it or use your smartphone (or both) to make sure you have everything already in the house.
How many times have I not been able to make what I planned to make because I didn't have something in the house? How often have I wondered if I have something at home and either bought it when I already have it (so that I have too much) or not gotten it (so that I'm facing option 1: can't make the dinner I planned for)?
Looks like my problem may be solved…as long as I buckle down and use the tool!
Because yes, I'm pretty sold on it.
From what I can tell, meal planning turns into a four-step process:
Add recipes.
Make a meal plan.
Go shopping with the list of ingredients you need.
Repeat.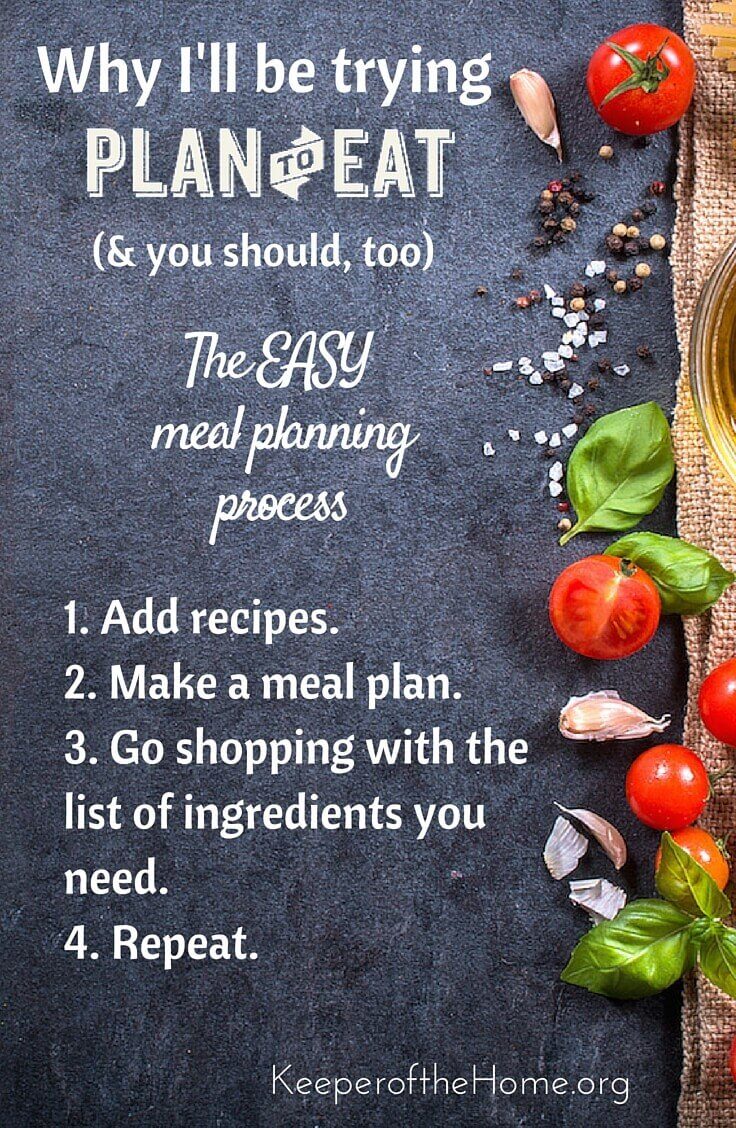 Plan to Eat makes that all seamless and I'm betting it will save me hours of time and loads of energy by making everything straightforward and easy to do.
Bottom line: it looks indispensable.
In addition to the things I've mentioned, I was also struck by the recipe storage, sharing, and queue. Haven't made spaghetti in a while and I think of it while we're at riding lessons? No problem: I can pull it up on my phone and add it to the queue. There's something on Pinterest that will be perfect for next month's crazy after-school schedule? Easy peasy to add and find it again when I add it to my recipe storage.
And I haven't even touched on the sharing possibilities, but from what I have read, it's awesome. Which is great, because I can use some refreshing of the menu around here!
Once I'm rolling with Plan to Eat, I suspect I'll be using the option to check out and double or repeat previous weeks' plans.
A Look at Who's Behind It

As I was looking into Plan to Eat, I found myself intrigued by why founders Clint Bounds and Christopher McLaughlin were inspired to start it.
"When we started Plan to Eat," said Clint, "it was just our household. I thought I was only building a tool for my wife. Then one night I had the idea to post it on the web and I asked a few of our friends to try it out and see if it is useful — that's actually when Christopher's family started using it."
On Plan to Eat's About page, Clint explains what his life was like before PTE:
"We would often have a refrigerator that was completely empty, or it was full of food we couldn't use. We hated grocery shopping because we would buy what we didn't need while forgetting the things we did. Our 'fun' and 'spontaneous' meal plans, which actually lacked any form of a plan, landed us at restaurants more than we wanted. Our bank account suffered because eating out is expensive. Our health suffered because what we were eating was not good for us.
"We needed a good meal planner, and out of this need Plan to Eat was born. Now we want to share it with you so that you don't have to fly-by-the-seat-of-your-pants-meal-plan anymore either."
Since its founding in 2009, Plan to Eat has been through many, many iterations, according to Clint. "Our goal is always to make meal planning as easy as possible."
"Planning meals is the biggest hurdle keeping families from eating together," Christopher pointed out. "In many cases, planning meals is the biggest hurdle keeping families from eating a home cooked meal at all — we hear this all of the time. If we can help families get over the meal planning hurdle they will naturally end up eating together more often."
I couldn't resist asking what they do when they have their families around the table. Here's what Christopher said:
"For fun we like to play games that give context to the food. For example, one night dinner was based on Mrs. Wilkes' Boarding House cookbook, which is a classic Savannah institution (here is a blog post about it). My wife and I met while in school in Savannah and our first apartment was down the street from Mrs. Wilkes. That meal gave us an opportunity to share with our children what our lives were like before they came along. They were fascinated!"
Meal planning touches every aspect of our lives, Christopher points out. He shared this letter from a customer that they got recently:
"Your site has allowed me to go from 310 pounds on January 1st, 2015, to 165 pounds on November 6th, 2015. By properly planning and eating healthy food, my life, and family has been completely transformed. Without your service, and amazing site and support, I would NOT have been able to accomplish this! Your service makes it SO simple to eat properly. Spending half an hour a week laying out the weekly menu saves time, and energy throughout the entire week. So easy, so convenient.
PS: I was a type 2 diabetic as well, on numerous medications. Now my doctor has removed me from ALL the medication. If everyone took the time to plan, they would find cooking at home easy, enjoyable, and HEALTHY!"
He mentioned that they're always blown away by this sort of feedback, and I can see why. I can also see why this is more than just a handy tool…
Now, excuse me, I have to go sign up for my free 30-day trial…
Have you tried Plan to Eat before? How has it made your meal planning and grocery shopping easier?