Amazing Greek Salad Recipe
This is the ultimate Greek salad that I could practically live on (especially while pregnant).
I made this recipe because I disliked Greek salads in restaurants that had such big chunks of veggies that you could never fit more than one piece in your mouth at a time. I love all the flavors mixed together!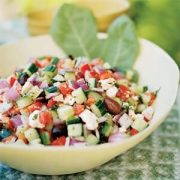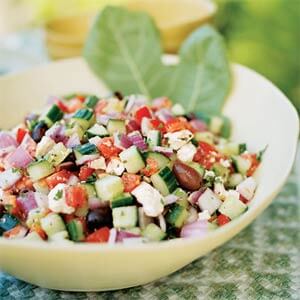 Print Recipe
Greek Salad Recipe
(The amounts are all approximate, as I just do it by feel and add however much looks right to me.)
Ingredients
For the Salad:
1

English cucumber

3-4 to

matoes

this totally depends on the type- Roma, small or large, etc.

1/4

large red onion

maybe 1/2 a small one?

1-2

red peppers

again, depending how big they are

Pitted green

Kalamata are great deli olives (fresh, not canned!), chopped into smaller pieces

Feta cheese - as much as it takes to mix it well throughout the salad

without scrimping
Instructions
Dice all veggies. I like mine in about 1 inch cubes- it's a nice size. For the dressing, put all ingredients in a glass jar, then shake, shake, shake. Pour over the salad, add the olives and feta cheese, and mix well.