How I Feed My Family Real Food for $350 a Month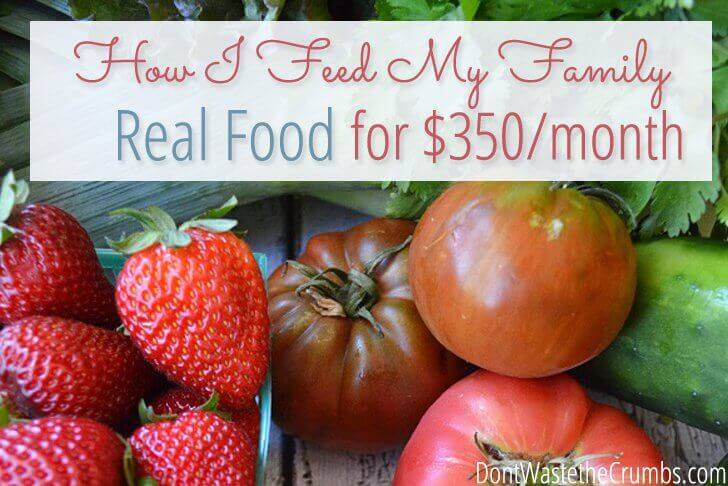 Guest post by Tiffany Terczak
Every year, people across the world are making New Year's resolutions. The goals are big and wide, ranging from eating healthier to saving up for a down payment on a house.
When we first got married, my husband and I simply wanted to get out of debt.
We worked really, really hard for a long time, but we didn't truly see the fruits of our efforts until we hit year two and finally created a grocery budget.
Despite everything else, creating a grocery budget was not just key to getting ahead, but actually saving money each month instead of just making ends meet. Just when I thought we found our rhythm between food and finances, my husband threw me a curve ball. He said he wanted to eat real food, and politely asked me to stop cooking dinner from a box.
This seemed to be an easy request at first, but after just a few weeks, I struggled big time with finding the balance between healthy food and our grocery budget (being a former couponer). Real food seemed so expensive, and our grocery budget at the time was only $330/month. How could I possibly make the puzzle pieces fit?!

Is eating real food on a budget even possible?
A few of the blogs I was reading kept touting the amazingness of meal planning and how it made eating on a budget easier. I had never tried it, but given the fact that I was desperate to find a solution, I figured it couldn't hurt to try… right?
So I made a commitment to meal plan for one month – just January 2013. I figured if it DID work, then I could re-commit and do it again. If it DIDN'T work, then I could call the whole thing quits. No harm, no foul.
[Tweet "Creating my first monthly meal plan gave me hope that eating real food on a budget IS possible."]
Reaping the rewards of meal planning after just one month, I continued the resolution and made another plan month after month, and eventually sharing these plans on my blog.
Soon those monthly meal plans churned up shopping lists that kept my spending on track and practical prep lists to help me get ahead for the week. I incorporated slow-cooker meals for the busy weeknights and made a second batch for the freezer when there was extra time.
On top of all of this, I routinely used my tried-and-true money-saving tips and tricks to keep my grocery budget in line. And you know what? It finally worked! It's not in my character though, to sit idly on the sidelines while others struggle with the same problem I had. That's why I created Frugal Real Food Meal Plans.

Frugal Real Food Meal Plans Not Only Makes it Possible, but Practical!
Frugal Real Food Meal Plans is everything the frugal foodie you could want in a meal plan. Dinners every night. Ideas for breakfast and lunches every week. Even suggestions for dessert, hosting company and bringing a dish to a pot-luck! There are shopping lists, prep lists and pricing guides. Tools to help you keep track of what's already in the kitchen and advice on how to re-use random leftovers.
Need ideas for what to do with leftover diced apples? Or what foods you should stock up on this season? This plan has you covered, because it's how I keep our grocery budget at $330 each month.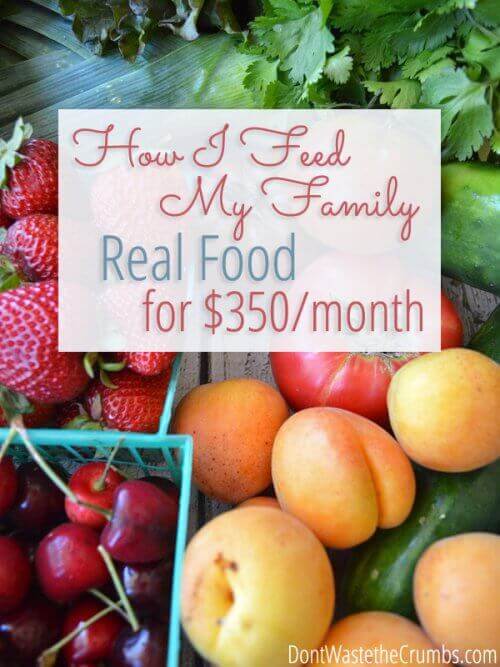 We've held absolutely nothing back in this meal planning subscription. With free budgeting tools on top of an already information-packed meal plan, Frugal Real Food Meal Plans is a complete guidebook teaching you step-by-step how to eat real food on a budget!
It's my passion to share Frugal Real Food Meal Plans with you, but I know that it won't be the right fit for every family. That's why I encourage you to first visit Frugal Real Food Meal Plans to learn more. Then download the free 14-day sample plan to see what a meal plan looks like, the detail and pricing guide in the shopping lists and ideas for getting ahead in the kitchen each week.
After you test the user-friendliness of the program, visit again because Frugal Real Food Meal Plans is celebrating it's debut in true budgeting style – with HUGE discounts!
Plans are available for as little as $7.99/month through January 5, 2015. After this, the price goes up.
From one frugal mom to another, if you're interested, don't wait to check out Frugal Real Food Meal Plans! For as little as $1.84 each week, you can feed your family real food in a practical way, without going broke. My family and I are proof that real food doesn't have to be expensive. If you struggle in this area, we would be honored to help.
Let me ask you this – how big is your family and what is your grocery budget? I'll go first. We're a family of four and we spend $330 a month.
Disclosure: This post contains affiliate links. When you buy through our links, we earn a small commission, which helps to keep this site going so that we can continue to offer free and useful content, so thanks!