Cream of Tomato Soup: Quick and Easy Fall Comfort Food
With fall and cooler weather comes the return of soup simmering on my stove. Too hot for summer dining, it is just the perfect, warming end to a crisp autumn day, and so soup begins to find its way back on our table once again.
I have been making this simple Cream of Tomato soup recipe for probably 3 years. Provided I remember to thaw a jar of stock earlier in the day, it makes for such a simple and easy dinner that is satisfying, kid-friendly and oh-so-comforting.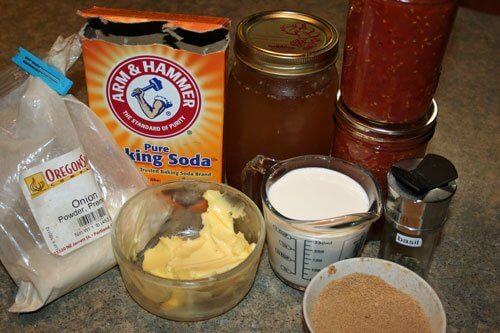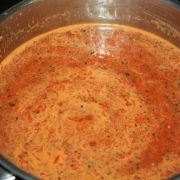 Print Recipe
Cream of Tomato Soup Recipe
Ingredients
1 28

oz.

can diced tomatoes

or substitute 2 pint jars or 1 quart jar of home canned tomatoes- it's not quite the same amount, but close enough

3-4

cups

homemade chicken broth- depends how thick or thin you like your soup

2

tablespoons

butter

2

tablespoons

Sucanat or Rapadura

or 1 Tbsp honey

1

tablespoon

chopped onion or 1 tsp onion powder

1/4

teaspoon

baking soda

1-2

tsp.

dried basil

Sea salt to taste

I usually use around 1/2 to 1 tsp.

1

cup

heavy whipping cream

or coconut milk- see Dairy-Free Variation below
Instructions
Put canned tomatoes in a blender and blend up either as smooth or as chunky as you like. Personally, my husband and I enjoy it a bit chunky but for the sake of our kids, I make it pretty smooth.

Meanwhile, if using chopped onion start frying it in a large pot with the butter, until just softened. If using powdered onion, skip this step.

Pour blended tomatoes, chicken broth, sweetener of choice, powdered onion (if no chopped onion) and baking soda into the pot. Simmer for 20-30 minutes.

Add basil and salt and simmer another 5 minutes. Taste and add any additional sweetener or seasonings.

Gently heat cream either in a double boiler (or a bowl set on top of a steaming pot), or simple in a regular saucepan (but then you need to watch it really carefully so you don't scorch it). Heating the cream prevents it from curdling when you add it to the hot soup. Ask me how I know.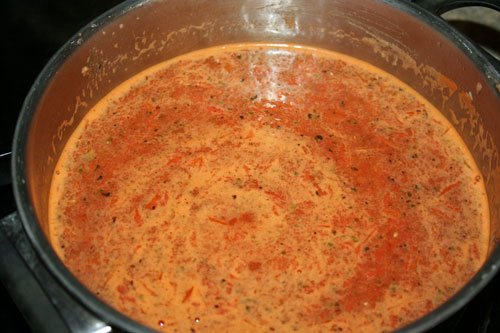 This is absolutely delicious with grilled cheese sandwiches, or any type of bread or bun with butter. We often sprinkle a bit of shredded cheese on top as well, or serve it alongside a green salad or some fermented dill pickles. Yum.
Though it tastes better with sufficient time to simmer, I have occasionally made this with only 10-15 minutes of simmering. It still tasted just fine, and you can do this if you're really short on time. This is a quick and simple dinner for us many nights, so I like that the recipe isn't too finicky.
Dairy-Free Variation: For my dairy-free son, I use coconut milk in place of cream. I usually ladle out a bowl for him before I add the cream, and then I pour in a bit of coconut milk and it looks and tastes just fine! If your whole family is dairy-free, just substitute 1 cup coconut milk for the heavy cream. It's still best to heat it a bit, but there isn't the same risk of curdling as there is with dairy.
What are your favorite quick but comforting foods to make in the fall?