Spud Special Soup (The Ultimate in Comfort Food)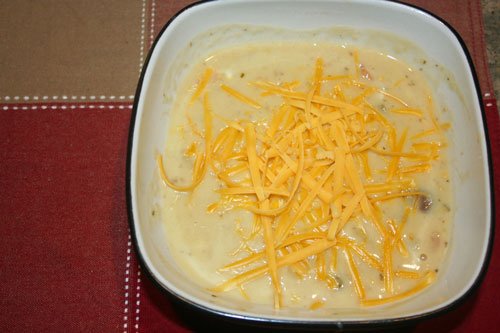 This is the soup recipe that I made during my marathon cooking this week- Ryan and I both adore it!
Spud Special Soup (originally given to me by my pastor's wife, when I first got married)
3 Tbsp butter
1 large onion
1/2 cup thinly slice carrot
1/2 cup diced celery
1 garlic clove (or more, if you like it)
4 cups diced potato
2 cups chicken broth
1 1/2 tsp. salt
1/4 tsp. pepper
1 tsp. parsley flakes (fresh parsley is even nicer though- around 2-3 Tbsp)
2 cups milk ( you could also use yogurt in a pinch)
1/2 cup grated cheese for garnish
My own addition to this recipe is chopped sausage- any nice, natural beef or chicken sausage tastes great!
Put first 5 ingredients into a large pot and saute veggies until onion is soft and clear.
Add potato, chicken broth, salt, pepper and parsley (and sausage, if desired). Bring to a boil. Cover and simmer slowly until all cooked, stirring occasionally. Stir in milk at the very end, after turning off the heat (do not allow it to boil once the milk has been added).
Garnish with cheese. Serves 4-5.