Pickle Recipes: Dill and Bread & Butter
Mmmm, I love me some pickles (and no, not just because I'm pregnant)!
As promised, ladies, here are my two favorite pickle recipes. Both are cold-pack, non-canning recipes, making them a snap to prepare. Even better, the pickles are raw and the recipes are a very simple, very tasty introduction to the lacto-fermentation method of food preservation. The Bread & Butter recipe isn't a true lacto-fermentation recipe, but it still contains far more enzymes and nutrients that you're going to get with any store bought pickle or with hot water bath canning methods, and I alter it slightly to increase it's health benefits.
For more on lacto-fermentation:
Benefits of Lacto-Fermentation
Baby Step: Eating Cultured and Fermented Food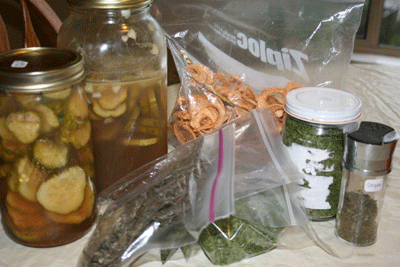 (See, the pickles were dug into last summer before I could take a picture. They're that good.)
Janet's Bread & Butter Pickles
I wish I could take credit for this yummy recipe, but I can't. It all goes to my mother-in-law. 🙂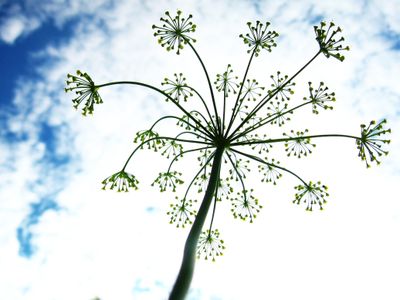 Garlic Dill Pickles
This is slightly adapted from the Nourishing Traditions
recipe for Pickled Cucumbers.

Makes1 quart.
Garlic Dill Pickles Recipe
Ingredients
4-5

pickling cucumbers

sliced

1

Tbsp

mustard seeds

Several sprigs of fresh dill

NT says 2 Tbsp- I just fit a bunch in around the pickle slices until I'm satisfied

2-5

cloves

of peeled garlic

depending on how garlicky you like it. I like lots!

1

Tbsp

sea salt

4

Tbsp

whey

if not available, use an extra 1 Tbsp salt
Edit: I just received a comment from a reader who used the additional salt instead of whey and said that they turned out quite salty. So be forewarned that this recipe works best with whey and perhaps not with extra salt. If you have any more reviews of having used the salt instead of whey yourself, please leave a comment letting us know how it turned out!
Instructions
Mix all in a quart jar, seal with a lid. Leave at room temperature for 2 days, before putting in the fridge.
These also last quite well in the fridge, so I like to make as many as I have room for while my cucumbers plants are producing well.
Pickles like these are a wonderful addition to a meal, particularly to nibble on as an appetizer. The beneficial enzymes and good bacteria aid digestion, as well as supporting a stronger immune system and providing increased nutrients. When I feel like dinner or lunch needs just a little something extra, these are one of my favorite additions, and they are quickly gobbled up by the entire family, toddler included!
Are you a pickle lover like myself? Do you make your own, or have a favorite recipe to share with the rest of us?