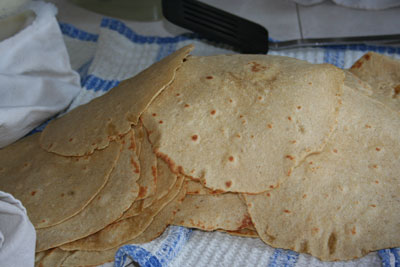 We just love us some homemade tortillas in this family! (Gosh, I'm learning to talk more and more like an American all the time- I love you gals! 🙂
After buying the whole grain or sprouted store bought ones for years, we are completely sold on eating homemade ones instead. Their texture is softer and less chewy, and we find the taste much nicer as well (as with most homemade foods). Not to mention, they're cheap to make!
I used to be intimidated by making tortillas myself, but finally decided to give it a try about a year ago. I was pleasantly surprised by how easy of a process it is! I also use a soaked method (which is not any more complicated or time-consuming than an un-soaked process), in order to reduce phytates and enhance digestibility.
My recipe comes from my absolute favorite whole grains recipe book: Sue Gregg's An Introduction to Whole Grain Baking . You can see a review of this book that I wrote just over a year ago. Everything I try turns out wonderfully, and I use this book at least 2-3 times a week. I am not affiliated with Sue Gregg's company at all, but just think that this is such a valuable book for anyone desiring to learn to do healthier baking, including soaking and sourdough, with excellent results right from the start! (This is also the last of her recipes that I will post, because I want you to buy her book, not just use my site for recipes!)
Here's the recipe:
(I always at least double it, if not triple or quadruple)
Soaked Tortillas
1 Tbsp melted butter (or coconut oil works well, too)
2 Tbsp whey or cultured milk (or lemon juice or apple cider vinegar)
Pour both ingredients into a liquid measuring cup, and then top the cup up to the 3/4 mark using filtered water.
In a large mixing bowl, add:
2 cups Kamut or spelt or whole wheat flour
Stir the liquids in to the flour until just mixed. Squeeze the dough together with your hands until it is evenly moist, and forms a nice, stiff ball of dough. Place it back in the bowl, and cover it with a damp kitchen towel, and if you like, another dry kitchen towel over top (I find this helps to keep it more moist).
Let it sit overnight, for at least 12 hours and up to 24 hours.
The next day:
Add a 1/2 tsp of sea salt and mix it in well, kneading the dough for about 2 minutes (use a little bit of flour below to prevent sticking).
Let it sit for 30 minutes, covered with a towel (for easier rolling).
Divide the dough up into small balls. This recipe makes 1 dozen 6″ tortillas. To do this, I cut the dough in half, then each half in half again, then each half into 3 even pieces, and roll them all into balls. Another alternative is to make only 8-10 tortillas and then make them a little bit larger (more like 8-10″). I find this easiest to do with a serrated steak knife.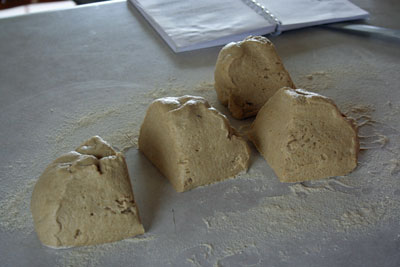 These are my 4 big balls of dough, from a quadruple batch. Each of these will be cut into 12 (or 10) small balls.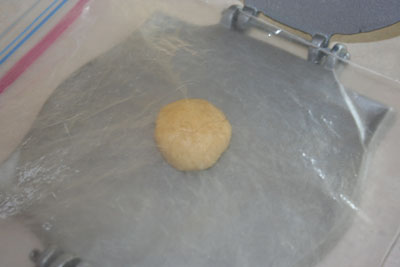 Here is where it gets fun! I recently bought a tortilla press, and I just love how it makes the rolling procedure so quick and easy! However, I did the rolling by hand for nearly a year before I broke down and bought this, and it's easy enough to do it that way. Just make sure that your counter is well-floured enough so that you can easily peel the tortilla off to put it in the pan.
If you choose to purchase a press (I'll give a couple resources at the end), the way that I have found to make it easiest is to take a large Ziploc storage bag and cut the seams off, leaving me with two square pieces of plastic. I put one on the press, sprinkle it with a bit of flour, put down my ball of dough, sprinkle just a bit more flour, and then put the other piece of plastic on top. Then I press it. I find (with my press, anyways) that it helps to lift up the press and re-press the tortilla at a couple of different angles to press my tortillas as thinly and evenly as I like to have them.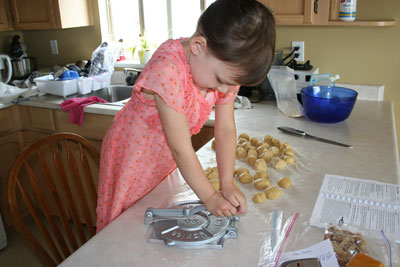 Here's my 4 year old, Abbie, working the press. This has become a really fun kitchen activity for us to do together, because she is able to roll the balls after I cut them and also to press them for me. I have made 2 sets of the plastic pieces, so that I can always have one tortilla ready and waiting to be cooked, and she can be preparing another one for me.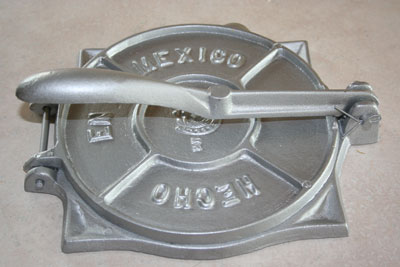 This is my press. It's made in Mexico, of cast iron, though it has some other kind of coating. Even if it weren't easier with the plastic pieces, I would probably use them anyways just to avoid having my dough touch the metal coating. Regardless, this press works wonderfully and saves me time and effort! This is an 7.5″ press, but you can also get ones that are 6.5″ and 8″.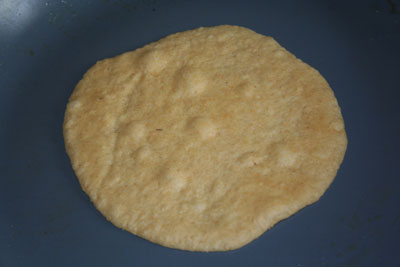 Once you've rolled or pressed your dough balls, you want to carefully lay them on a pre-heated pan, without any oil or grease. I start mine at just above medium, and turn it down to a little below medium after it's been on for quite awhile. They need about 15-30 seconds on each side. I flip mine when they just begin to bubble up a bit like this one.
After each tortilla has been cooked on both sides, I make a stack on a kitchen towel, and keep a second towel on top of the pile. This helps to keep them soft and moist while they sit.
This recipe freezes well, and I usually keep a bag of 10-12 in the fridge for immediate use, and then freeze the rest in bags of 10-12 (this is about the size of a store-bought bag).
By tripling or quadrupling my recipe, I can make up to 48 tortillas (or more like 40 if I want them a bit bigger) in about 1 1/2 hours, not counting the overnight soak.
Buying a Tortilla Press:
This is a link to the one I bought I found on Craigslist. It was new, and cost $20 CAN, plus shipping (which is pricey- to my house it was $16 CAN). I'm not sure if he will sell to the US or not, but it's worth asking!
Amazon also carries several nice ones that I was eyeing before I found the one that I ended up buying:
Imusa Victoria Cast Iron Tortilla Press, 6.5 Inch
Imusa Victoria Cast Iron Tortilla Press, 8 Inch
That's it! So easy and so worthwhile! Now go make some yummy tortillas!
Have you ever made your own tortillas?