The Mediterranean Secret to Phenomenal Vegetables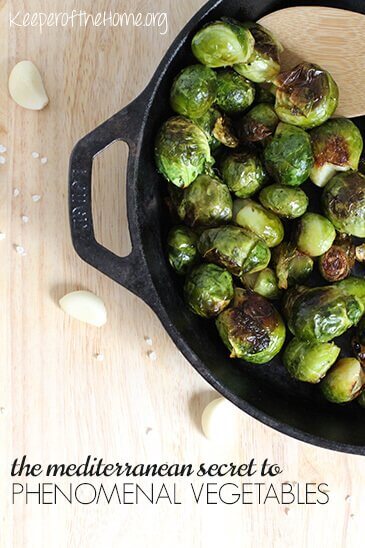 Growing up, my family ate a lot of vegetables. It comes as no surprise being that my mother is from Sevilla, Spain where vegetables are a staple of the Mediterranean diet.
When I was younger I never understood why so many of my friends complained about eating their vegetables.
"They're gross", some would say. Others, "they have no flavor!"
I remember asking my mami why so many people disliked colorful, seasonal vegetables at their peak of freshness. I vividly remember her telling me, "It's because they boil their vegetables and just add butter."
Now, I'm not here to say that some veggies don't taste wonderful steamed or boiled topped with a pat of butter, however, some vegetables need something extra to take them from blah to phenomenal.
What's the secret?
The Mediterranean secret to phenomenal vegetables is a combination of using the ingredients garlic, olive oil, onions, and fried tomatoes with the methods of either sauteing or roasting.
You'll find that once you start sauteing and roasting your vegetables specifically in garlic and olive oil, you'll never turn back.
(For those that follow a Weston Price type diet and are concerned about the smoke point of extra virgin olive oil, check out my post on how to cook with olive oil the right way.)
Sauteing Vegetables in Garlic and Olive Oil Sprinkled with Sea Salt
This method will make any vegetable absolutely scrumptious that both adults and children will love. The best part about it is that it is so simple.
All you do is gradually heat up some olive oil in a cast iron skillet or pan. Add your vegetable of choice and 2-3 cloves of pressed or minced garlic. Top with sea salt and serve.
My favorite vegetables to cook in this manner are…
broccoli (my kids absolute favorite!)
cauliflower
swiss chard
kale
spinach
green beans
okra
fried sweet peppers (made without garlic and I think the best side dish in the entire world!)
eggplant
squash (zucchini and yellow)
tip* if you're cooking a low acid vegetable such as asparagus or any of your greens add a squeeze of fresh lemon juice or a tablespoon of vinegar to brighten and freshen it up.
Sauteing vegetables in olive oil, onion, and fried tomatoes.
Talk about sensational and easy to boot.  Sauteing vegetables with onions and fried tomatoes is a method most households in Spain use.
It gives the vegetables an amazing bright flavor and cooked together with sauteed onions… an incredible depth everyone will enjoy.
All you need to do is gradually heat up some extra virgin olive oil in a cast iron skillet or pan. Once the olive oil has come to heat add a diced onion and saute until just about transparent. You can either add 4-6 fresh large sized (skinned and diced) tomatoes or two cans of diced tomatoes. Add your vegetable of choice and simmer for about 15-20 minutes or until the tomato sauce has condensed.
Absolutely scrumptious!
My favorite vegetables to cook in this manner are…
potatoes (first fried, then added to the sauce)
squash (zucchini and yellow)
cauliflower
swiss chard
Roasting vegetables in extra virgin olive oil, garlic, and sprinkled with sea salt
Roasting vegetables leads to phenomenal vegetables.
Especially the ones that are so notorious for being bleh! You know, brussles sprouts and other root vegetables such as beets. With roasting, you'll never say bleh again.
In a large bowl toss your vegetable of choice, about 1/4 cup of extra virgin olive oil, 2-3 cloves pressed or minced garlic, and sea salt. Add all your ingredients to an ovenproof dish and bake at 350F – 375F for 40-60 minutes or until your vegetables are tender.
This is such an easy way to cook vegetables that leads to an incredible deep depth of flavor by the roasting alone.
My favorite vegetables to cook in this manner are…
beets
butternut squash
turnips
rutabaga
parsnips
Get Creative
Once you get a feel for cooking your vegetables in these different methods you can start to get creative with how you cook them.  You can add a combination of vegetables, spices, cured meats, legumes, or even fried eggs.
One of my children's favorite meal is a combo of olive oil, fried tomatoes, garlic, zucchini, and garbanzo beans all on a bed of white basmati rice.
The dinner literally takes about 20 minutes to make especially if you have your beans already cooked ahead of time. A simple, scrumptious, and nourishing real food meal.
Have fun with it.  Also, now that the farmers market is open pretty much across the nation, pick up some vegetables you've never tried before and try one of the methods above.
You'll soon find that you and your family will love their vegetables.
Does your family love their vegetables? Please share your favorite methods of cooking phenomenal vegetables.