A Nourished Start: Peanut Butter Smoothies and Baked Oatmeal
Breakfast just might be my favorite meal of the day. I have a real penchant for breakfast foods (waffles, pancakes, fresh fruit and berries, yogurt, sausages, smoothies, hashbrowns, eggs benedict… I could go on, but I'm sure you get the point!).
Lucky for me that eating a wholesome and hearty breakfast is a fantastic way to start the day, and there are so many delicious and nourishing ways to do it!
If you're looking for some new ways to spice up your morning breakfast routine, make sure that you head on over to The Nourishing Gourmet, for the Nourished Start Breakfast Carnival, full of fantastic ideas for keeping your breakfasts healthy, varied and of course, yummy!

But back to breakfast…
This first recipe is a recent one, that was inspired by Crystal's mention of peanut butter smoothies in their home. I don't believe she ever gave the recipe, so I decided to come up with my own. After a bit of trial and error, I've finally found one that we all love!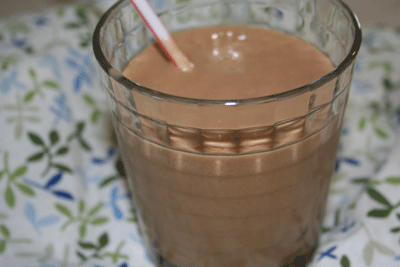 Peanut Butter Smoothie Recipe
Ingredients
1

cup

milk

raw is preferable, and makes it that much more thick and creamy

1/4

cup

peanut butter

I stick to organic, as peanuts are highly sprayed. Other nut butters would also be delicious!

1

Tbsp

carob powder

you could substitute cocoa powder if you prefer

1 1/2- 2

Tbsp

honey

2

frozen bananas

broken into chunks
Instructions
Combine all in the order given, and blend until smooth. Enjoy sipping on this indulgent treat!
Notes
Serves 2 (this works for me and my little ones to share, but if it's for the whole family, I double it).
One of the great things about this smoothie for me is that it helps me to get in a good chunk of protein, which I try to eat 80-100 grams of while pregnant, so it's also a perfect afternoon snack. It also has the double benefit of being a cheer-rousing snack for the rest of the family, and it's protein base helps to keep mid-afternoon blood sugar levels steady and balanced, resulting in less grumpy children (and mommy!) while dinner is being cooked!
My second recipe, Baked Oatmeal, has actually been posted on my blog before, but I've been making and adapting it for a long time since then, and thought it deserved to be posted more purposefully, rather than tacked onto the end of another post.
Though my breakfasts are usually a bit simpler than this (regular oatmeal, eggs and toast, etc .) this is one of our very favorite breakfasts and is so nice to enjoy on a weekend morning or with guests.
Baked (and Soaked) Oatmeal
This is a soaked recipe because oatmeal in particular is high in phytates (which impair digeston and can block mineral absorption) and requires a good soaking period of at least 12 hours but preferrably closer to 24, for better digestion and assimilation. I notice that when I'm in a hurry and don't soak this for as long as usual, my husband and I feel that it sits a bit heavier and doesn't digest quite as well, so if you can, plan to soak it in the morning of the day before you'd like to serve it.
Baked Oatmeal
Ingredients
6

cups

rolled oats

1

cup

melted butter or coconut oil

I usually do a bit less than this- sometimes as low as 3/4 cup, though I definitely wouldn't go any lower than that

3/4

cups

honey

you could also use 1-1/2 cups of rapadura or sucanat

2

cups

cultured milk product

either buttermilk, kefir or yogurt watered down. I usually do this step 1/2 kefir and 1/2 water, which works well and saves money!

4

beaten eggs

4

tsp.

baking powder

1

tsp.

salt

1

tsp.

cinnamon
Instructions
The day before:
In a large pan, like a 9 x 13 corning ware or something similar, add the first four ingredients. Mix well, so that everything is moist. Cover with a clean kitchen towel, and leave it to sit on the counter until the next morning.
The next morning:
Preheat the oven to 350 F, and then add to the pan the last four ingredients. Sometimes it's a bit difficult to mix the oats, if it's been chilly during the night. On really cold days, I've had to pop the pan back into the oven for a minute while it's preheating, just to soften the butter or coconut oil enough to be able to stir it better.This is also the time that you could add any fun additions that your family would enjoy. Some that we have tried are grated or diced apples (with extra cinnamon), and raisins. Both were really nice, and I'm sure you can think of many other ways to fancy this dish up, although it is just wonderful on it's own.

When everything is well mixed, smooth it out a bit, and put it in the oven for 40-45 minutes, until lightly browned and crisp on top.
(When I make this on Sunday mornings, I go mix everything and get the oven going immediately when I wake up, before the kids are up. Once it's in the oven with the timer set, I run back to take a shower and get dressed, and get the kids up. By the time we're ready to eat breakfast, our baked oatmeal is ready to be eaten!)
We like to pour either raw milk or cream over our bowlfuls, and even if I haven't added raisins while cooking, they're often grabbed from the pantry and added in anyways. 🙂 Mmmm… I think I might have to make this tomorrow!
What are your favorite things to eat for breakfast?