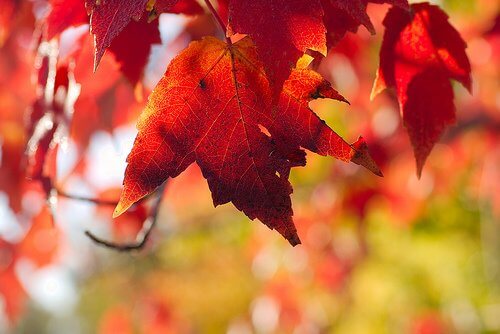 I can hardly believe that fall is upon us already, but the beautiful crimson leaves outside my window attest to the fact that it's true. I am always sad to see the summer go, especially since we had such a short season of truly warm summer weather here in the Pacific Northwest, and yet I do relish autumn as a time to take stock of things, slow down, establish new routines and capture summer's last fleeting moments before we say good-bye for another year.
This summer was full of activity. At the end of May, my husband and I joined an amazing team of other bloggers and went to the Philippines with Compassion International, a brief but life-changing trip. Shortly after returning home, we joyfully discovered that we were expecting our 4th child! From there, the next two months became a blur of nausea and fatigue, pathetic suppers and overflowing laundry baskets, homestay students, and summer fun interspersed amidst it all.
In early July we lost a dear friend, and then spent a week on the Oregon Coast with her husband and children and some friends from church in early August. It was an emotional time, but a special opportunity, and we made many memories that we will cherish.
By mid-August, I was helping my husband full-steam ahead with registration and scheduling for our family business, Resound School of Music. Business is booming, which has made the business/daily life balance very challenging, but we're grateful for how the Lord has been blessing this work. From there, the weeks blurred together and somewhere in there we enjoyed family outings in the summer heat, my husband's and youngest child's birthdays, our 8th anniversary and then began the new homeschool year just the other week.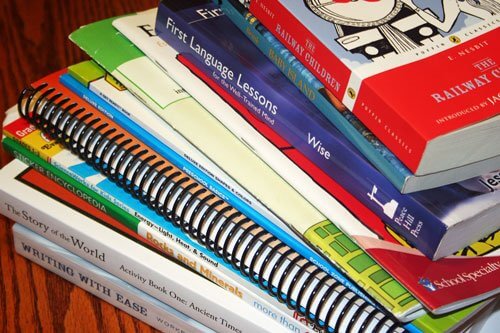 Homeschool This Year
With our oldest doing Gr.2 work and our second oldest now joining in and doing pre-kindergarten, it seems that the workload has increased significantly since last year. Here is our basic schedule for the weekdays:
Aim to be finished eating by 8:30am, with everyone dressed and ready for the day, so that we can do chores and get the kitchen tidy before we begin at 9am.
At 9am, I gather all 3 children together for a Circle Time, where we read a Bible story, work on memory verses, do one lesson from Get Wisdom (Biblically-based character lessons/devotionals for young kids), and pray together.
At 9:15, I get my 6 1/2 year old settled with a non-fiction book on any variety of topics (science, history, art, etc) for silent reading while I work 1-on-1 with the 4 year old. He and I are doing a few preschool workbooks, flashcard games and simple worksheets (he's loving these dog and cat worksheets right now), with the intention of getting him used to spending a short but focused period of time at the table with me, and introducing him to his letter sounds (we aren't doing letter names yet- I like the method for teaching reading in Ruth Beechick's A Home Start in Reading), numbers and counting 1-10, shapes, colors, patterning, etc.
From 9:30 until 10:30, we work on the basics- Language Arts (this year we're using First Language Lessons, Writing with Ease, Explode the Code, and Sequential Spelling, in addition to plenty of reading), and Math (Math-U-See Beta).
At 10:30, the kids have snack and recess (outside if the weather is good) and mommy takes a breather or hops on the computer.
At 10:45, we're back to whatever Language Arts we didn't get done before recess.
Around 11, we begin a more extended period of time to work on history (we're doing Story of the World, Book 1- Ancient History), geography (Legends and Leagues from Veritas Press), and science (we're using various books from Evan Moore to explore Simple Machines, Energy, and Habitats this year, as well as another book on Rocks and Minerals). We do history twice a week, science twice, and geography once.
We finish up by noon, when I begin to make lunch and Abbie can sit at the kitchen table finishing up anything that's not quite finished. Today she was drawing pictures of the tale of Gilgamesh (an ancient Assyrian folk tale) to complete our history lesson, for example.
What do I do with the 2 year old? Hmm, very good question. I still haven't really figured it out yet myself. I think that I'm going to train her to stay in a play pen, with various kinds of activities and toys for at least part of the time. Sometimes she sits in the high chair and either eats or colors. Sometimes she just plays happily. Sometimes she drives us all crazy and gets into everything.
We've definitely got some work to do in this area and I'm open to ideas. I really need to go back and re-read Natalie's excellent post with Seven Strategies for Home Schooling Moms (because I'll learn everything I can from a mom of 8!).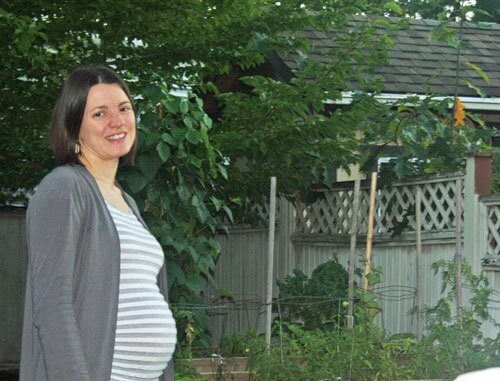 Pregnancy Update: 20 Weeks!
I love to hit the 20 week milestone. There's just something about being halfway there that is so encouraging for me.
I had the normal nausea and fatigue, but once I got to about 12 weeks, my stomach started to even out. I remained fairly tired until about 15-16 weeks, when I started feeling more like my usual self. My guess is that we're having a boy, since that's the same pattern that my son's pregnancy followed, whereas I remained both sick and tired right up until 16 weeks with my girls, but who knows?
Most days, I only vaguely remember that I'm pregnant. I suppose that's how it goes with #4! Life is so busy that it's only pulling on my maternity clothes in the morning, the achy muscles each time I get out of a chair, the evening indigestion or the occasional baby movements that remind me of this sweet little life growing inside.
I'm doing my best to simply eat well (lots of real, traditional foods- especially protein and calcium foods, and anything that's particularly nutrient dense), exercise often (this is key- a post on this topic is coming), and take my herbal nutrient supplements from Trilight Health (I'm using Tri-Iron and their pregnancy mineral formula). I'm also on a temporary, restricted diet to try to prevent having another baby with gut issues and food sensitivities, which you can read more about here.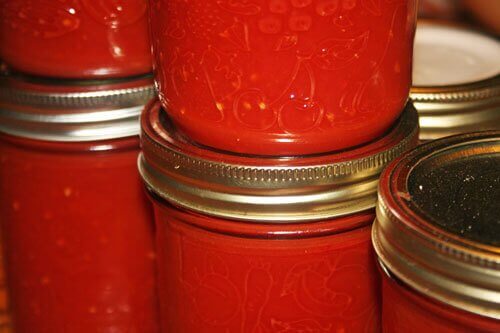 Gardening and Preserving
Well, as I already alluded to earlier this summer, my beautiful new garden beds were a bit of a flop. Very nutrient-less, dead soil combined with a poor summer weather-wise to result in meager harvests. We did get a decent amount of garlic, heirloom tomatoes, green beans, carrots and greens, all things considering.
I've got plans to really enhance the soil this fall with composted manure and organic matter from the yard (leaves, grass, etc.) in hopes that by next spring, it will be bustling with life and ready to produce a better harvest.
I'm through with most of my summer preserving. At this point I've done:
Still to come is 20 lbs of canned pears (my hubby's favorite), as much canned applesauce as I have time for (and maybe a small batch of apple jelly), and lots of dried apple rings. Phew!
What's Coming Up
In blog news, I've recently welcomed some amazing new writers. I am also being joined by a virtual assistant, Lindsey, who will help me keep my head on straight. I'm asked so often how I "do it all", and the answer is, I don't. I've previously had help in the form of an advertising manager (thanks, Kate, and I'll miss you!) and now I am adding significantly more hours in the form of this virtual assistant.
For those of you who will be attending the blogging conference, Relevant, I am beyond excited to announce that I will be speaking there! I attended last year and had the most fabulous time, learning and fellowship with other Christian bloggers. It's such an honor to be a speaker this year, especially alongside some ladies whom I respect immensely, not to mention rooming with my sweet Philippines teammate Emily (whose new book Grace for the Good Girl has just been released- check it out!). The conference will take place in Harrisburg, PA, October 27th-29th.
And that's what's going on in our home… how about yours?