Tips for School Lunchtime Success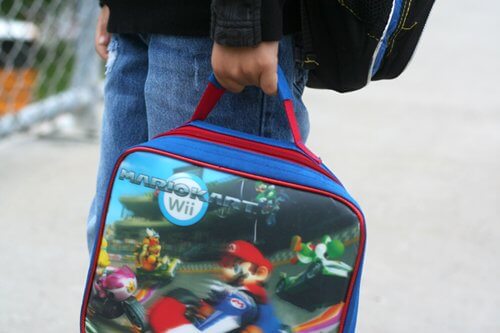 Written by Diana Bauman, Contributing Writer
September has been an exciting month for my five year old son and I. He started kindergarten and I became a first time parent with a child in school.
My husband and I met all of his teachers including his principal, art teacher, gym teacher and music teacher. We toured the classes, met other parents and investigated every nook and cranny of his elementary school.
I signed up for the PTA and as a homeroom helper (one of the benefits of being a work at home; I can get away when I need to).
My husband and I were very happy with his new school and teachers so the only thing this real food blogging mama had left to do was pack him a nourishing lunch.
I filled MarioKart with his favorites. A homemade peanut butter and jelly sandwich, grapes, aged cheddar cheese, cherry tomatoes from the garden, homemade yogurt and a thermos (that keeps cold for 13 hours) filled with fresh milk.
On his first day of school, we prayed for a good day together and I stuck around to hear the students stand and pledge their allegiance under God. With tear swollen eyes, I blew him a kiss and gently whispered, "have a good day papa; I love you."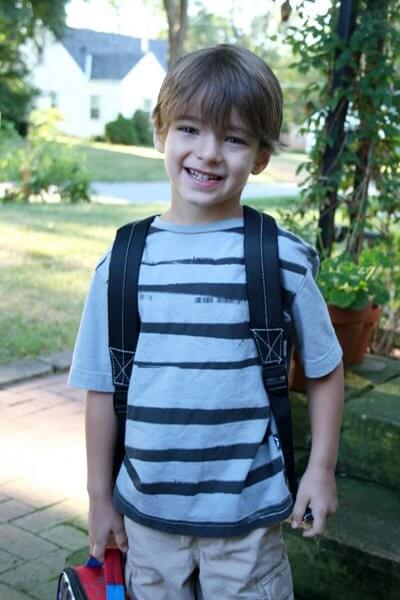 I can remember constantly checking the clock that day as hour by hour ticked away. When the time finally came, I packed up my toddler and we both eagerly awaited for brother.
When school was dismissed he came running into my arms. As he was talking about his day, I carefully unzipped MarioKart expecting to see a few grapes strewn about.
What I didn't expect was to see that he had eaten nothing. Zip. Nada.
Okay, I called it the first day jitters. Maybe he was too nervous to eat.
The next day, nothing.
The day after, a few bites of a chorizo montadito. He loves Spanish chorizo, what's up with that?
This pattern continued for the first week until I spoke to both my son and his teacher. He's a bit shy; so, at first it was a bit intimidating to break out his food and eat with others.
Since then I have been incredibly blessed that his teachers have taken the time to sit with him at lunch making sure he sits with the group and eats.
However, his teacher did mention to me that maybe I should re-evaluate the quantity of food that I've been packing him. The quantity of food itself may seem overwhelming to him when his thoughts may be on recess that awaits.
Ouch. Looking at the list above, I was packing him quite a feast. He never ate that much at home with me. Why on Earth did I think he'd need that much at school?
Lesson learned.
We've been at this for about a month now and I have learned some important tips that I would love to share with you on making school lunch time both enjoyable and successful.
Tip 1: Start with a Nourishing Breakfast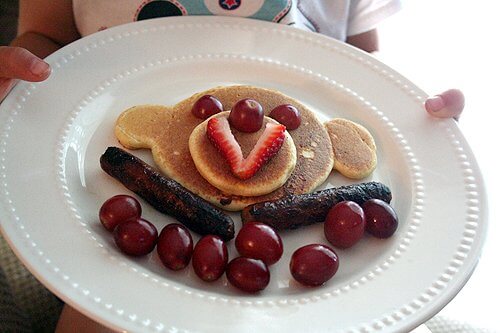 I'm sure you have heard it time and time again, but this is the number one tip for school time lunch success.
A well balanced, nourishing breakfast, is going to kick start their day by getting their metabolism moving, their brains working with an ability to be more focused and alert. Their appetites will be satiated well until lunch time.
For my boys, I like to make sure to feed them dairy, protein and a carb in some form every morning.
Some breakfast ideas are
french toast using pastured eggs
smoothies with fresh fruit, homemade yogurt/kefir and raw egg yolks
homemade yogurt with toasted bread and peanut butter
With each of the meals above, I like to include a glass of fresh milk or fresh squeezed orange juice and a fruit.
As you can see, my son heads to school having been nourished and able to start his day.
Tip 2: Ease Up!
I know. It's a crazy thought, huh? But yes, let's ease up in this area and not expect so much from our little ones at school. If only half of their lunch is eaten on a day, that's okay. You know they headed off to school fully nourished, so a few bites during the day will keep them well balanced until they get home.
However, make sure to talk about it with your child and set some goals for the next day.
Tip 3: Don't pack a ginormous lunch
Yes, I learned this lesson the hard way. I never fully understood the bento movement; however, I do now. I've been learning on making lunch fun by making snack sized versions of foods that my son loves. In smaller bites, they are more appealing to my son and seem much more feasible to eat.
Tip 4: Have a nourishing snack ready for your child when he/she gets home
I've learned that when my son heads off to school having been nourished and if he's eaten "some" of his lunch, he's just fine as long as I have a nourishing snack waiting for him right when he gets home. Snacks like homemade muffins, nuts, fruits or raw vegetables will keep up his energy until supper time.
When you look at the grand scheme of things, lunch time is important; but, as long as your child is eating a big nourishing breakfast and comes home to a nourishing snack, we can ease up on lunch and feel confident that they're getting all the nutrients they need.
What are some of your favorite foods to pack for your children at school? I'd also love to hear about any tips you may have on lunch time success.