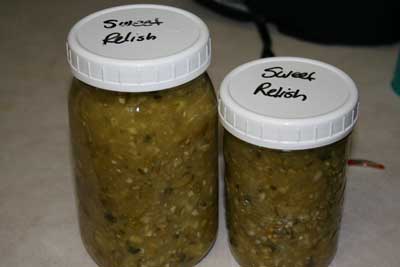 Sadly, my sweet pickles didn't turn out this year. For some very unknown reason, rather than staying wonderfully crisp, then turned soggy. Very soggy.
Since the recipe I use is pretty tried-and-true (I've done it before many times without fail), I decided to call my mother-in-law to brainstorm ideas of what went wrong. The recipe originates from her, so I thought she might have some clues to help solve my soggy pickle mystery. Together we came up with various thoughts… the extra pickling cucumbers I was given from a friend were too large, or they were the wrong kind of cucumber, or maybe they had some kind of bacteria on them, or maybe my fridge temperature wasn't cold enough… we still don't know and it's bugging me a bit, so if you have any thoughts to add in, send them my way!
However, my mother-in-law did come up with one fantastic solution to my main problem– I just hated the thought of wasting so much food! All that organic apple cider vinegar, raw honey, onions from my garden, not to mention the cucumbers.
So why not make relish?
I did just that. I used a slotted spoon to scoop out all of the pickles, along with a bit of the onions and of course, some of the pickle liquid. I put it all in my food processor and chopped it up in several batches. It looked like relish. It smelled like relish. But not being a relish fan myself, I still wasn't quite sure. I called my hubby in for a taste test… and he loved it! Best relish he's ever had! Phew! 
Perfectly good food, saved from the trash can. That makes me really happy, and even happier to see my husband enjoying the relish on the hamburgers we ate the other night.
How have you made good use of food that would have otherwise been wasted? Any stories to share of how you transformed a kitchen disaster into a victory?

And, to help out a reader who left this comment:
Now, here
is a "pickle" for you: I made a large batch of the lacto-fermented
refrigerator pickles that you had posted a recipe for awhile ago. I
used 2T of salt, because I had no whey. They ended up being way too
salty. Even my husband who loves salty pickles had to admit that they
probably need to be tossed. They have since been in my refrigerator
because I do not want to throw them all. Any ideas on what to do with
these?
Any suggestions for Sheri?