No, You Don't Have to Make Your Own Ketchup {Recipe: Homemade Cheeseburger Helper}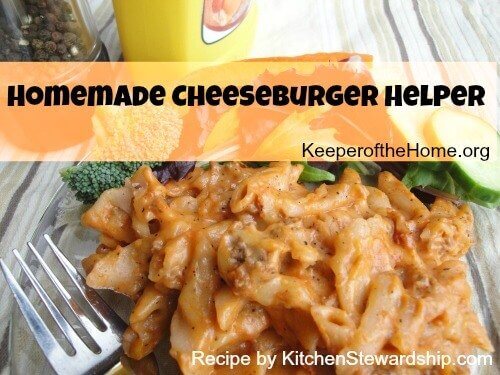 Guest Post by Katie of Kitchen Stewardship
I've done it once.
Made my own ketchup, that is.
It was early in my transition to real food, which was a bit more "zero-to-sixty" than normal for my generally mild-mannered nature that resists change like a toddler resists naptime.
I was reading everything, buying everything I read about, making every recipe I came across, feeling like I had to do it all at once. Naturally, I ran into some burnout and some frustration.
Homemade ketchup was one of them, and it remains an icon in the Hall of "I-Don't-Have-to-Do-it-All" Fame.
It's not even that making ketchup takes a long time or is difficult at all (although you multi-tasking mamas know that sometimes, three minutes is truly three minutes too long). It only dirties one pot. You don't always have to buy fish sauce, but goodness, a surprising number of homemade ketchup recipes call for it! That threw me off for a while, believe me.
Trying and Failing
Our problem was two-fold:
We don't consume a lot of ketchup in our house. In the absence of a recipe calling for a cup of ketchup, I wasn't going to get through the batch before it went bad, making my effort worthless. (See comments above about three minutes, burnout, and my knowledge of toddlers and napping, and you'll know that's a big deal for me.)
We didn't really like it. Too tomatoey, not smooth enough.
I've never made homemade ketchup again, and you know what? I really don't feel guilty about it.
Since we don't go through a ton of ketchup, I just use it sparingly on the children's plates when we have homemade French fries, buy a decent brand without high fructose corn syrup when possible, and let it go.
When I see ketchup in a recipe, I've learned that it's an easy one to fudge.
Not with chocolate, but with tomato sauce.
Reverse Engineering Ketchup
What is ketchup, anyway? It's just tomatoes, quite a bit of sweetener, and a smidgen of garlic or other seasonings. In a dollop on the plate, those seasonings are very important. In the context of a larger recipe where ketchup is only a fraction of the taste sensation, they become much more insignificant – and thus easier to fiddle with.
The first time I fudged ketchup was when our basement stockpile of Hamburger Helper ran out, near the end of the first year of the real food journey. My husband and son had a tradition for "Boys' Night" and always made Hamburger Helper together. I couldn't bring myself to buy the box anymore, but I knew I had to do something to save Boys' Night. (Our dates with our kids are important, as I wrote about in this old guest post here at KOTH!)
I looked up a few "homemade" hamburger and pasta meals online, seeking one that was as basic as possible. I knew if I could just find the right proportions of water to pasta to sauce so that the meal could be made in one pot, I could make it easy enough to follow.
The one I found used a half cup of ketchup, and at the last minute I had the boys throw in tomato sauce instead. There was onion, garlic, mustard, and a whole teaspoon of black pepper already in the recipe, so I crossed my fingers and hoped it would all work out.
The sound of success?
"Mmmmmm, this is GOOD! Really, really good!"
If my husband and then-four-year-old son can ditch the box and make the real thing, believe me – you can, too.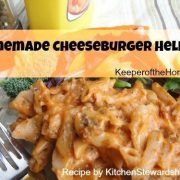 Print Recipe
Dad's Cheeseburger Helper
Ingredients
1

lb.

ground beef

1

tsp.

black pepper

1

tsp.

onion powder or 2-3 tsp. onion flakes

¼

tsp.

garlic powder

or 1 clove minced garlic

1 ¼

c.

tomato sauce

hefty squirt of mustard

1 ¾

c.

water

½

tsp.

salt

or more to taste

2 ½

c.

pasta

whole wheat works fine, any shape

2

c.

shredded sharp cheddar cheese
Instructions
Brown and drain beef.

Stir in pepper, onion powder, garlic, tomato sauce, and mustard.

Pour in water and pasta.

Bring to a boil and reduce heat.

Cover and simmer 15 minutes, stirring occasionally until the water is absorbed and the pasta is cooked.

Turn the heat off and stir in the cheese.
GF adaptation:
Use gluten-free pasta (tested with brown rice pasta) and reduce the water by a 1/4 c. to avoid mushiness.
My little man ate it all…
…and begged for "more!"
The Problem with the Box
If you're wondering why I couldn't buy Hamburger Helper anymore, here's a short list:
high fructose corn syrup
trans fats
white pasta
MSGs
preservatives and other weird things I can't pronounce
It simply does not fit in the real food folder – not even in the same file cabinet, if you ask me.
If you're ready to ditch the boxes, too, start with this easy meal that your family will love, and then work up the courage to strike out on your own and cook outside the box.
Since the Boys' Night dinner success, I've remade many recipes into healthier versions so that my family can still eat the meals we always enjoyed, but now with real food only.
This week I launched a new eBook, Better Than a Box, to help teach you how to do the same.

Not only will you find family-friendly real food remakes like this one but also a massive teaching section on how to reverse engineer your own favorite comfort food recipes that include boxes, bottles, and cans of processed food.
If you're ready to ditch the fake foods and mile-long ingredients lists, I'm here to help.
Better Than a Box is on super sale through 8 a.m. Friday for only $1.99 for a PDF download (comes with Kindle and Nook files + printable recipe cards + other free printables) or 99 cents for the Kindle version on Amazon.