Plan It- Don't Panic: The Official Start of the Meal Planning Challenge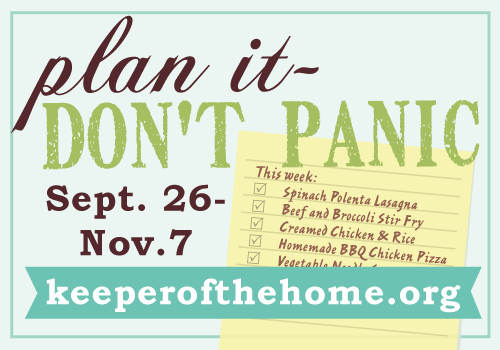 Welcome to the "official" (see last week) start of the Plan It- Don't Panic Meal Planning Challenge!
This challenge will be running for the next 6 weeks (Sept.26- Nov.7). Every Monday I will be posting both my own menu plan for the week, some tips on aspects of meal planning OR some recipes I want to share with you, as well as a link-up for any bloggers to join in with their own meal plans.
Unsure of what this challenge is all about? Go back to the initial introduction post for more information, and check out this post full of resources to help you get started!
Perfect Timing for Our Family
This challenge could not have come at a better for our family, although I didn't know it when I planned the dates. As our first 3 children have all had some level of food sensitivities and eczema, which we have treated holistically using diets and supplements, we have sought out my midwife/naturopath's help with my current pregnancy. The goal is to improve my own health, digestion and gut flora so that I am less likely to pass on a compromised digestive system to my new baby (read this post for more on my own health history and why my gut is in such bad shape, although it has certainly improved by leaps and bounds over the years).
Last week she had me tested for my Candida (yeast) overgrowth levels, which came back moderately high, and for various food sensitivities (indications of a leaky gut and poor digestion). For the next 4 weeks at minimum, she will have me on a strict but carefully planned diet to avoid the foods that are bothering me, while boosting my system with heavy-duty probiotics, homeopathics that fight Candida and strengthen my liver, and digestive enzymes to ensure my meals are better broken down and easier on my gut.
That said, the level of restriction in my diet will necessitate careful planning (as you will see in my menu plan further down). I will be off most grains, most dairy (except raw milk and goat's dairy products), many fruits, various nuts, nightshade vegetables, a few meats/fish, and all sweeteners/cocoa/caffeine/food chemicals, etc.
If that sounds crazy and daunting to some of you, it doesn't at all to me. Why, you ask? Because our family has been on umpteen various restrictive diets over the years for various family members, and I've learned to roll with the punches and make things work on special diets.
I've noticed that food restrictions/allergies an extremely popular topic on the Plan It- Don't Panic Facebook group page, so I thought I would share some of what I have learned over the years of doing this.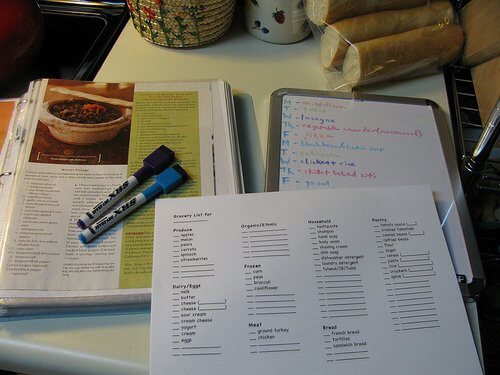 Here are some of my tips for meal planning with food allergies and restrictions:
1. It ALWAYS goes better with a plan. I know that it can seem challenging to even come up with a plan in the first place on any special diet, but without the plan, it is just that much harder.
Not only do I like to plan out meals, but I even try to plan out snack options, because it can be very tempting and frustrating to figure out what to eat when you're already hungry and those blood sugar levels are dipping.
So if you're approaching this feeling overwhelmed from the start, I really want to encourage you that although making your initial meal plans may be a challenge, it will most certainly pay off and you will be so grateful that you pushed yourself to do it.
2. Start with what you already know. Does your family love Shepherd's Pie but you're off of white potatoes? Try making it with sweet potatoes, yams or squash topping instead. Are you huge muffin fans when it comes to breakfast but wheat is out of the question? Try experimenting with gluten-free recipes or even coconut flour to make wholesome muffins that are diet-legal. Love smoothies with yogurt or have a soup recipe that requires cream? Something like coconut kefir or coconut milk can make a simple substitution, allowing you to keep the rest of the recipe the same.
3. Make a list of what you CAN eat, rather than what you can't. It's infinitely more helpful and encouraging to see a list of the things that are allowed.
Additionally, this list can serve as a starting point and inspiration for meals that you can make. Pick some favorite ingredients that you like off of the list and start brainstorming meals that use those ingredients. You could try plugging the ingredients into a recipe search engine like AllRecipes.com for more ideas, or search through the index of your recipe books.
You'll probably still have to adapt many recipes and bypass some altogether, but I often find new inspiration when I approach my restricted-diet menu planning with an attitude of "what yummy things can I make?" rather than, "gosh, I can't make this or that or…".
4. Find meals your family enjoys and then repeat. It sometimes feels like a cop out to make the same thing every week, but really it isn't. When you're starting out with new food restrictions and trying to figure out what your family will actually eat, there is nothing wrong with eating something again in a short period of time.
Gradually, your repertoire will grow and the need for repetition will lessen, but until it does, don't expect yourself to cook gourmet like Martha Stewart or come up with intriguing menu options for every day of the month. Simple, nutritious, filling, tasty. Good enough for me.
5. But don't be afraid to bring in extra reinforcements. You might usually be able to meal plan and cook with very little help from recipe blogs or cookbooks. But when you are eating in a very specific way, and particularly when you first start eating that way before it becomes the new "normal", you'll want to give yourself every tool that makes it easier.
The last time we were on GAPS, I started really strong but then one of the biggest struggles I had was family members growing tired of the same meals and simple recipes over and over again, and all of us becoming frustrated by the mutiny in our kitchen. I spoke afterwards with a friend who said that the best investments she had made during that time, though a little bit pricey, were the cookbook Internal Bliss and the GAPS Guide.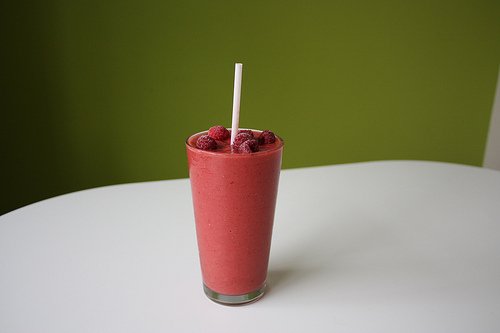 All that said, here's our Menu Plan this week:
Monday

Tuesday

Wednesday

Thursday

Friday

Saturday

Sunday
You can read more about how I do lunches, and why I just say "vegetables" for dinner rather than making more specific plans some nights in last week's menu plan.
Now it's your turn… share your menu with the rest of us!