Real Food Makeover- The "W" Family, Part 2
Continuing on from the first installment of this week's Real Food Makeover…
What to Buy, Where to Buy It
One fantastic thing that the "W's" mentioned is that there is a an enthusiastic local foods movement in their area, including a co-op, farmer's markets and CSAs. I think that the co-op would be an excellent starting place.
Last time I talked about creating a kitchen binder, including a grocery checklist. During mom's times of meal planning, she will be able to check off needed items on this list, as well as hopefully getting into the habit of quickly using it to check off things whenever she notices that something is running out. Once a month, maybe during her Sunday afternoon planning, she can use this list to put together a co-op monthly order, which will allow her to start buying some foods of better quality at affordable prices.
One of the easiest ways to instantly improve the way that anyone eats is to simply replace certain foods that they buy with similar foods of better quality. Here are some particular examples for the "W" family:
Replace current bread with varieties that are either sprouted grain or actual sourdough (not just the white bread that tastes like sourdough- to know if something is truly sourdough, it should have only ingredients like flour, water, sourdough starter, salt, etc.)
Replace white/brown sugar with an unrefined alternative, like Sucanat or Rapadura. Honey is the perfect sweetener for things like oatmeal, smoothies, yogurt, etc.
Replace organic milk with raw, grass-fed milk if it is available (here are some raw milk sources for GA, where they live)
Replace meat with grass-fed beef and free-range poultry (look for local farms near their home either  at Eat Wild or Local Harvest)
It would be best to replace boxed cereal ultimately, but in the meantime, she can replace what they currently eat with some better choices while making baby steps. Cereals with high sugar content and puffed grains are among the worst. Avoid anything with hydrogenated oils (even partially hydrogenated) and high fructose corn syrup. A couple of brands that are better are Barbara's (but avoid the Puffins- they all have puffed grains), and Nature's Path (they have lots of great flake cereals and sell bulk size Eco Pacs).
Don't try to do these all at once- replace one food or group of foods per month, until you've gradually replaced them all. I offered packaged cereal suggestions because I understand that it's hard to go from using convenience foods for breakfast to suddenly making everything all the time. Little by little is the best way to make changes.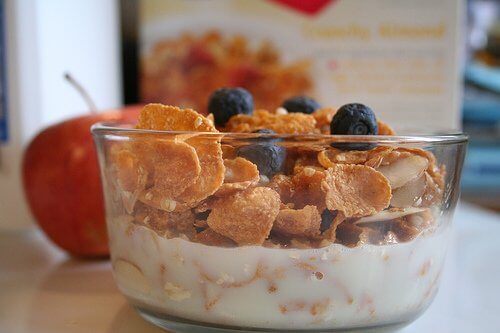 Increasing Homemade Foods and Vegetables:
I think that the easiest way to do this is by incorporating two things into "D"s weekly schedule:
A portion of time (perhaps during naps or if the children watch any videos) each week that is set aside for food prep. Use the time to make muffins and granola bars, chop veggies and fruit, soak beans, make a meal ahead of time, etc. Anything that makes meals go faster and easier the rest of the week. Even 1-2 hours will make such a huge difference!
One or two things that she prepares each week can be doubled or tripled. For example, if she is going to make muffins for breakfast one morning, make a double or triple batch that can finish baking while the family eats/cleans up, so that there are extra muffins to be eaten as snacks or food-on-the-run later in the week. One night a week, while making dinner, double the recipe and put an entire meal in the freeze. This means there is one night that dinner takes barely any prep time, and the extra time it takes to make two meals instead of one is fairly negligible.
I think that the other important area for "D" is to learn to make more veggies. It would be fantastic to set a goal of:
1 salad per week
1 vegetable minimum per night, as a simple side or as  part of a stir-fry or casserole.
Chop one container of easy to snack on veggies each week, to be consumed with lunches or as snacks throughout the week
Very shortly, I will be posting about how to cook a variety of vegetables and some simple side dish recipes to help you incorporate them into your dinners more easily.
A Sample Weekly Meal Plan
(Including lots of recipe links and specific ideas!)
Breakfasts:
(Soaked) Oatmeal with milk/cream, honey, dried or fresh fruit, nuts, etc.
Smoothie with greens and homemade muffins
Eggs (scrambled, fried, omelet) with sprouted/sourdough toast
Fruit and yogurt (with nuts or homemade granola, if desired)
(Soaked) Oatmeal
Smoothie with greens and cereal (Yes, even boxed cereal, because we're baby-stepping still! But see the discussion about types/brands above)
*Note that the two smoothie with greens links go to different recipes.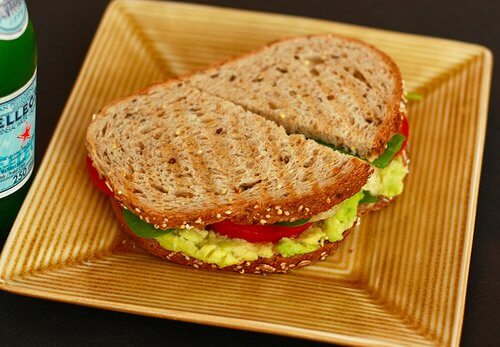 Image by sweetonveg

Lunches:
Sandwiches (sprouted/sourdough bread with cheese, deli meat, lettuce/veggies, etc.) and fruit of choice
Leftovers from dinner
Quesadillas (with some type of protein- beans, leftover meat, hard boiled eggs), guac or salsa and carrot sticks. (If available, sprouted grain tortillas are the best.)
Soup (lentil veggie, or homemade tomato) with fruit of choice
Sandwiches (try getting adventurous and add some fresh sprouts or something different like salmon melts!). Here are some fun sandwich variations for inspiration.
Leftovers from dinner
Homemade Mac&Cheese with raw cucumbers and peppers on the side (try this ranch dressing recipe)
Dinners:
I've created theme nights, to help make meal planning easier and to ensure more of a good variety of different foods over the course of the week.
Snacks:
Homemade popcorn (with butter, sea salt, or nutritional yeast if you're brave!)
Simple veggie platter- Any of carrots, snow peas, cucumbers, pepper strips, cherry tomatoes, cauliflower pieces. Nice with a quick homemade dip.
Fruit- Any fresh fruit, like oranges or mandarins, apples, bananas, grapes, melon slices, etc.
Homemade granola bars (this granola bar recipe looks good, too)
Smoothies (a few faves- Peanut Butter Smoothies, Raspberry Pina Colada, and Orange Creamsicle)
Homemade muffins (from the double batch you made for breakfast!)
Hummus and whole-grain crackers
Occasional Kettle chips or organic corn chips
Good dark chocolate. Infinitely better than a candy bar, in every possible way. 🙂
Fruit bars for the kids- if available, get organic ones or some with only fruit/lemon juice in them. Otherwise, the Sun-Rype brand is pretty good.
Dried fruits and nuts/seeds. Make your own trail mix by combining your favorites and keep a container in the cupboard or even on the counter for snacking.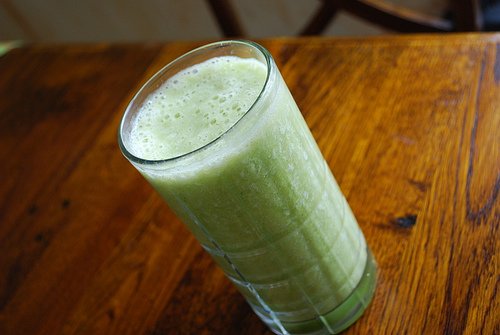 Health Boosters
Add cod liver oil for all family members. This provides good fats that they're not getting enough of, vitamins A and D for children's development and also Vitamin D for better immunity. It may also likely help with skin issues. Though pricey, I love the brand Green Pastures.
Add smoothies a few times a week. Making them berry based adds lots of antioxidants to the diet, and more importantly, try adding in greens. Start with something really palatable, like Greens+ powder (from any health food store) or simply fresh spinach or kale leaves. See the recipes above in the Breakfast section.
Everyone could probably use to take some probiotics for a season, since they do tend to eat heavy on the carbs. Add more yogurt to the diet (but the good sour stuff, not the sugary, flavored kind). Since they like salty and crunchy snacks, what about good dill pickles like Bubbie's for more beneficial bacteria?
Add coconut oil as a good fat. This will also help mom to stay full and work towards a bit of weight loss. Try a recipe like these Peppermint Coconut Patties to snack on when hungry, as a way to fill up and stay full longer.
Even More Resources…
Just to help the "W" family with applying these suggestions to their lives, they will be receiving:
Do you see yourself in the suggestions for this makeover? Any tips that you will be taking away to try in your own home?