Empanadas: The perfect pocket food (Recipe: Apple Pie 'Panadas)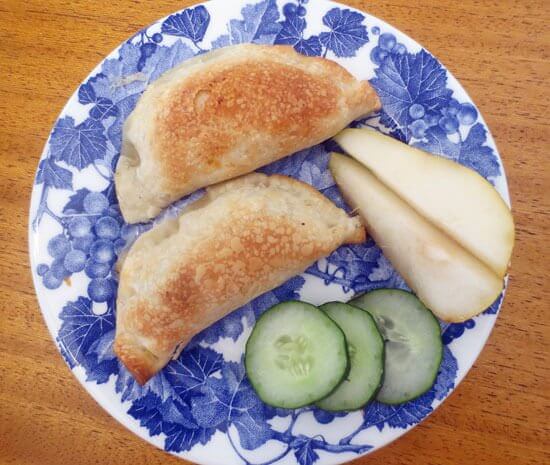 This week, I was over at Simple Bites, discussing the empanadas that I learned to appreciate and make during our time in Argentina, and sharing my delicious recipe for Apple Pie 'Panadas (mmmm… hand held, perfect little apple pies).
Have you ever noticed that nearly every culture has its own variation on a "pocket" food?

Chinese gyozas, Japanese rice balls with fish inside, German bierocks (beef, onion and cabbage filling), Mexican burritos and tamales, Italian calzones, Polish pierogies, Indian samosas, English hand pies.

Hand held "pocket" foods, filled up with whatever is seasonal, available or simply leftover, just makes sense. Excellent for sending off with hard working husbands, or when you need a quick meal for hungry children.

They're economical, easy to eat, and filling. The perfect homemade convenience food!
I apologize that I wasn't able to share any weekend links with you, but truthfully I haven't had a speck of time for blog reading. Earlier this week, our family packed up and left South America, and flew to Paris, France.
We spent a busy few days in Paris, mostly trying to get over our jet lag and start adjusting to things here in Europe like using the metro, buying a few needed items, and figuring out how our Eurail passes work so that we could make our way over to Switzerland on the train today.
(And did I mention eating a lot of amazing French food? That is one place where they definitely have real food figured out!)
I'll update you more on this portion of our trip next week, but for now, I'm going to work at sleeping off more of this jet lag so that we can enjoy seeing the Matterhorn and then taking the train through the mountain passes with our children tomorrow!
What are your family's favorite convenience foods?