Healthy Homemaking: A Good Egg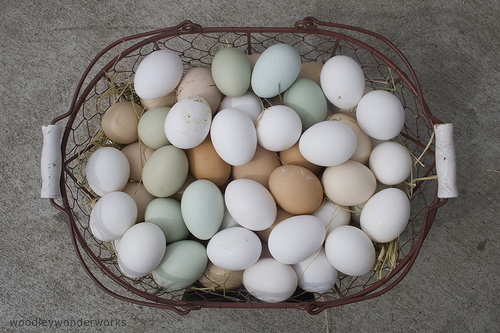 Image by wwworks

Baby Step 7- A Good Egg   
What this baby step is all about:
To consider buying a higher quality of eggs than you are currently buying.
Why this step is important:
Eggs are powerhouses of nutrition; they are considered by many to be one of the most nutritionally dense foods out there. So, providing you or your family are not allergic to them (unfortunately, it can be a fairly common allergy or sensitivity), I would highly suggest adding them to your repertoire as much as possible!
Most commercial eggs come from hens that are cooped up indoors, with little to no ability to move around and get exercise, no fresh air, artificial light, a poor quality of nourishment (usually pesticide-laden grains and soy products), not to mention the fact that they are probably receiving antibiotics or other medications (to avoid the infections that frequently pass through chickens living in cramped conditions). Eggs coming from this unfortunate situation pale (literally!) in comparison to free-range eggs.
Hens who are able to roam around (free-range, free-run or cage-free are generally the terms used to denote this), to exercise, receive fresh air and sunlight, eat insects and other grub (a healthy part of a chicken's diet), and just plain old act like chickens, produce far superior eggs. They have higher omega 3 concentrations, higher levels of Vitamins A, E and beta-carotene, and are generally free of any toxins. The difference is actually quite notable, if you compare a conventional egg with one that is free-range and/or organic– the yolk in a healthy egg is a lovely, bright yellowy-orange color, and stands out visibly next to the pale, sick-looking yolk of your basic grocery store egg.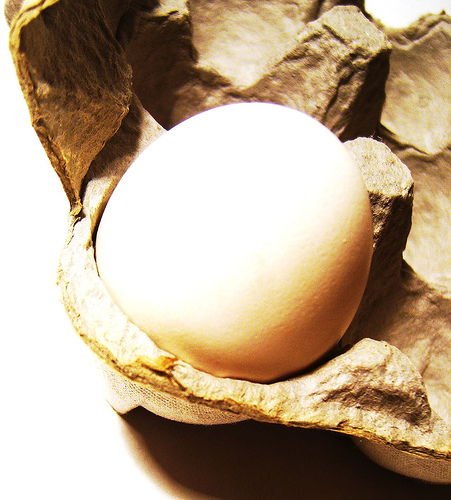 Image by darwinbell
How to get started with this step:
There are a few terms you should know, which will help you to know what you are looking for, and what to avoid.
Omega-3 Eggs: This has become a trendy type of egg on the market in the last several years. Although it sounds so promising at first, these eggs are still not free-range, and in fact, their Omega-3 does not come from a natural diet, but rather a supplemented diet, that still generally contains the same grains, as well as soy, with added flax seed. I wouldn't consider them a great choice, considering what the hens are fed, unless your only other option is conventional.
Free-Range (free-run or cage-free): This is an excellent choice. Although these eggs are not able to be certified organic, they are the closest you can get to that kind of quality without the price. They will have all of the above benefits mentioned, except that (unless specified) they could still be exposed to unwanted things such as antibiotics (though this is less common), pesticides, etc.
Organic: Obviously, these eggs should be of the highest quality and I would definitely recommend them. My only concern would be that you ensure that they clearly state that the birds are free-range, as it is possible to raise "organic" eggs, without allowing the hens full roaming ability, and feeding them a diet based mostly on organic grains or soy.
Farm fresh, free-range: This would be my top choice. If you can find a local farm (hobby or otherwise) that raises chickens as I mentioned above, does not use any medications or sprays on their farm, etc. I would snap those eggs up in a heartbeat! Establish a good relationship with the farmer and become a regular customer!
Online Resources:
The Nourishing Gourmet- Free Range vs. Commercial Eggs and Eggs: A Powerhouse of Nutrition
The Chicken and Egg Page (some good research on the benefits of free-range eggs)
Reading Resources:
Nourishing Traditions
– Much excellent information on including eggs in a healthy diet (addressing the issues of cholesterol and fats especially, plus lots of wonderful recipes using eggs).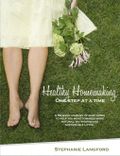 Taken from the eBook Healthy Homemaking: One Step at a Time.

What type of eggs do you buy? Where do you get them from? Have you changed your egg buying habits in recent years?