Banana Crème Brulee Oatmeal Bake (GF, DF)
Perfect on a cool crisp morning, or any time you're in the mood for a hearty delicious breakfast, this easy-to-make oatmeal bake is packed with creamy banana flavor reminiscent of its namesake!
Whether it's a special occasion or not, you'll feel like it is with each scrumptious bite. That's why this is one of our favorite breakfast recipes to serve when we have guests. Simply double it for an easy, yet impressively delicious breakfast-bake that everyone will enjoy!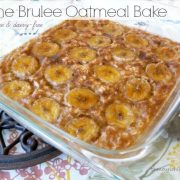 Print Recipe
Banana Crème Brulee Oatmeal Bake (GF, DF)
Instructions
Preheat oven to 375 degrees. Generously grease an 8x8-inch baking dish with coconut oil; set aside. (If doubling the recipe, use a 9x13-inch baking dish and extend bake time to 35 minutes.)

In a large bowl, add all of the ingredients listed, except the oats and banana. Then whisk together, until well combined.

Using a rubber spatula, stir in the oats. Then, fold in just half of the banana slices. Transfer mixture to the prepared baking dish, making sure to even out the top. Then arrange the remaining banana slices on top of the oat mixture.

Bake for 30 minutes until golden brown and center is set. Then, remove the oatmeal bake from the oven. Sprinkle top with a teaspoon or two of rapadura (or sucanat).

Turn the oven on broil and carefully watch the oatmeal as you broil the top about 1-2 minutes, until browned and bubbly.

Allow oatmeal bake to cool on stovetop for 3-5 minutes. Then serve with a splash of your favorite milk. Enjoy!
;
What is your favorite oatmeal bake?