Nourishing Frugal Food- Main Dishes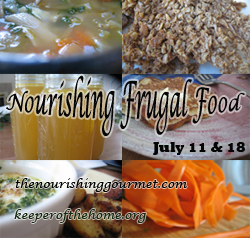 For my main dish contribution to the carnival, I have the yummiest Indonesian Rice Dish to share! Unfortunately, my recipe card has vanished, so I will have to give it from memory and hope that it tastes as good as the original, but I think I remember it pretty well, so here goes nothing…
Thai Peanut Coconut Sauce Recipe
Ingredients
1/2

cup

peanut butter

1

cup

coconut milk

or 1/2 cup coconut cream, thinned with water

2

Tbsp.

lime juice

2

Tbsp.

soy sauce

or alternative

1 1/2

Tbsp.

honey

1

tsp.

ginger

2

garlic cloves

minced

1/2

tsp.

red pepper flakes
Instructions
Over low-med heat, mix peanut butter and coconut milk in a saucepan. Stir until the peanut butter begins to soften and mix well with the coconut.

Add all seasonings, and simmer for 5-10 minutes on low. Taste to make sure the sweetness, spiciness, etc. are to your liking and adjust if necessary.
Notes
This recipe goes with the above recipe- it is a sauce to go over the rice dish.
Serve the Indonesian Rice with this sauce generously drizzled over top. This meal is very filling and satisfying for a vegetarian meal, and is really quite cheap to make. It goes over very well with guests who enjoy ethnic food, too!
And here are a few other frugal main dishes that I have previously posted:
Lentil Vegetable Pottage (soup)
Fish Coconut Curry and Janet's Tomato Sauce (both in the same post)
Spud Special Soup
Chicken Pot Pie (one of my favorite recipes!)
For many more nourishing and frugal main dishes, visit Kimi at the Nourishing Gourmet, where the carnival is being hosted this week! And if you've been inspired to share any of your favorite recipes, please do and add them to the Mr.Linky on her site at any time throughout the weekend!
Next week, the fun will be back here at Keeper of the Home, when I will be hosting the second half of the Nourishing Frugal Food carnival. The focus will be salads, sides and desserts, so start thinking now of what you are going to share- I can't wait to see all of the great recipes that you all come up with!