Eating From the Pantry and Freezer Challenge: Week 4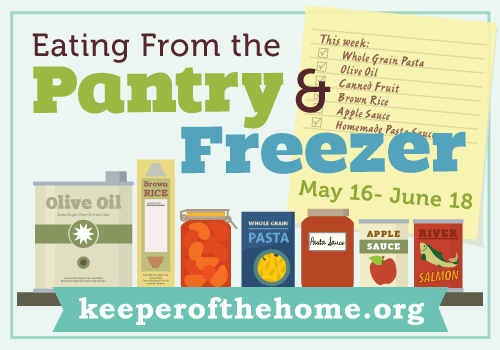 To those who've been doing this challenge all along, way to go! You've reached week 4 and your family hasn't starved yet. Your creativity has been stretched to the max, no doubt, but I hope that you have some excellent savings to show for your hard work.
To those who have joined us at some point during this month or have done any variation on the challenge, thank you for joining us! I'm sure that you've seen that even just a week or two of eating what you already have, or purposefully shopping less than usual, can make a huge difference and help you put extra dollars towards your larger grocery purchases, towards debt payments, or simply to help save up for something you'd like to buy.
My own update
I've been finding the challenge easier than I thought I would. Which means, we had a lot more food that I thought we did!
All that I've bought since the middle of May is fresh dairy and produce (and even less of those items than I would usually buy). It will be easy to finish up this challenge with the full $300 that I had planned to save, and with strawberry season around the corner and our meat supply starting to dwindle, the timing couldn't be better.
The key for me was focusing on those things that we had in abundance, rather than on what we didn't have. So long as I tailored my meal plans to use those foods heavily, rather than simply planning what sounded good to me, I found myself cleaning out some food storage and making meals that were just as good as usual.
What our family will be eating this week:
Monday
Breakfast-  Soaked oatmeal with raw milk or cream and honey
Dinner- Chicken noodle soup (no recipe, really– I just use homemade broth, chopped chicken, onions, carrots, celery, beans, or whatever veggies we have around, and then add noodles in the last 15 minutes)
Prep- Soak muffin batter
Tuesday
Breakfast- Soaked blueberry muffins (a variation on this recipe)
Dinner- Salmon melts and raw veggie platter
Wednesday
Thursday
Friday
Breakfast- Scrambled eggs and fruit smoothie
Dinner- Roast a whole chicken and package most of the meat in bags to be frozen for later meals. We'll keep some out to make fresh chicken sandwiches, with mayo, lettuce, cucumbers, cheese, etc.
Prep- Soak pancake batter and thaw blueberries
Saturday
Breakfast- Pumpkin Pancakes with homemade honey butter syrup and fruit (thawed blueberries)
Dinner- "Clean out the fridge" taco salad (since it's the last week, I'm trying to really just use up whatever is left, so the salad toppings will depend on what we have on hand)
Sunday
Breakfast- Yogurt or milk, homemade granola (I've been using the Granola Bar recipe in Healthy Snacks to Go and making it into granola instead), fresh or frozen fruit. This is becoming a standard Sunday morning breakfast, since it's so quick and easy before church.
Dinner- Creative chicken pasta recipe (ie. I still have chicken and pasta to be used up, so I'll work with whatever vegetables we have left at the end of the week and get creative!)
You'll notice that I don't plan lunches. Basically, that's because I like to keep them really free and simple. If there are leftovers, we eat those. Otherwise, we make quick basics like sandwiches, yogurt, fruit and veggies, smoothies, quesadillas, etc. The thing with meal planning is that it has to serve you. There are so many different styles and ways to do it, with something to suit every family!
Last week of the book sale!
This is the last week to take advantage of the fact that all of my ebooks are on sale. Use the coupon code CHALLENGE25 to take 25% off any single ebook, OR use code BUNDLE50 to buy all 3 of my ebooks at 50% off!
**Note that to use the bundle code, you need to choose the 3-book bundle option at the bottom of the page, rather than putting the 3 individual books in your cart.
Get ready for giveaways
Starting tomorrow, Tuesday, June 12th through to Friday, June 18th, there will be new giveaways up each day. Make sure you check in each day (or follow our Facebook page) so that you don't miss any of them!
It's your turn to share your money-saving meal plan with the rest of us.
Has this challenge been difficult for you? How did you go about your meal planning and what types of meals have frequented your table?
And most importantly… did you get things cleaned out and meet your savings goals?