Pumpkin Spice Pancakes: A Perfect Winter Breakfast
There is nothing like the sweet combination of pumpkin and spices for the perfect winter breakfast.
Not to mention the fact that pumpkin is a seasonal winter veggie extraordinaire, boasting large amounts of fiber, potassium, magnesium, vitamins C and E, and plenty of antioxidants in the form of carotenoids (which gives pumpkin its deep orange hue). Finding more ways to get pumpkin or any form of winter squash into your cold-weather diet is a definite plus, and when it happens to be this delicious, it's downright easy.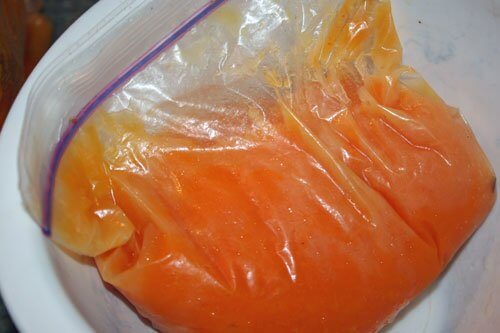 Some pumpkin puree that I made earlier this fall. It's been sitting in our freezer, just begging to be used. A couple of weeks ago, I conceded, and determined to create a pumpkin pancake recipe.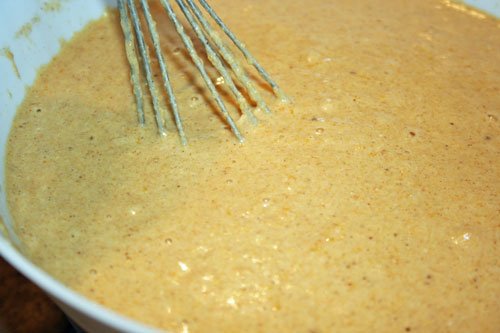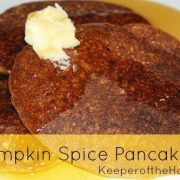 Print Recipe
Pumpkin Spice Pancakes Recipe
Ingredients
3 3/4

cups

freshly ground whole-grain flour

wheat, kamut, spelt all work

1/3

cup

unrefined sugar

like Sucanat or Rapadura

2

Tbsp

baking powder

3/4

tsp

salt

2

tsp

ground cinnamon

3/4

tsp

ground nutmeg

1/2

tsp

ground cloves

1/2

tsp

ground ginger

1 1/2

cups

milk

1 1/2

cups

water

note that you can use 3 cups of milk and not use any water, but I find this a frugal way to use less milk and we can't really tell the difference in the end product

1 1/2

cups

pumpkin puree

3

large eggs

6

Tbsp

melted butter or coconut oil
Instructions
Combine dry ingredients in a medium bowl. In a separate bowl, combine the milk, water, pumpkin, eggs, and melted oil or butter and stir until well mixed.

Pour wet ingredients into dry ingredients and mix until just combined. If you prefer a slightly thinner pancake, as I do, you may want to add another 1/4 or 1/2 cup of water to get a thinner consistency. If you prefer a thicker pancake, leave the batter as is, just know that it will take a bit more time to cook all the way through.

Heat frying pan (or pans- I use two at once) to medium heat and melt a spoonful of your choice of oil on them. I prefer butter or coconut oil. Pour batter in small circles (about 1/4 to 1/3 cup batter for each pancake) onto the pan. Flip when bubbles begin to appear in the middle of the pancake. Pancakes ready to be flipped. Give them a couple of more minutes on the other side and remove when both sides are golden brown.

I like to keep the oven on low (around 200 F) and store my pancakes in a casserole dish with a lid on to keep them warm.
Notes
Makes about 4 dozen thinner pancakes, or 2-3 dozen thicker ones.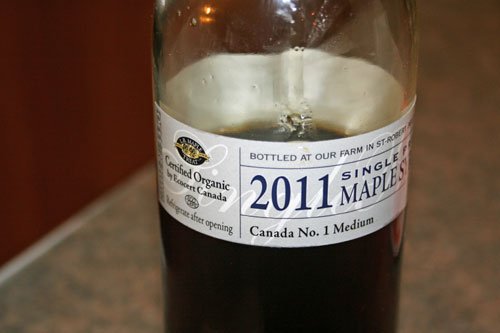 Mmmm… because everything tastes better with real maple syrup.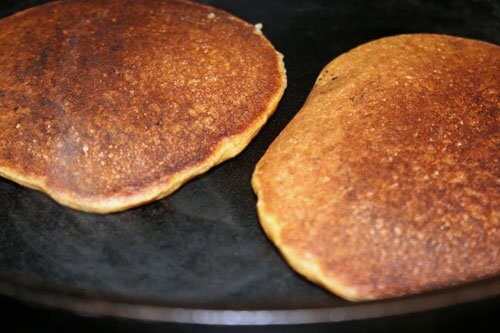 The finished product. So good.
Why, yes, that is a large slab of butter on top of my delicious pancakes. It would be even better with a dollop of freshly whipped cream.
These are great with maple syrup, but would also be good with any sort of fresh fruit or fruit syrup, as well as with honey and butter. The pumpkin and spice flavor isn't so strong that you can't still top them any way you usually would.
This recipe makes a lot of pancakes and purposefully so. If I'm going to go through the effort of making pancakes or waffles of any kind, I always make a large amount so that I can freeze the extras for quick and easy breakfasts on busy mornings. I just allow the pancakes to cool on the counter, then layer them carefully in a large ziploc bag and freeze them. They usually come apart with minimal effort when you're ready to use them and can be reheated in the toaster or (my preference) in the toaster oven.
What are your favorite ways to get pumpkin into your diet? And do you love pumpkin and spice as much as I do?