Eating From the Pantry and Freezer Challenge: Week 3

Welcome to the third week of the Eat From the Pantry and Freezer Challenge! Find out what it's all about or read my post from Week 2.
My update as I head into week three:
This afternoon, we went to Costco with some friends. Walking around was pure torture for my husband, who kept noticing all sorts of tempting and yummy-looking items. Each time he would look at me and go to put something in our cart, I said, "No, we don't have any extra grocery money this month". To which he would reply, "Oh yeah, that silly challenge… mumble, mumble, grumble." Deep down, I know he loves me and my frugal ways. 🙂
Now that it's June, I am giving myself another $75 to spend on some basics: eggs, cheese, raw milk, and produce. Our vegetable drawer in the fridge is looking very bare, and our fruit drawer has precisely one lonely apple.
I will also be setting aside another $150 to complete my total goal of saving $300 over the course of this month. It will feel so good to have that money set aside for the summer!
Getting good at using what you have
One of the biggest challenges at this point in any "eat from the pantry and freezer" month is to creatively use up those things you have in abundance, to fill in the gaps of those things that you wish you could go out and buy.
Here are some real examples of how I'm doing this in my own kitchen right now:
Frozen blueberries- We have oodles of blueberries left from last summer. Apparently I went a little overboard. I'm making a weekly double batch of blueberry muffins, using them in smoothies (like the green smoothie planned for breakfast this week, but also in snack smoothies I often make in the afternoon when it's warm out), and in Dutch Baby oven pancakes.
Frozen pumpkin- Another thing I noticed in our freezer was plenty of pumpkin puree from the fall. Pumpkin Walnut Bread and Pumpkin Spice Pancakes make use of that, and fill a breakfast need at the same time.
Frozen whole chickens- Last September, I got 12 whole chickens. My plan was to use 1 per month, but now at the 8 month mark, the last of the chickens are getting freezer burnt due to poor packaging (and probably exacerbated by my dying freezer). Instead, I'm trying to use 1 per week before they're in worse shape, and I'm avoiding the beef we have which will last longer. You can see by this week's menu below that chicken is a starring player, between roast chicken in the crockpot, chicken pot pie, chicken noodle soup, and chicken pasta.
Dry beans- Since I'm having to use up my chickens, now I'll have to replace both the chicken and save up for another portion of grass-fed beef at the same time. That means that using beans several times a week to save the little beef that I do have has been a must. I'm trying things out like Chickpea Wraps (my hubby said they were a winner) in addition to our usual bean favorites like Taco Salad and various kinds of burritos.
Strawberry jam- It's June, which means strawberry season is almost upon us where I live, and so the last few jars of strawberry jam should be used up. I've been using it for morning toast, making peanut butter and jam sandwiches at least once or twice a week for the kids, and also for peanut butter and jam roll ups (spread on a tortilla, roll it up, then cut into little pinwheel slices).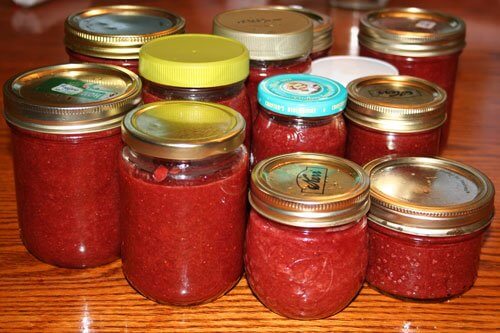 What our family will be eating this week:
There are a few meals I've recycled from last week. This past weekend, we ran two booths at our local homeschool convention for our family's music school. It was definitely a success, but from about Wednesday evening onward we were beyond busy, and my carefully planned meals began to fall apart. We ate a few meals out, with some of our staff (who worked SO hard along with us), on the school's dime. It felt a bit like cheating the challenge, but that's just life sometimes, right?
Monday
Breakfast-  Soaked oatmeal with raw milk or cream and honey
Dinner- Okonomiyaki (using leftover shredded beef, instead of bacon like we usually do)
Prep- Soak muffin batter.
Tuesday
Breakfast- Soaked blueberry muffins (a variation on this recipe)
Dinner- Whole chicken in the crockpot all day, while we're out all day (see below). I'll ask my sitter to start prepping some rice and veggies before I get home.
Prep- Soak black beans.
Wednesday
Thursday
Friday
Saturday
Sunday
Breakfast- Yogurt or milk, homemade granola (I've been using the Granola Bar recipe in Healthy Snacks to Go and making it into granola instead), fresh or frozen fruit.
Dinner- Chicken noodle soup
You'll notice that I don't plan lunches. Basically, that's because I like to keep them really free and simple. If there are leftovers, we eat those. Otherwise, we make quick basics like sandwiches, yogurt, fruit and veggies, smoothies, quesadillas, etc. The thing with meal planning is that it has to serve you. There are so many different styles and ways to do it, with something to suit every family!
Don't forget…
During this month-long challenge, all of my ebooks are on sale. Use the coupon code CHALLENGE25 to take 25% off any single ebook, OR use code BUNDLE50 to buy all 3 of my ebooks at 50% off!
*Note, when you go to purchase the bundle, if you put all three books into the cart separately, the code won't work. You need to choose the ebook bundle option at the bottom of this page to use the bundle code. 
It's your turn to share your money-saving meal plan with the rest of us!
We would also love to read your savings goals and your progress with those goals as the challenge goes on! Are you starting to get really creative? What specific items have you been trying to use up? Please share!