How to Make an Amazing Green Salad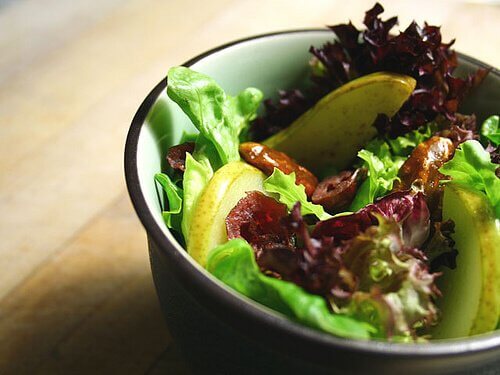 We've all had one of those amazing salads, that was so good we just had to keep shoving forkfuls into our mouths.
On the other hand, I imagine we've all had a boring salad. Just greens, a veggie or two, and a drizzle of dressing. You eat it because you know it's good for you, and that's the extent of it. I know those salads well, because I used to make a lot of them.
Over the past year, I've realized that the salads that make me salivate and that make my husband and children clear their plates are the ones that are more hearty and complex.
Complex doesn't necessarily mean difficult or time-consuming to make. I'm referring more to the complexity of flavors and how it all mingles together to make an exceptional salad. Based on my own flops and failures, and more recently my winning salad combinations, here's what I've learned about making amazing green salads.
What makes a salad good?
lots of different textures- soft, crunchy, smooth, chewy, crisp
dressing mixed well throughout
fresh, tasty salad base (lettuce, spinach, herb mix, etc.)
blend of tastes- sweet, salty, savory, sour, bitter
My ideal salad is a mix of these 5 basic elements:
1. Base of greens
2. One or more other vegetables (crunchy, colorful, variety of sizes and textures)
3. Something sweet
4. A type of protein
5. Dressing (either complex or simple)
Example of two salads I made this week:
Salad #1
Spring greens mix, cooked diced chicken (leftover from another meal), red peppers, red onions, cucumbers, feta cheese, candied walnuts, homemade balsamic vinaigrette.
Salad #2
Torn romaine lettuce, black beans and chicken (which I quickly warmed up with some taco-type spices), shredded Monterey jack cheese, diced avocado, crumbled tortilla chips, red peppers, homemade ranch dressing.
Both were quick and easy to make, and included a respectable base of greens and other vegetables. It's the added proteins and blend of different flavors that made each of them special and tasty in their own way.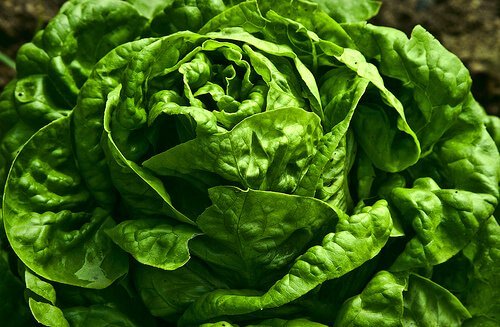 The Base
Freshness is key. Regardless of which type of greens you choose, ones that are fresh and full of life will taste better and be the most satisfying. There is nothing as unappealing as a wilted salad.
Of course, the best you can get are just-picked greens, straight from the garden. Anybody can grow salad greens, even in a teeny tiny apartment with nothing but a balcony.
But for those without fresh greens, some other great options are:
pre-washed organic salad mixes- baby spring greens, romaine, herb mix, spinach, etc.
soft varieties like leaf lettuce (green, red, any variety) or Bibb lettuce
"grown up" spinach
crisp lettuce like Romaine (I'm not a fan of iceberg, because it lacks taste and nutrition)
other dark, leafy greens, like kale, swiss chard, mustard greens, mizuna, or arugula.
Depending on the taste you're going for, you can stick with one type of greens (like Romaine, for a very crunchy, crisp salad, or spinach for a softer salad) or mix them up to have a variety of texture and taste throughout.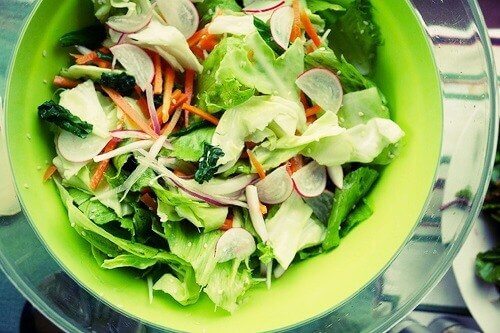 The Other Veggies
The sky is the limit. Some of my favorites are:
cucumbers
avocados
bell peppers
tomatoes
carrots (I like to shred mine)
broccoli or cauliflower (cut up in very small florets)
raw onion (red is best, white or yellow work, too)
radishes
zucchini
celery
olives
peas (snap/snow peas, shelling peas)
corn
mushrooms

The Sweets
Fresh fruit- apple or pear slices, oranges (mandarins are nice), peaches, grapes, peaches, strawberries. Nice, thin slices or else small diced pieces are best for fruits like apple or pears.
Dried fruit- cranberries, raisins, cherries, apricots.
Candied nuts of some sort (I love soft nuts, like walnuts and pecans best)– these taste amazing on salads!
Sweet veggies like bell peppers or sweet onions

The Proteins
Beans – black, kidney, garbanzo, black eyed peas, green lentils
Hard boiled eggs
Cheese (chunks or grated, feta crumbles, parmesan sprinkles)
Meat like chicken (diced, or thin slices of breast), or beef (shredded or in thin strips)
Fish- canned salmon, seared tuna steaks
Nuts and seeds- pecans and walnuts are amazing. Also, slivered almonds, pumpkin and sunflower seeds, pine nuts, sesame seeds.

The Dressings
The internet is swarming with good salad dressing recipes, but here are a few that I like:
Everyday Salad Dressing and Spicy Thai Dressing @ The Nourishing Gourmet
Honey Mustard Dresing @ AllRecipes.com (I also sometimes just whisk honey and mustard together with a bit of apple cider vinegar and dash of salt, until I think it tastes good)
Ranch Dressing, Lemon Poppyseed, Caesar, Italian, etc. @ Passionate Homemaking
Sweet Onion Poppyseed Dressing @ The Nourishing Gourmet
Green Salad Series: How to Dress Those Greens @ The Nourishing Gourmet (some basic tips on making simple dressings)
Fresh: The Salad eBook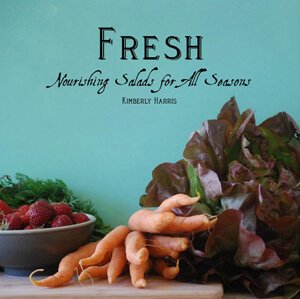 I've linked several times to my friend Kimi's site, The Nourishing Gourmet, for good reason. This past year she put out a book called Fresh: Nourishing Salads for All Seasons.
Her salad recipes are fantastic. I've never had one fail me yet. We're good friends with Kimi and her husband Joel, and when we've had salad at their house, my husband (not always the biggest salad eater) scarfs it down. The best was one with fresh peaches and chicken on a hot summer day. Yum. Ryan keeps telling me to make more salads from her book and then he'll eat them!
All that to say, if you struggle with salad-making inspiration and you'd love to get some more ideas and learn from someone who really knows how to make a great salad, Fresh is the perfect place to start.
How do you make a great green salad? What are your absolute favorite salad toppings?
Top image by The Delicious Life
This post includes an affiliate link.