Summer Giveaway Week: Win 1 of 2 Packages of Redmond Real Salt and Healing Clay ($85+ Value)
All has been fixed and you can now enter the giveaway through Rafflecopter (scroll down to the bottom of the post)… sorry about the issues before!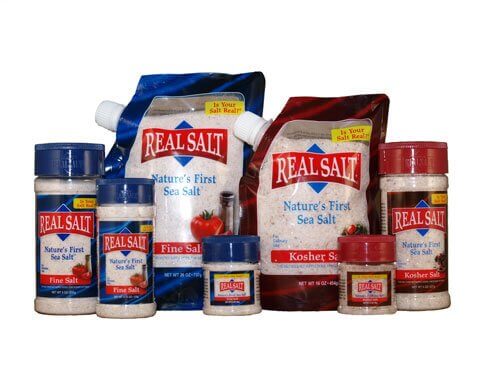 I promised there would be a Redmond product giveaway, but I bet you didn't expect that it would be so soon! This is the kick-off to the summer (ok, the almost-summer) giveaway week here at Keeper of the Home, and this is a great giveaway to start off with!
For those who haven't heard of Redmond Trading Company and their fantastic sea salt, clay and more, let me fill you in a little bit.
Redmond is a company that is located in an area of Utah where they are able to take advantage of a massive sea salt deposit, as well as a layer of pure bentonite clay. Both the salt and clay are well-protected from modern pollutants, and are carefully extracted in food-grade facitilies, so that they can be used as the natural health-boosters that they are.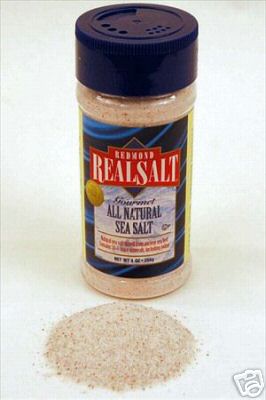 How we discovered Redmond products
Our family first heard of Redmond about 5 years ago, when I was looking for a high-quality but affordable sea salt. I found Redmond's Real Salt through Azure Standard, the price was easily in my budget, we tried and loved it, and began to buy it regularly.
If you've never tried a genuine sea salt like this before, you may be surprised at the color– not a pure white, but rather a beautiful multi-colored array of salt crystals, which indicates the presence of over 60 natural trace minerals. The taste is subtle, but it goes beyond the stark salty taste of bleached and iodized table salt. It has a much wider spectrum of flavor which I think comes through in our food. I've been eating sea salt so long now that I actually hate the taste of white table salt now.
Beyond making sea salt for everyday use (in both fine and kosher varieties), they also have flavored salts, which we hadn't know about previously, but now they seem to appear on our table at least once a day.
Our absolute favorite is the Season Salt (although the Garlic Salt and Onion Salt are also delicious), which I grew up on as a kid, but it was the kind that contained MSG, sugar, anti-caking chemicals, sometimes artificial coloring, and "natural flavors" which can be anything the manufacturers want it to be.
But the Real Salt Organic Season Salt? Real Salt, Organic Onion, Organic Corriander, Organic Mustard, Organic Black Pepper, Organic Paprika, Organic Celery Seed, Organic Tumeric, & Organic Parsley. Simple, real food ingredients.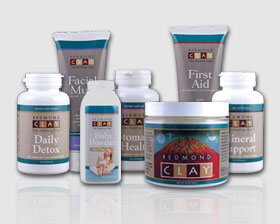 And did I mention the clay?
Some of you may have read my recent glowing praise of their new clay-based toothpaste, Earthpaste.
In that post, I mentioned that they sell a bentonite clay, which is simply called Redmond Clay. It comes in many forms– in paste form to use for first aid, as a facial masque, in capsules for digestive health, and in plain powder form, to be used as you like.
Buying it in powder is most economical, of course, and then you can mix it into any consistency of paste that you like, make it a liquid for drinking (yes, I said drinking- it has many internal uses), or put it into your own capsules.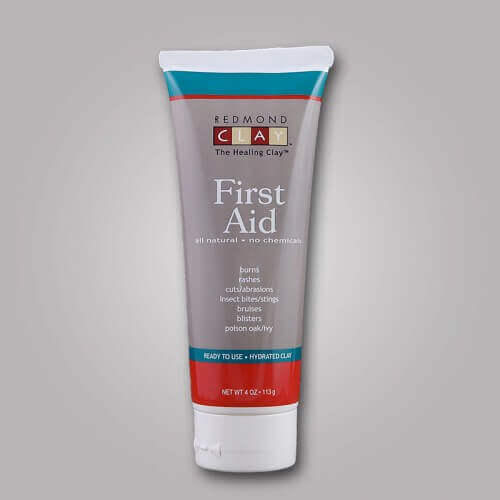 I have found that the tubes of First Aid clay paste are handy. I already had powdered clay in the house and would make up a paste when it was truly necessary for various owies, bug bites, etc. Having it ready to go in a tube is just that much more convenient and means I'm more likely to use it. We find clay soothing on scrapes and burns, helpful for rashes, very effective on itchy or painful bug bites, calms down zits, and it works on skin infections as well. Learn more about using clay in this ebook.
I've just barely scratched the surface with these products, and you can look forward to some lengthier and informative posts on Real Salt and Redmond Clay later on this year. For now, though, two readers are going to win a box full of Redmond goodies to try themselves!
Get entered to win one of two Redmond Trading Company packages, each an $87 value!
Here's what the two winners will win:
2- Tubes Earthpaste (They choose which 2 flavors they want sent – Cinnamon, Wintergreen, Peppermint) ($7.99×2)
1 – 9 oz Shaker of Real Salt – FINE ($4.75)
1 – 8 oz Shaker of Real Salt – KOSHER ($4.75)
1 – Facial Mud (9.99)
1 – 10 oz Jar Redmond Clay ($10.87)
1 – 60 ct bottle Re-Lyte ($11.99)
1 – Bath Salt Plus ($8.99)
11 – Real Salt Pocket Shakers – 1 to use, 9 to share ($1.99 each or $19.99)
Total Retail Value = $87.31
Rather than simply leaving comments, I'm trying out a new method for entering giveaways. Click below to complete one Rafflecopter form, for all of your multiple entries, and then you're done!
a Rafflecopter giveaway

**If you are reading this in an email newsletter: Please note that in order to enter, you will have to click the post title at the top of this email in order to visit the actual blog page, so that you can properly view the giveaway.
Giveaway ends at 11:59pm on Friday, June 15, 2012. 
Disclosure: This post is generously sponsored by Redmond Trading Company. I received products for the purpose of review. All opinions are my own.