Organization in the Real Food Kitchen: My Recipe Binder
We've talked about some ways to streamline our meal planning, as well as how to use lists of your favorite recipes for ease of planning and quick reference. Here is the last step of the recent meal planning/recipe overhaul that my own kitchen has been receiving lately: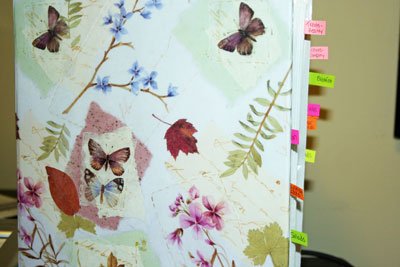 My beloved recipe binder!
It doesn't get much simpler and cheaper than this, and yet this system is a really efficient way to manage all of my favorite recipes. Since I began using the internet in a more significant way, I now find that I rely on my printed and handwritten recipe cards much more than I use my cookbooks these days. Transforming one binder into my recipe store-all has made meal time preparation oh-so-much-easier!
To make a similar binder of your own, here's what you will need:
A large photo album (the kind with plastic pages with slots intended for slipping photos into), that has a 3-ring binder system that you can open and close. I think I got mine in a set of 2 albums for about $10.
Lots of index cards. White, colored, it doesn't matter. The dollar store can be a great place to buy them cheap.
Some sort of sticky, colored tabs. I am currently using paper sticky tabs, similar to mini Post-It notes. These are only temporary, as they will ultimately come off or rip. Next chance I get, I'm going to pick up some Post-It Flags (like these) which are much more durable. The other option is to get actual binder dividing pages, although these will add more bulk to your binder, which I doubt that you need (I know that I certainly don't- it's full enough on its own!).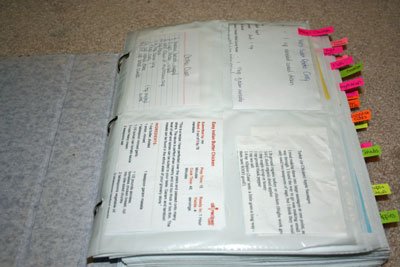 An inside look. It's certainly nothing fancy. I do love, though, how I can flip through and see at a quick glance the recipes that I'm looking for, through the plastic page protectors.
To keep it organized by recipe type, here's what I've done with my tabs: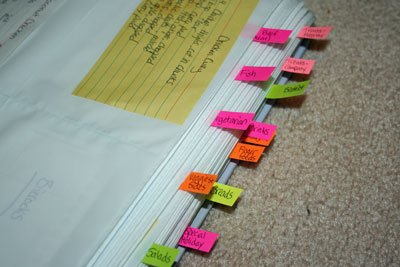 I didn't color coordinate my tabs, although you could. There's a bit of method to my madness in that all of my Main Dish tabs are dark pink, both of my Treats tabs are light pink, but it doesn't go much beyond that. The main point was to change up the colors and space them out so that I could easily find what I'm looking for.
Here is how I've organized my recipes:
Main- Chicken
Main- Beef (meat)
Main- Fish
Main- Vegetarian
Veggies and Sides
Salads
Soups and Stews
Appies
Treats- Healthy
Treats- Company (not so healthy, but ones I sometimes serve to guests who aren't into my healthy offerings as much)
Breakfast
Drinks
Breads
Special Holiday (like Passover recipes, for instance)
Dressings/Sauces
Condiments
Finger foods (pickles, beef jerky, etc.)
I'm sure that you could come up with other categories or ways of ordering your recipes, but this is just what works for me. Each category gets just enough pages to fit how many recipes I currently have, but the beauty of using something with a 3-ring binder system is that I can keep all of my empty, unused pages at the back of the binder and as I need a new page, I just grab one from the back, open up the rings and stick it in the category where it belongs.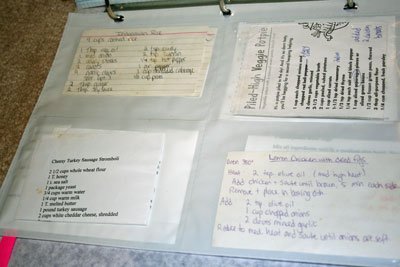 This last photo is just to show you how this system works, even without having each and every one of your recipes printed neatly onto matching 3 x 5 index cards (because most of us just aren't like that in real life, are we?). You can see that in my binder, I have a bit of a mish-mash, but it really doesn't matter. On this page you can see 2 recipes that I copied out onto cards (one from a friend, and one from a library cookbook). There's another recipe that is a photocopy from a friend's cookbook, with some of my own notes scrawled on it. The one on the bottom left is taken from a blog (Turkey Stromboli from Heavenly Homemakers). I copied the text in the blog post, pasted it into a Word document, printed it and then just folded it up to fit.
One good thing to know if you're big into getting recipes from online sites (like allrecipes.com, or epicurious, etc.) is that most of them have a printing option to create a 3×5 index card. When you choose this option, you can just cut out the recipe, fold it in half, and it's a perfect size for fitting in your recipe binder!
Ahh… at last. All of my recipes are organized and meal planning will be a snap. Now does someone just want to come and do my cooking for me? Pretty please?
(Scratch that. I like cooking. Wanna clean my toilets or put away my laundry? Any takers?)
What kind of a system do you use for keeping your recipes organized?