10 Easy Meals for when You Forget to Plan
We all know that the best way to eat healthy meals while staying on top of your food budget is by meal planning. This is something that Stephanie has talked about often, and she has even written a book about the subject.
However, for one reason or another, there are bound to be times that we fail to plan a meal every once in a while.
This has actually happened a lot to me lately! I am 20 weeks pregnant with our second child, and I have unfortunately fallen off the meal planning bandwagon during this first part of pregnancy. I plan to hop back on soon, because it really is worth the time it takes to site down and plan!
But in the meantime, I have several meals that I have consistently fallen back on when dinner time gets near and I have no clue what I'm making!  I want to share this list of ideas with you today for those occasions when you don't know what to make for dinner because you've failed to plan for one reason or another.
Most of these meals can be made with or without meat and use basic pantry/fridge staples that most people usually have on hand. Although I am linking to some specific recipes, this list is mostly meant to give you ideas of meals to make using whatever you have on hand.
1. Grilled Sandwich
If you have bread in the house, this is such a quick and easy option. You could make anything from a grilled cheese sandwich to a grilled chicken sandwich with all the fixings. Depending on what you have on hand, the options are limitless.
2. Lettuce Wraps
Romaine lettuce leaves make great wraps for all sorts of different fillings.  Do you have any leftover meat in the fridge? Use that along with different cheeses, veggies, and dressings to make a very fast, but tasty dinner. Here is a recipe for chicken lettuce wraps to get you started.
Top whatever greens you have in the refrigerator with a protein, veggies, cheese and homemade dressing and you are good to go!
4. Omelets
Omelets are so versatile and can really make quite a lovely dinner.  Courtney wrote a great post with tips for making the perfect omelet along with 10 different ideas for filling them that would be a great starting point for your omelet dinner.
5. Soup
One reason I always try to keep chicken stock in my freezer is so that I can whip up delicious, satisfying soups at a moments notice. Stephanie has a great tutorial here about making soup from scratch without a recipe using whatever you have on hand.
6. Pasta (Create Your Own)
Pasta is another easy meal to throw together using leftovers or staples that you usually have in your pantry or fridge.  Here is a great post about making "Pasta Your Way" to help guide you to turning your ingredients into a delicious pasta meal.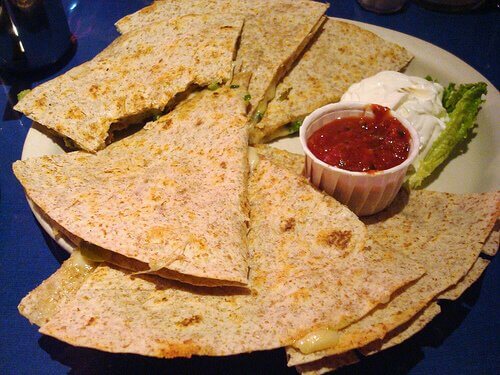 7. Quesadillas
This is a great last-minute meal if you have tortillas in your fridge.  Even just a plain cheese quesadilla topped with some sour cream and salsa can make a satisfying dinner.  Especially if you have some beans in your freezer that you can whip out and serve as a side! Here is a simple quesadilla recipe that is very versatile and full of great ideas.
8. "Pizza"
Traditional pizza dough (sourdough or yeasted) takes a lot of time to make. But don't let that stop you from enjoying some yummy pizza for dinner.  Almost any bread product will work very well for a "pizza crust".  I've used english muffins, tortillas, pita bread, and even just plain ol' toast with great results!
Simply top your "pizza crust" (whatever bread product you choose to use) with your sauce and topping and cook in a hot oven until the cheese is melted and the toppings are piping hot. Then enjoy your "pizza" for dinner!
9. Nachos
If you have tortilla chips in your pantry, cheese in your fridge, and any amount of additional toppings then you can make nachos in such a short amount of time.  It's a fun meal that the kids and the adults will enjoy too!
Just place your tortilla chips on a pan topped with your cheese and meat (if you're using), pop the pan in your hot oven for 5-10 minutes (until the cheese is melted) and then top with the rest of your toppings. Here is my recipe for our favorite nachos to have for dinner.
10. Stir Fry
Throw some meat, veggies, and seasoning in a hot pan and cook until the meat is done and the veggies are crisp-tender. Serve over brown rice (another good thing to keep in your freezer!) and voila – a delicious stir-fry dinner in no time flat!
What are the easy meals that you fall back on when you forget to plan dinner?