Day in the Life: Courtney (Homeschool Mom of a Baby, 2, 4, 5, 11 and 14 Year Old)
;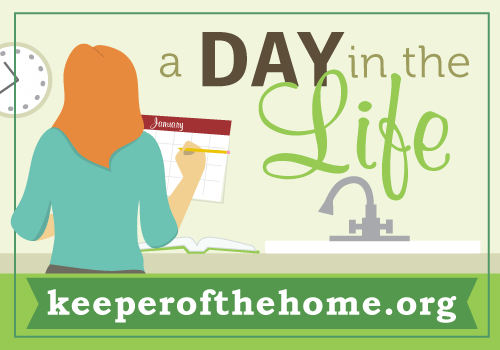 Courtney has bravely taken on this very first post in our Day in the Life series, where each writer, including myself, will be sharing a typical day in our home throughout the month. Our routines and schedules, our goals, our joys, our challenges, our disruptions… real days in all their very real glory. As kids head back to the books (whether at home or at school), September  the perfect time to consider our daily and weekly routines and hopefully you'll find encouragement and inspiration from these moms and their unique circumstances and seasons of life — Stephanie
Written by Courtney, Contributing Writer
As a keeper of my home, I strive to set up my household as efficiently as possible  to make the best use of the short time I have to raise little boys and girls into men and women who will someday run their own homes with the skills they learn under my wing. I want to be a wise steward of these precious hours and I seek to be intentional and purposeful in how I embrace the moments I am given.
Each day is a new adventure here! I attempt to keep a good solid (but slightly flexible) routine, but I will confess that the days don't always go as planned. Sometimes this is good, for some of the best learning moments and memories are made from spontaneity, but sometimes we just get off track.
And then there are plenty of unexpected moments for cleaning up messes, disciplining, foiling little boys' dangerous ideas when their imaginations soar beyond their judgment of safety (think: swinging from rope hung from the stair railing), and totally random odd moments like yesterday when the 4 year old snuck away for a few minutes and sold a lemon to our neighbor. Yep, that's right, he gave her detailed instructions for making lemonade and then asked her to pay him.
Aside from all the random disruptions throughout the day, I will share with you how our day typically goes. We are just settling into a new routine for the year and may need to adjust it some in the weeks ahead, but I will give you a little peak into our day with our current routine.
Mornings
The morning always goes much more smoothly when I am up first and have a "head start" before the day begins. My goal is to have a short time of prayer and time in the Bible, even if only for a brief moment. My intention is to make this a priority without developing a sense of entitlement about "me time". I don't look at it as "me time" because it's not at all about me. In fact, it's all about asking God to help me see the day through His eyes and remember that it's not about me.
The little ones are required to stay in their room until 7:00… or until the little hand on the clock points to the seven, as I remind them. They used to rise up bright and early at the crack of dawn (sometimes before), but I've managed to get them to sleep in a little later and then to play quietly (okay, not always quietly) in their room until 7:00.
After a quiet time in God's Word, we get dressed and complete a few simple morning chores before gathering as a family for breakfast. Morning chores consist of making beds, tidying bathrooms, and starting laundry. We're currently working on making a habit of making our beds first thing. For the little ones, this is a challenge. Sheets and blankets make better forts and capes than bedding.
Breakfast is usually prepared by one or more of my children while I nurse the baby and read to the other little ones, keeping their little hungry tummies occupied while we wait. While I do help with breakfast sometimes, more often than not, it works best this way since the baby is a marathon nurser in the mornings.
After breakfast, we begin our school day with Bible together. After that, the older ones move on to more independent work in which I help with and teach as needed. This independent work time frees me up to work with the younger children for part of the morning. The older ones sometimes work together or help teach the younger ones. This is so beneficial to all in many ways.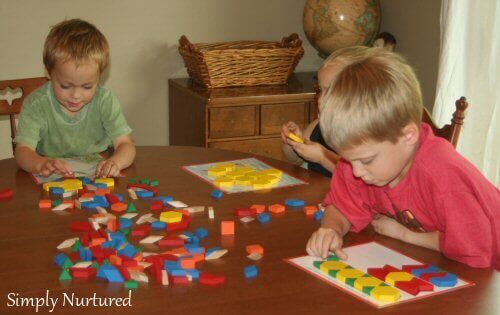 Homeschooling little ones involves stories and reading, rhymes and songs, lots of hands on crafts and activities, and plenty of nature study! Although the little ones still have plenty of play time aside from our planned lessons, having them more involved in our learning time has made our days much more peaceful. I'm really liking this new rhythm.
In addition to our structured reading program, the younger boys will be doing monthly unit studies. September's theme is apples, so can you imagine my delight when I read this post jam-packed with ideas for a unit study on apples?!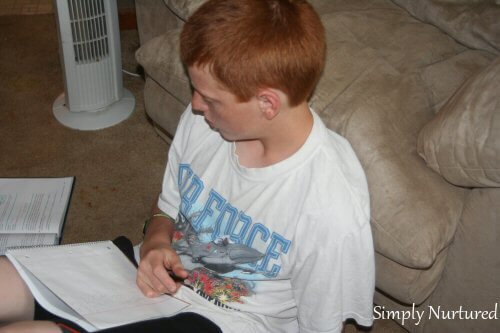 While I'm working with the little ones, the older two are starting their math lessons. (We do Logic on some days.) After math, we move onto language arts, my favorite subject to teach!
I'm having a hard time letting the older ones move onto more independent study here because I just get all fired up about parts of speech, diagramming, syllabication, and the like! Seriously, I could analyze words and sentences all day long. My children don't share this level of enthusiasm about this, but they don't dread it like they did initially and I think some of my excitement has worn off on them over the years. I plan to add a more formal study of Latin in at this time for the second half of the year. Currently, Latin is only studied in regard to English vocabulary.
We wrap the morning up with either science or art and music, depending on the day. Science is sometimes inside, sometimes outdoors, and includes lots of hands on projects.
I am grateful for an easygoing baby. She eats and sleeps well and is content wherever she goes, whether that be in the Moby, carried sloppily around by her brothers, or just lying around taking in her world. She is usually in someone's arms or at least has someone's attention, so I think she soaks up all the "alone time" she can get when she can get it. She can play with one toy or even stare at her own hands for 10 minutes at a time.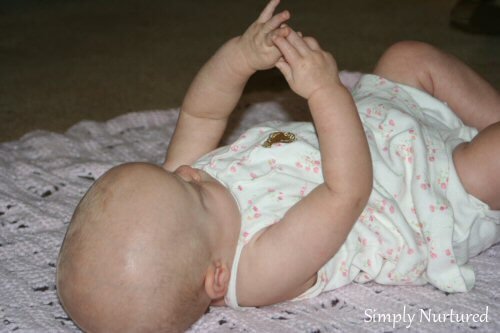 Afternoon
We prepare a simple lunch and complete afternoon chores (focused on one area or zone of the house…with a deep super clean on Fridays) before wrapping up our school day with our study of history and geography in the afternoon. We read a lot of quality literature for our history studies, so this is a subject that can go with us when we must leave for the afternoon for lessons or errands.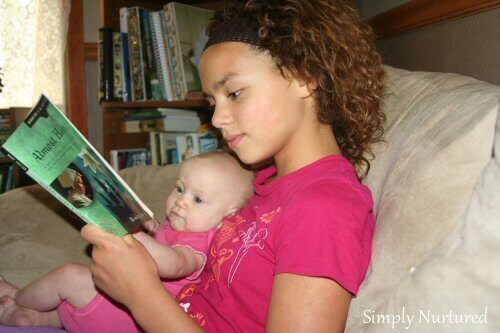 The little ones go down for a nap (or quiet time) around 2:00. I take a mid day coffee or tea break at this time and revisit my home management binder and list for the day. I also use this time to either tend to household tasks and projects or tend to business tasks, including writing and blogging.
The older ones sometimes visit with friends at this time or have lessons or practice. My oldest son has football practice almost everyday now. When the little ones are up, we go outside for a while, playing in the yard or at the park nearby.
I try to fit in exercise at this time. During winter months, my daughter and I like to do workout videos for exercise, but when we can get outside, I try to incorporate activity into my day by walking or riding bikes.
Evening
We begin dinner around 5:00, tidying the house and finishing up any school work while we cook.
The goal is to eat at 6:00 (doesn't always happen) with a short family devotion/worship time and family time (games, reading, or wrestling around on the ground) for the rest of the night until bedtime routines that start at 8:00. I like to have the little ones in bed by 8:30 and the older ones in bed by 9:30. I am working on a bedtime of 11:00, but I'm not there yet.
This doesn't always cover all we do in a day and some days we don't get to all of this, but this is the current routine we're working on establishing for the year ahead.
What elements are you working to include in your own routine this year?