Eggs have often been called "one of nature's perfect foods". And for good reason. They pack a powerful nutritional punch in just a small package. Inside that little shell is a powerhouse of nutrition.
There are many ways to incorporate eggs into meals. By incorporating eggs into our diet whenever possible, we increase the nutritional impact and ease the food budget at the same time. With a growing family of eight, I like the fact that eggs provide important nutritional benefit while keeping food costs down at the same time.

Omelets are one of my favorite dishes. Breakfast, lunch, dinner. It doesn't matter. Anytime is a great time for an omelet, in my book. One of the great things about omelets is how customizable they are! I never get bored with them because the options are seemingly endless.
Take your omelet from boring to "bursting with flavor" by letting your imagination run wild. By jam-packing your morning omelet with a variety of your favorite fixins, you can easily achieve a more balanced meal. Omelets are also a great way to include more vegetables in the diet, which are often non-existent in today's breakfasts.
But first, let's talk technique.
;
The Perfect Omelet
Yes, you must have the right tools and technique to product the perfect omelet.
Omelets must be cooked in a cast iron pan. Okay, you might get decent results on something else, but in my experience, nothing even comes close to cast iron in producing an evenly cooked, easily flipped end product.
Choose butter, coconut oil, or olive oil to cook with. I prefer a combination of all three for a balance of flavor and beneficial health benefits.
Select local farm fresh pastured eggs (not to be confused with cage-free). The golden yellow yolks provide a deeper flavor and offer much more nutrition than the sub par supermarket options.
Beat your eggs (1-2 per person) and whisk together with a teaspoon or two or water. Water lends to that crepe-like consistency, but if you prefer a fluffier omelet, you might add milk instead.
Pour the egg onto a pan pre-heated to a  medium temperature, but be careful not to add too much at once. The key to a thin, crepe-like and workable omelet is to pour a thin layer that will cook well without needing to be turned. Add your desired ingredients to the center quickly because the omelet will only take a few minutes to cook. Fold in thirds and you're done!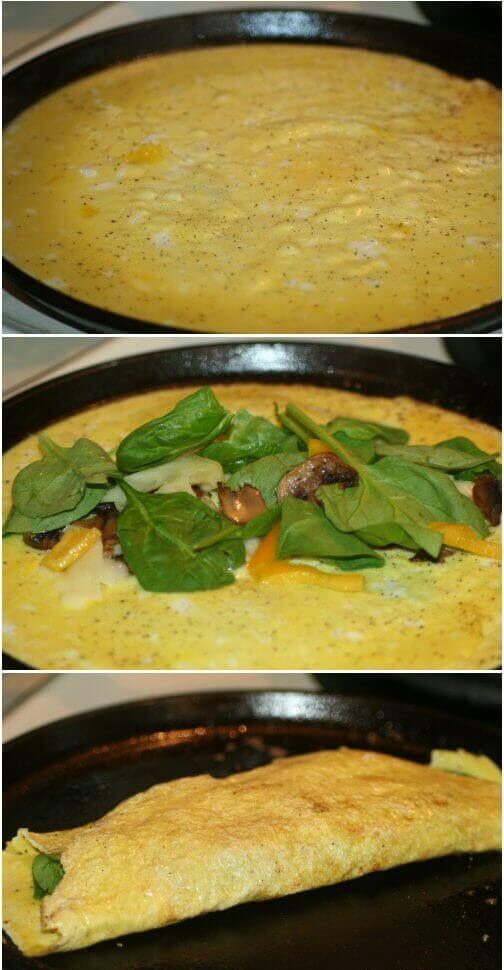 10 Mouth Watering Omelet Recipes
You can put just about anything into an omelet. Seriously, experiment to your heart's content! Below are just 10 of my favorite tried and true combinations of ingredients. Try some of these combinations or use them as a springboard for your own ideas.
1. Mushroom, spinach, alfalfa sprouts, and cheese
This tends to be my "go-to" omelet recipe. When I think "omelet", I think "sauteed mushrooms". The two pair up quite nicely and taste wonderful alone. Adding spinach, cheese, and sprouts takes that flavor combo to an even higher level! Be sure to add the sprouts right before folding and serving to preserve the raw factor. You might wish to add your spinach at the end to keep it fresh and raw or near the beginning so it is slightly cooked.
2. Salsa, avocado, cilantro, and lime
This combination is perfect mid-summer when the majority of the ingredients can be pulled straight from the garden! The flavor is intensely fresh and satisfying. The creamy avocado is the perfect compliment to the fresh salsa.
Our family's favorite salsa recipe consists of tomatoes (any kind), onions (green, red, and yellow), tomatilloes, garlic, cilantro, and lime. The last three ingredients must be added in abundance and are irreplaceable. When we make up a batch of this wholesome goodness, we make it in bulk and use it in recipes daily throughout the week. It makes such a great addition to our morning omelets.
3. Tomato, onion, and sweet peppers
A basic and traditional omelet, this trio pairs up well. You can't go wrong with this one. Local pastured bacon or sausage pairs well!
4. Salmon, quinoa, red pepper, gomasio, and lime
This is a great way to use leftover grilled salmon! Or substitute your favorite fish. Cook your quinoa in nourishing homemade broth and combine with red bell peppers, gomasio, and freshly squeezed lime.
If you're not familiar with gomasio, it's a combination of seasame seeds, sea vegetables (seaweeds, with dulse being the most popular) and sea salt. It tastes delicious and provides beneficial trace minerals that are hard to get in our modern diet.
If you don't have salmon (or other fish) on hand, the quinoa, pepper, gomasio, and lime taste superb on their own!
5. Rice, gomasio, black beans, onion, and tomato
Gomasio and rice are a perfect pair. Brown jasmine is our favorite type of rice, but anything works, as long as it's not enriched. Black beans, onion, and tomato add a bold dimension to the flavorful combo.
6. Sweet bell peppers and hummus
Hummus is easy to make. Simply blend together chickpeas (about 2 cups cooked with a few tablespoons of the water it was cooked in), tahini (simply ground sesame seeds made into a paste….Buy sesame seeds in the bulk section of your local health food store to save money.), garlic (a few cloves), lemon juice (a few tablespoons), olive oil (a couple tablespoons), and some mineral/sea salt. It tastes great spread over a trio of fresh sweet peppers (red, orange, and yellow).
7. Sweet peppers, butternut squash, and parsley
A perfect seasonal option for those cool autumn mornings! Substitute with pumpkin if you prefer. Use chunks of butternut squash or spread pureed squash or pumpkin over the peppers.
8. Bacon, onion, garlic, herb, and holindaise sauce
Hollandaise sauce consists of just a few ingredients: eggs, lemon, butter, and salt. It's not difficult to make, but it is a finnicky technique. You'll need to follow directions on this one. Here is an example recipe for hollandaise.
Add your own combination of fresh herbs, such as cilantro and parsley. This goes well with crispy (pastured) bacon!
9. Chicken, hollandaise sauce, and capers
Chicken topped with hollandaise and capers is a mouth-watering, tempting combination! This one was inspired by chicken piccatta, one of our favorite dishes. Though hollandaise differs from piccata sauce, it goes so well with eggs that it makes a fine substitute here.
10. Kimchi with a dollup of fresh yogurt or cream cheese
Kimchi is typically made from a combination of shredded napa cabbage, carrots, radish, green onions, ginger, garlic, red chili pepper flakes, and sea salt pounded and lacto-fermented with whey. For any fermented food, you'll want to add it to an omelet at the end, right before folding and serving, to preserve the beneficial probiotics and enzymes. Add your own homemade cream cheese for a unique flavor. Cream cheese can be made a number of different ways, but one simple option is to simply strain the whey from yogurt and use the leftover curds….cream cheese.
Create your own!
These are only a few suggestions for omelet options. Get creative and experiment with your own ingredients! And don't be afraid to take advantage of your favorite fresh herbs and spices to help round out the flavor of your omelet creations!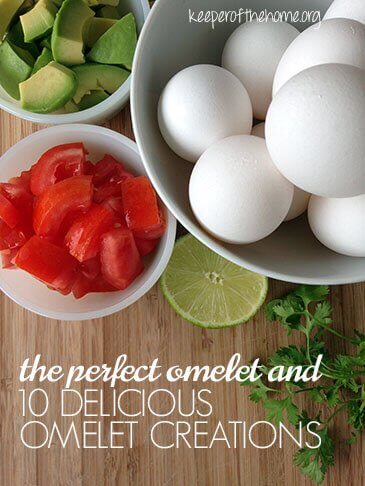 What do you put in your omelets?