How to Find Local Sources of Meat
Written by Anne Elliot, Contributing Writer
We moved to Minnesota almost 18 months ago, but in that time, I just never got around to finding some good meat for our family. I got lazy, going more often to my local grocery stores rather than taking the time to find a local source for beef, chicken, eggs, and other meat.
But because of the recent course I've been taking from Wardah at GNOWFGLINS.com, and after reading chapter 11 of Stephanie's new Real Food on a Real Budget book, I was inspired to try, try again.
So last week, a friend and I set out on a real-food adventure. First we went online to several websites and found some farmers that were within driving distance of us.
We also went to a nearby health-food store, and we asked the owners from whom they purchased grass-fed beef and free-range poultry. We took note of who was selling meat at the farmer's market, and finally, we e-mailed our local Weston Price chapter leader.
Now we had quite a few possibilities, but my friend and I had some specific things we were looking for in our meat:
We wanted farmers who let their cows eat only organic grass. No soy or corn for us!
We wanted farmers who finished their cows on grass also, rather than fattening them up at the last minute on corn.
We wanted farmers who avoided growth hormones, antibiotics, or animal by-products.
We wanted farmers who butchered their cows humanely.
We wanted farmers who would sell to us directly, either by the pound or in larger quantities.
Using our list, we started emailing the farmers. This list eliminated quite a few. We finally chose a handful that were located conveniently, then we called them on the phone. (Actually, my friend did the phoning, bless her!)
Last week, we left our older kids home with our husbands, bundled up our babies, and drove out together into the country. On the way, we passed a "factory farm" and saw first-hand the kind of farm from which we DIDN'T want to buy our beef! How peaceful the organic farm was in contrast!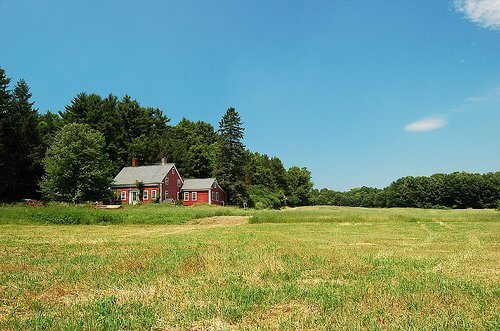 When we got there, the farmer's wife met us and gave us a tour of the place. She showed us the freezers and explained the butchering process. We had plenty of time to ask questions. (In fact, my van broke down in their driveway… so yes, we had plenty of time!)
Both my friend and I purchased several different cuts of meat to sample. The farmer's wife explained that grass-fed meat requires slightly different cooking methods, so she gave us some recipes, recommended www.grassfedcooking.com, and the books The Grassfed Gourmet and The Farmer and the Grill.
My friend and I left the farm armed with price lists for buying a quarter, half, or whole cow. We both need to save up for that purchase (!), as well as plan room in our freezers. The Oklahoma State University website gives information on how to freeze beef for the freezer.
This was our process for grass-fed beef. We're in the midst of looking for excellent sources of chicken and turkey now. I personally want to avoid chicken that has been fed soy, but others say that it isn't an issue because of the way chickens digest the soy. (I'd welcome your comments on this issue!)
Switching from commercial to organic meat can certainly be a strain on the budget. For our family, we're trying to reduce our meat consumption by half, which keeps the cost close to what I was spending before. Buying in bulk will make it even more inexpensive. We're also considering hunting game such as deer and elk, since these are tremendously cheaper. (For us, we're talking about paying a friend to hunt for us.)
The benefits of good meat are many! I'm looking forward to renewed health and energy because we're eating clean, healthy meat.