I promised some healthy Christmas snacks, and though I haven't been feeling well this past week, I figured I could still manage to get a few ideas out to you and maybe spark up a bit more of an appetite for myself in the process!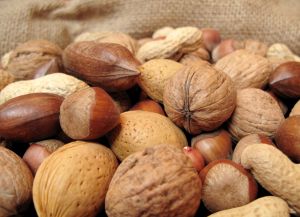 Christmas treats really don't need to revolve around sugar, so I've included a few savory treats that I just love to nibble on.
Here are a few of my favorite, non-sweet snacking ideas this time of year:
A bowl of whole nuts, ready for cracking
Deviled eggs (I'm not sure why, but I just adore these, and the protein really helps to maintain steady blood sugar levels)
Any sort of warm dip with bread, like a creamy spinach dip or hot, cheesy artichoke dip
Fancy cheeses (gouda, brie or camembert, swiss, etc.), with or without crackers or bread
A dish of pickles (sweet and dill) and especially stuffed green olives- yummy!
Deviled Eggs Recipe
Ingredients
1 dozen eggs
3 Tbsp. mayonnaise
1-2 tsp. Dijon mustard
Splash of apple cider vinegar
Paprika
Instructions
Hard boil 1 dozen eggs. Shell, and cut in half lengthways.
Pop out the cooked yolks into a bowl. Add about 3 tablespoons of mayonnaise, as well as a teaspoon or two of dijon mustard (to taste- I like a bit more mustard, personally). I also like to add just a splash of apple cider vinegar for a bit more of a tangy flavor. Mix well with a fork until smooth.
Place egg halves on nice platter, and fill each with a teaspoon of the yolk mixture. Sprinkle lightly with paprika.
Refrigerate until ready to be served (can I have one, please?)
Courses Appetizer
And of course, the obligatory sweet treats, but made with natural sweeteners and other more wholesome ingredients than your usual holiday sweet stuff:
"Sugar" Cookies (made with honey)
And may I present to you, my mother-in-law's incredible and easy cheesecake (no holiday is complete without it!):
Delicious Cheesecake Recipe
Ingredients
Cheesecake
2 packages cream cheese, softened
1 cup whipping cream (of course, it's ideal if cream cheese and whipping cream are organic and even raw, but it's delicious no matter what)
3/4 cup honey
1/4 cup lemon juice
1 tsp vanilla
Almond Coconut Crust
2 cups crushed almonds (I just grind up whole almonds in my food processor)
2 cups shredded, unsweetened coconut
3/4 cup melted butter
1 cup honey
Instructions
Whip the whipping cream in its own bowl and set aside.
Mix the cream cheese well, with the honey, lemon juice and vanilla. Taste for sweetness and adjust if necessary.
Fold the whipping cream in until all is well mixed.
Mix all crust ingredients in a medium sized bowl, until thoroughly mixed. Press into 2 glass pie plates.
Bake crust at 350 F for 8-10 minutes.
Top crust with cream cheese mixture, and freeze for several hours, minimum. Take out and let thaw slightly before serving.
Courses Desserts and Sweets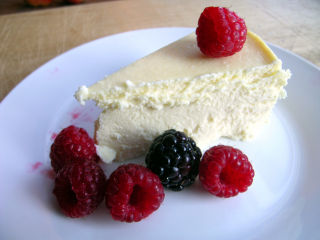 Note: My MIL has large pie plates, and finds the crust recipe is only enough for 1 1/2 of them. I have accidentally used the entire amount of crust in only 1 pie plate, and though it was definitely a bit crust heavy, nobody complained either, because the crust is that good! You might need to play around a bit with different sized plates, or try using a springform cheesecake pan instead (this recipe suits a large springform well, if I remember correctly).
As well, there are many different ways to eat this cheesecake. Some of us in the family prefer it frozen-frozen, while some prefer it more softly frozen or only refrigerated (I believe my MIL sometimes adds a little gelatin if she's not planning to freeze it, to help it keep it's shape). We also love to add berries and sauces on top, like raspberry, blackberry or our favorite, strawberry!
And no, this isn't a picture of the actual cheesecake, because I haven't made it in a while, but it looks similar to this, with about a 1 cm coconut/almond crust. It's amazing, so you'll just have to try it! I can't wait to have a piece this Christmas!
What are your favorite ways to snack, both savory and sweet, during the holidays? How do you keep it guilt-free? Or do you? 🙂