Easy Quinoa Pancakes (Gluten, Dairy, and Sugar Free)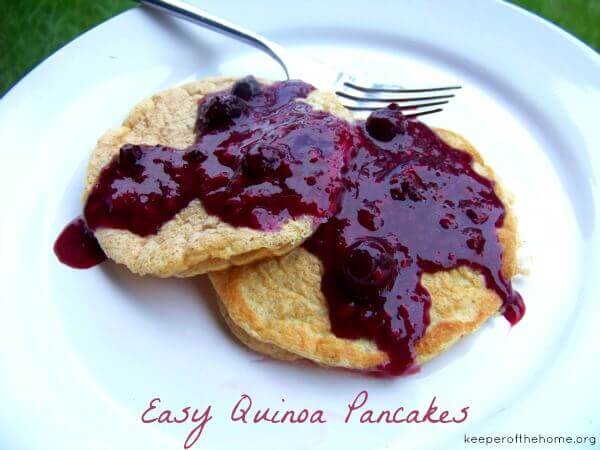 By Mindy, contributing writer
Fluffy, easy, nutritious, delicious, and low-glycemic pancakes…what more could anyone ask for?!
These simple pancakes make a great breakfast when you have leftover quinoa from supper the night before. Quinoa is more gentle on your blood sugar than most other grains, and it also happens to be delicious! (Note: Quinoa is technically a seed, but it is commonly referred to as a grain.)
If you like quinoa then you will love these easy, simple pancakes. However, if you are not fond of the taste of quinoa then you may not care for these pancakes, because the taste of the quinoa definitely does come through.
Even if you don't like quinoa, though, I would encourage you to give them a try anyway – you might surprise yourself and end up enjoying a new, healthy breakfast treat!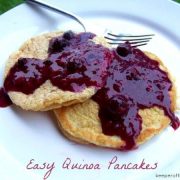 Print Recipe
Easy Quinoa Pancakes (Gluten, Dairy, and Sugar Free)
Ingredients
3

cups

cooked quinoa

3/4

cups

almond milk

any other dairy or non-dairy milk should work also

4

eggs OR 3/4 cups egg whites

3

tsp.

baking powder

pinch

of salt

sweetener - optional

a few dashes of stevia or a few Tbsp. of sucanat, maple syrup, or honey
Instructions
Place quinoa, almond milk, and eggs in a blender. Blend on high speed until everything is blended into a smooth batter.

Add the baking powder, salt, and optional sweetener and spices/flavorings. Pulse blender a few times to incorporate these ingredients into the batter.

The batter will be quite thick. Pour the batter onto a griddle that has been pre-heated over medium (to medium-low) heat into desired pancake size. Cook until the pancake starts to appear dry and is golden brown underneath. Flip the pancake and continue cooking until completely done and golden brown on both sides.

Serve with berries and Greek yogurt or your desired toppings of choice.
Enjoy!
What are some of your favorite healthy breakfast ideas? Do you ever cook with quinoa?
Disclosure: This post includes affiliate links.