Plan It- Don't Panic: Week 1 of the Meal Planning Challenge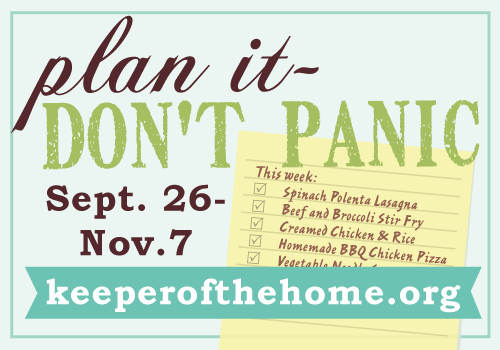 Welcome to Week 1 of the Plan It- Don't Panic Meal Planning Challenge!
What? You're not ready? You thought it started next Monday, the 26th of September? Oh, you mean the date on the pretty graphic I had made?
Ahem… you know you've got pregnancy brain when you plan a challenge to start on the 26th, and then you go ahead and start it on the 19th. I was convinced that this Monday was the first day of the challenge, spread the word, got pumped up, made my menu plan, and then realized that I was a full week early. Sheesh.
But hey, now that I've already prepared, and so many people are signed up and rearing to go, we're going to start anyways this week, and those who aren't ready can join in next week!
Our Menu Plan This Week:
Monday
*I rarely plan which vegetables I will make to go with dinner, particularly during garden season, because I like to just work with whatever needs to be harvested or used up or what we're in the mood for. What my garden isn't producing, I buy based on seasonality and price, so that I am not stuck purchasing expensive vegetables simply because that's what was on the menu.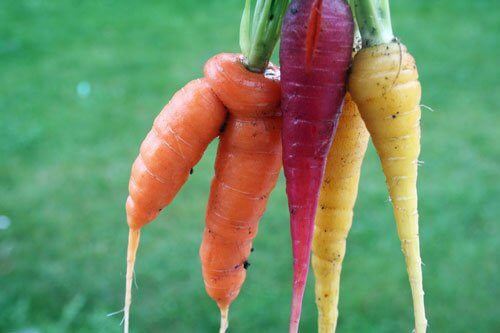 Tuesday
Wednesday
Breakfast- Toast and fried eggs
Dinner- Chicken meal salad with homemade honey mustard dressing, garlic toast.
Prep- Thaw a roast. Soak muffin batter.
Thursday
Breakfast- Smoothie and muffins*
Dinner- Fajitas made with shredded beef (LOVE this recipe), fried peppers and onions, more salsa, guac, sour cream (yes, we like Mexican food, especially when tomatoes and cilantro abound!)
Prep- Start roast early in day, by searing in a pan, then slow-cooking all afternoon until tender. Freeze bags of extra meat in 2 cup portions. Also, prepare canning supplies for tomato canning this Saturday, and make list of anything I still need to buy. Soak pancake batter.
*Just like with how I plan for vegetables, since I have quite a few muffin recipes that I like, and I typically have all of the basic pantry/fridge ingredients for any of them, I just decide the day before which one I want to do.
Friday
Breakfast- Pancakes with homemade honey butter syrup and fruit (my pancake and syrup recipes are both from Sue Gregg's books)
Dinner- Cold pasta salad with chicken and fresh garden vegetables.
Prep- Buy my tomatoes at the market for canning tomorrow. Soak oatmeal.
Saturday
Breakfast- Soaked oatmeal with raw milk or cream and honey
Dinner- Either leftovers or a non-supper, since I will be drained from canning all day (and possibly not finished canning even by dinnertime).
Sunday
Breakfast- Yogurt, homemade granola (made in a double batch previously), fresh or frozen fruit
Dinner- Green garden salad or Greek salad, Reuben-style grilled sandwiches (leftover roast beef, sauerkraut, cheese on homemade bread)
You'll notice that I don't plan for lunches. I like to do lunch very casually. We eat leftovers whenever they are available, which is probably half of the time. The rest of the time, we eat simple fare like various kinds of sandwiches (with whatever we have on hand), quesadillas, taco salad, salmon melts, 5-ingredient mac and cheese, etc. with a smoothie, some raw veggies or fruit, or pickles/sauerkraut on the side.
Have you joined in the conversation?
Things are absolutely hopping in the Plan It- Don't Panic Facebook group– over 787 members and counting! Wow.
I've been blown away by how actively everyone is participating in the group. I think you'll find it an incredible resource, with recipes and meal planning helps being shared, as well as great conversations on topics like menu planning for allergies and special diets, pregnancy diets, picky eaters and more.
For those who prefer Twitter, use the hashtag #mealplanit for more meal planning discussion.
Now it's your turn… share your menu with the rest of us!
Please link up to your menu plan, and take some time to look through others for inspiration. If you would kindly link back to this link-up in your own post, that would be great. Thanks for joining in!
For those without a blog to link up to, why don't you share your menu in the comments?