You Asked For It: Plan It- Don't Panic! {A 6-Week Meal Planning Challenge}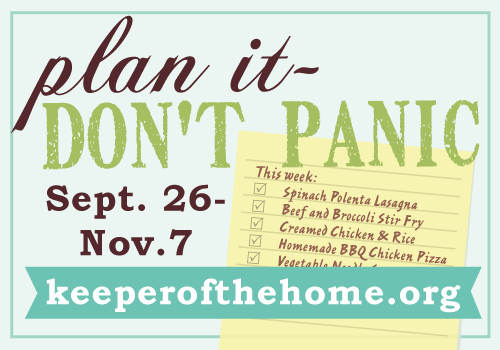 All those who know that meal planning is a good idea, but struggle to actually do it, put up their hands! (Is yours raised?)
I definitely relate. I have been meal planning on and off (more on than off) for about 6 years. I know the benefits. I write about them. My budget and our family's nutritional status can attest to the fact that meal planning most certainly works.
Still, it isn't always easy. We go through different seasons of life and routines changes. We fall out of the habit. We run into bumps along the road. We become uninspired in our cooking and planning. For so many different reasons, sometimes it's just hard to meal plan, or at the very least, hard to pick it back up once we've let it drop.
This summer, that's exactly what I did. I let it drop for the most part while I dealt with first trimester sickness, hosted homestay students, went on vacation, had impromptu summer fun with my husband and kids, and worked a whole lot on our home based businesses. I got out of routine and off-track with my planning.
Now, it's time to get back to it. No more 5pm panic about what to eat. No more compromise meals that are only sort of healthy because I wasn't thinking ahead enough to make something truly wholesome and nourishing. No more last-minute expenses for things we've run out of that so easily blow the budget.
So who's with me?
The 6-Week Meal Planning Challenge
Plan It- Don't Panic was inspired by some conversations on the Keeper of the Home Facebook page, as several women and I interacted about the HelloMornings challenge that I am a part of for the second time this fall. I had already been ruminating on the idea of a challenge that held us accountable and helped to inspire us to meal plan, and when I mentioned the idea, it was obvious that there was a need.
The basic idea? To encourage and hold each other accountable as we purposefully plan out regular, weekly meal plans.
The goals? To serve healthier food, help our strained grocery budgets, and put meals on the table with a smile (and not a sigh).
They say that it takes 21 days to form a new habit. Since this is only a weekly event (although you will have to be diligent daily to follow through on what you've planned), I'm going to give us about double that to form this menu planning habit. We'll do it for 42 days, or 6 weeks.
How does the challenge work?
Every Monday morning, you can expect to come to Keeper of the Home to find my own meal plan for the week, including recipe links and one new recipe each week.
There will also be a link up, for all those who blog and want to stay accountable by sharing their own meal plans. For those who don't, this will also be a valuable place for you to find menu inspiration and new recipes!
Even more important (in my opinion) is that there will be an accountability portion of the challenge. Some of us are very good at setting our own goals and holding ourselves to them. For others (and I do include myself in this), it really helps to know that someone else is paying attention to whether you actually accomplish your goal or at least make a sincere effort.
Ways to stay accountable and be a part of this challenge:
:: Join our Facebook group, Plan It- Don't Panic, where we will be sharing recipes, meal ideas, inspiration, encouragement, our own progress updates and more. To join, just click on this link and near the top right hand of the page, click on Ask to Join Group. I will approve your requests as fast as I can.
:: Use the Twitter hashtag #mealplanit to join in at any time with other challenge participants. We'll share recipes and ideas, let each other how we're doing, and just chat healthy, simple and family-friendly meals in general.
:: For all bloggers, share your meal plan every Monday and join the link up here at Keeper of the Home. This will happen every Monday, starting September 26th, and go for the whole 6 weeks of the challenge. If you're lacking inspiration and ideas, this will be the perfect place to visit every Monday!
As we get ready…
Remember, the point of these things is to be a help and encouragement to you in this challenge, and NOT just another thing to do. Truly. Use them as much or as little as you want and need to.
I would also suggest that you spend a few minutes brainstorming why you really want to do this. To save money? To serve better meals? To improve nutrition? To reduce stress and late-afternoon panic? Why don't you take an index card or small piece of paper and write your goals and motivations, then stick them on your fridge. Knowing the WHY behind what you are doing can really fuel you when you're struggling to create a new habit.
Make sure to check back later next week, as I will be sharing some helpful resources for learning how to meal plan, different methods of meal planning, places to find wholesome and family-friendly recipes and more.
And the week after that? Monday, September 26th, we'll get cracking. I'm excited to do this with you!
So, who's with me? Are you ready to tackle this 6-week menu planning challenge?