How to Cook Vegetables: Steaming, Pan Cooking and Lots of Tasty Recipes
"I know we should eat more vegetables, but…"
This is a common refrain. I bet you've even said it yourself. Vegetables tend to be one of the most under-appreciated parts of the food kingdom, and sadly, one that very few people have learned to truly incorporate into their regular eating habits.
The video above is a clip from a recent episode of Jamie Oliver's Food Revolution (one of the few things worth watching on tv!). Watch this brief segment to see that today's children are utterly lacking in even the most basic of knowledge about the abundance of vegetables that our kind Creator has given us for our health and enjoyment. It is both shocking and revealing of our culture's eating habits, just how uneducated these 6 year olds are in the realm of vegetables.
As I watched, I suddenly felt so grateful that my 5 year old could have quickly and easily named each of these colorful veggies. The reason why? Because after years of neglecting these nutritious gems, I have finally learned how to cook vegetables, and cook them well, in ways that are quick, simple and that we consistently enjoy (and yes, even my children and my husband!).
Two Simple Methods for Preparing Practically Any Vegetable
Steaming:
Steaming, rather than boiling, is preferable because there is less nutrient loss and quite frankly, the taste and texture are just that much better. Please (please), don't use your microwave. Let me teach you the simple stovetop method.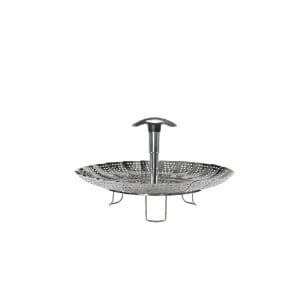 You'll need a pot and a colander that fits it. A metal pop-up steamer like this works well and will fit inside a mid-sized pot.
You could also use a tiered pot set, that comes with a steamer piece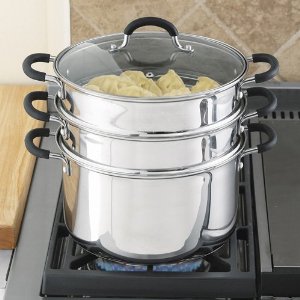 that has handles, similar to this one.
The basic method for steaming is to add a couple inches of water to the bottom of the pot and bring the water to a boil. Then place the steamer full of vegetables over top of the steaming water, put a lid on top and set a timer for the appropriate amount of time.
Depending on the vegetable, you will need to let it steam for as little as just a few minutes, or more commonly about 5-15 minutes. Here is a chart that lists most vegetables and how long they need to be steamed for (just ignore the microwave directions!).
What to steam? Almost anything! Carrots, broccoli, cauliflower, green beans, asparagus, cabbage, brussel sprouts, corn, greens, sweet potato… pretty much anything you can think of.
Don't leave your vegetables naked once they've been steamed, or you will probably find that they still don't taste as good as you'd like. I know we've been told so many times to stop using all that butter, but it's bad advice. Put some butter on your vegetables, and yes, a good sprinkle of salt, too (just try to make it an unrefined sea salt). Vegetables taste best and their nutrients are most easily assimilated when the are served with some good, old-fashioned fat.
For some other ideas, here are 8 Ways to Perk Up Steamed Veggies.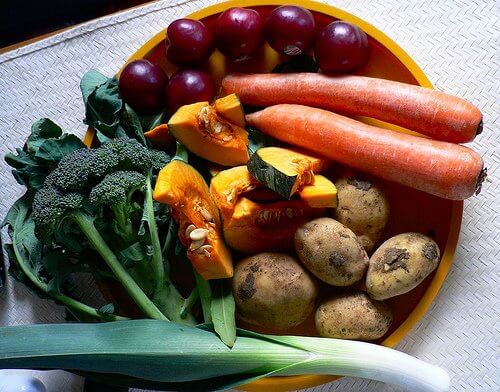 Pan Cooking
This is my favorite method of preparing veggies because it is fast, simple and makes only one dirty dish (not that rinsing out a pot and colander is difficult, either). Mushrooms, asparagus, zuchinni, snap peas, green beans, onions… yum.
Here is my oh-so-technical method of pan cooking veggies: Chop veggies up (or for something like asparagus, leave whole but break off the fibrous bottoms). Warm up the pan to medium heat and melt a couple tablespoons of oil (butter, coconut oil, tallow or lard- they all work well). Toss the veggies in, and give them a bit of a stir/flip every few minutes. Once the vegetables have softened, they're done. Usually it takes under 10 minutes.
Depending on what I'm making and what we're in the mood for, I sometimes add some herbs, spices or other flavorings. We love to eat mushrooms fried with some butter, soy sauce and maple syrup (don't knock it til you've tried it!). For asparagus, I usually add butter, lemon juice, and dill. Zucchini is nice with Italian herbs. Snap peas are wonderful as is, so long as you keep them just a bit "snappy" still.
It only takes trying this a few times before you get the hang of it. You'll start to recognize when your vegetables are ready, and it never hurts to just pop a piece in your mouth to do a little taste test (the privileges that come with being the chef!).
Tasty Recipes to Get More Vegetables Onto Your Table
Salads and Greens
Savory Carrot Salad with Toasted Nuts and Oregano
Spinach Rice Casserole
Potato, Sweet Potato, Yam and Squash
Four Seasons of Potato Salad (4 different takes on potato salad- all yummy! You have to scroll down a little to find the link)
Delicious Home Baked French Fries
Papas Chorreadas (Potatoes/Sweet Potatoes with a creamy tomato sauce)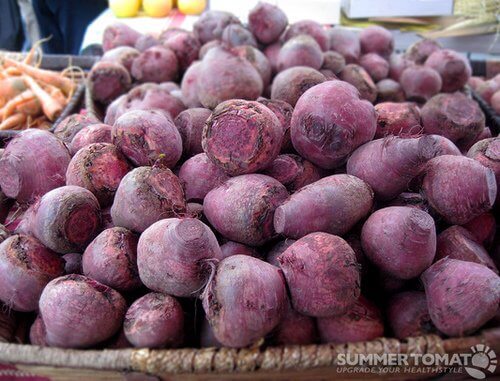 Root Veggies (Carrots, Turnips, Beets, etc.)
Roasted Beets (yummier than they sound!)
Cruciferous Veggies- Broccoli, Cauliflower, Cabbage
Cauliflower Souffle (I was looking for a different Cauliflower Casserole recipe that I printed from another blog, but I just can't find it. This recipe is pretty similar)
Other Assorted Veggies- Beans, Asparagus, Zucchini, Mushrooms
Sauteed Mushrooms with Soy Sauce and Maple Syrup
This is just a small sampling of the variety of amazing, delicious ways that you can serve up more vegetables. Obviously this post only begins to scratch the surface, but I hope that it gives you a bit more inspiration and know-how, to help you increase the amount of vegetables that your family eats!
This was originally posted in April, 2010, but seeing as we're launching into a month or two where we'll be sharing all sorts of tips and ideas for including more vegetables in your diet, it seemed appropriate to share it again. Look forward to more posts in our Vegging Out series coming up!
I'm sure that you have your own favorite vegetable recipes… Would you share one or two of them with us?