All Our Little Ducks in a Row (And Baby Makes 6)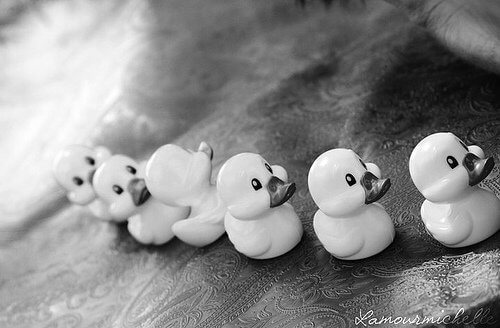 You know you must be tired when you're a writer and you have exciting news and the only way that you can think of announcing it is to simply blurt it out…
We're expecting baby #4!
Upon returning home from our trip to the Philippines with Compassion International (literally, the day after we got home), we were surprised and delighted to find out that God was blessing us with another precious little one.
According to the ultrasound tech, I am 12 weeks (our midwife requested a dating ultrasound because of my very sketchy remembrance of dates and my irregular cycle due to PCOS), but the more I piece it all together and consider how I am feeling compared to other pregnancies, I think he's wrong and it's more like 13 weeks. Mothers know these things, right? I'm going with my gut.
Either way, babies come in their own sweet and perfect time and sometime next February, God willing, I shall be holding another little one in my arms.
Thank you so much for your patience with me these past two months, as I have sought to maintain my blog, respond to comments, answer emails, etc. while in the midst of sickness and fatigue and somehow attempting to care for a household of a busy husband, 3 young children, and 2 homestay students.
It's been a challenging adventure at times, our food has been less than ideal, the laundry remains in baskets (at least it's clean!), and yet God is always faithful to carry us through and provide just what we need.
I am so excited that we are currently on a weeklong family vacation, staying in a house on the Oregon Coast. It will hopefully be a time of rest, rejuvenation and plenty of enjoyment with my family and the friends we will be staying with. There will still be regular posts all week, including the great summer giveaway that began yesterday, but I shall be avoiding my computer and playing at the beach instead.
And how are your summers going? Any exciting news to share with the rest of us (babies, jobs, new homes, etc.)?
Image by LamourMichelle Photography