Crustless Quiche Recipe for a Nutrient Rich Meal #DIYFriday
As the mornings and evenings are starting to get cool and crisp I can feel fall creeping in and I am excited for cool weather recipes once again.
One of my new favorites is this crustless quiche recipe that is a variation of one my nutritionist shared with me not too long ago.
This quiche is easy, filling, and packed with nutrients!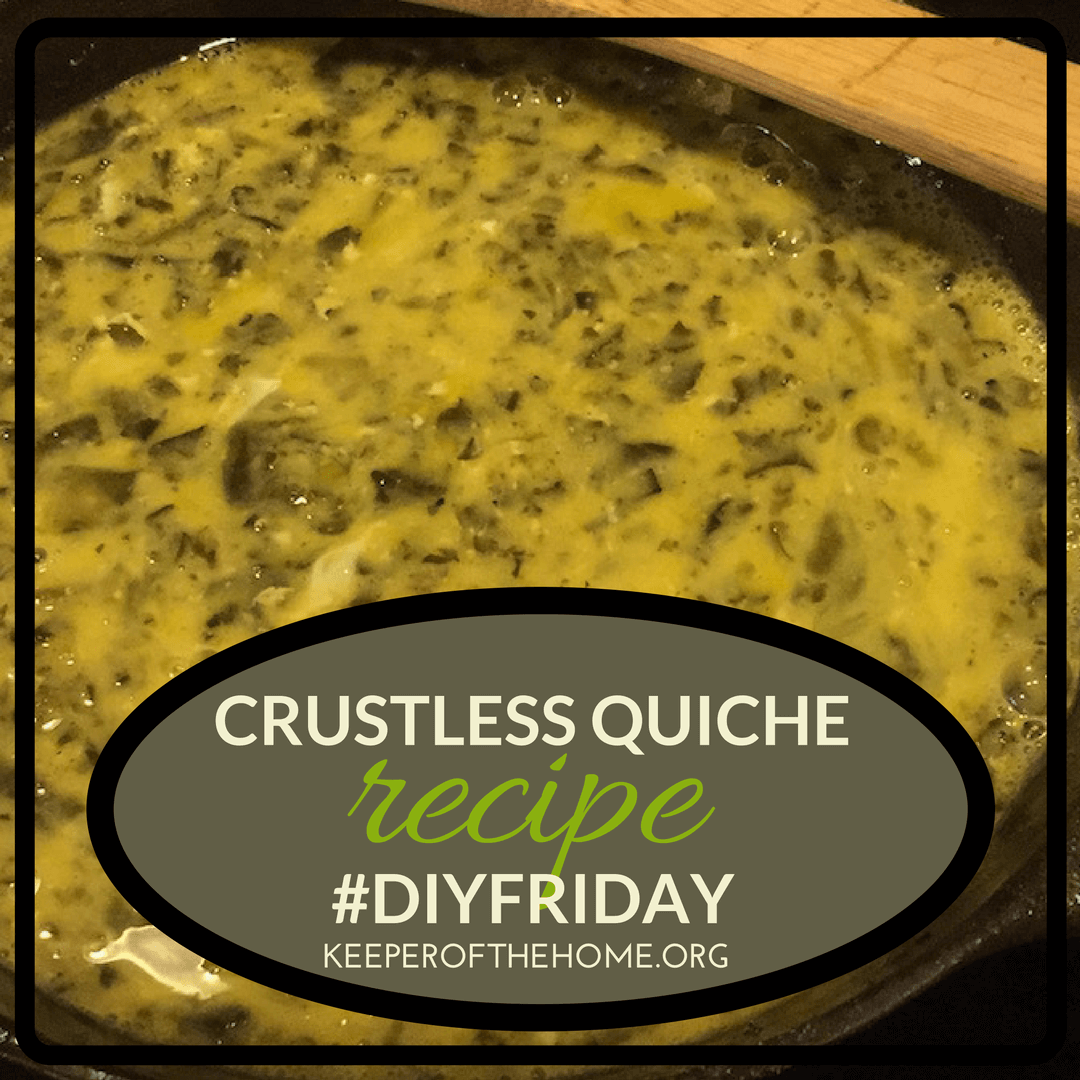 It's the kind of meal that you can vary with different meats and veggies depending on what's in your fridge. I tend to throw it in the pan as we are getting the kids ready for school in the mornings.
You need a deep cast iron skillet to pull it off (like this one) so you can move it from the stove to the oven.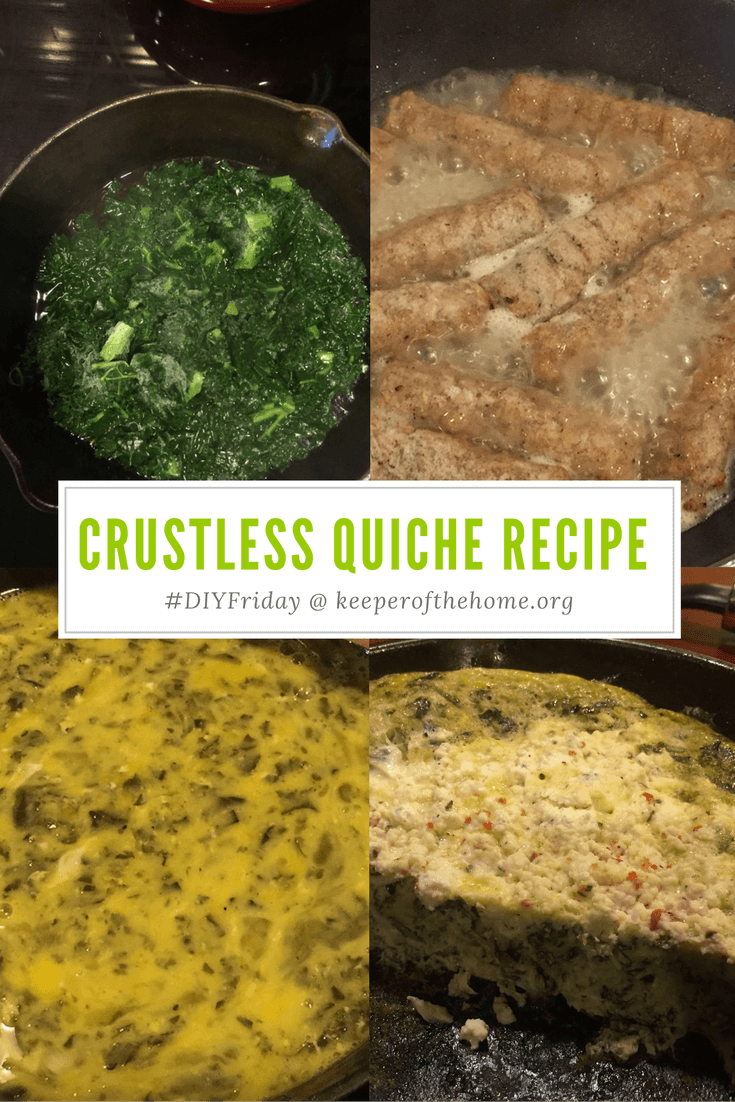 Crustless Quiche Recipe for Busy Mornings
My favorite version of this crustless quiche includes:
1 cup of fresh or frozen chopped kale 
1-2 teaspoons apple cider vinegar
8 eggs
4-5 pre-cooked sausage links
salt and pepper
seasoned feta or goat cheese
Preheat the oven to 350º.
After coating the skillet with olive oil, cook kale in half an inch of water until tender. I add a teaspoon of apple cider vinegar and salt while cooking the kale to help break it down.
I have to confess that I used to avoid kale because I didn't like the texture. However, I couldn't ignore the dense nutrients that offer such a multitude of benefits.

Kale aids in detoxing, lowering cholesterol, fighting inflammation, and boosting antioxidants. Kale is now widely studied for its positive role in fighting cancer.

Kale takes more time to cook down than other greens. But by using the apple cider vinegar and being patient for just a few more minutes, you get all the vitamins it has to offer!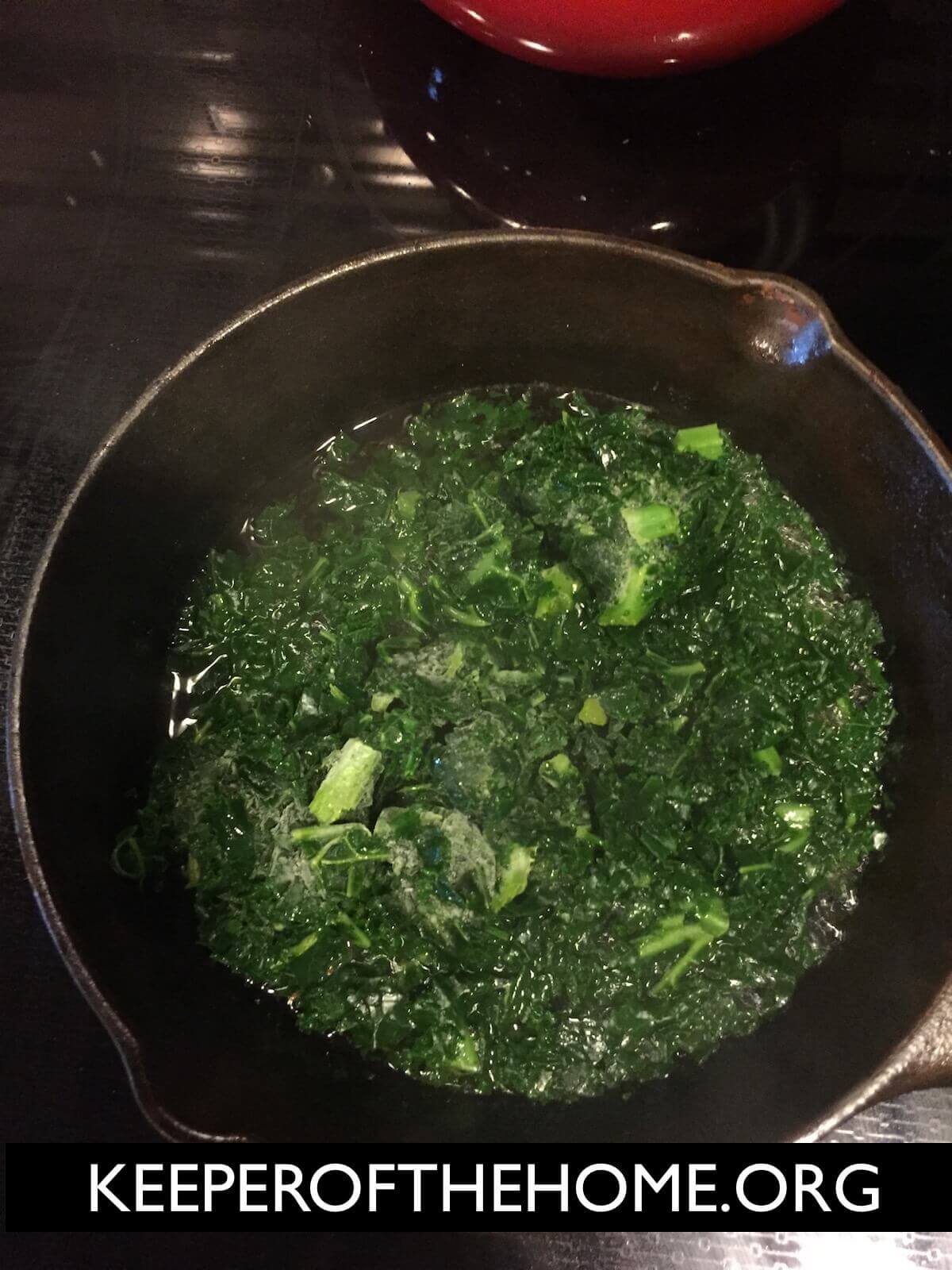 Once the kale is cooked down and the water is gone, add the rest of the spices and cut up pieces of pre-cooked sausage (bacon would work great here too).
Add eggs and mix thoroughly.
Cook on medium heat until eggs are mostly firm around the edges and the middle is still slightly liquid.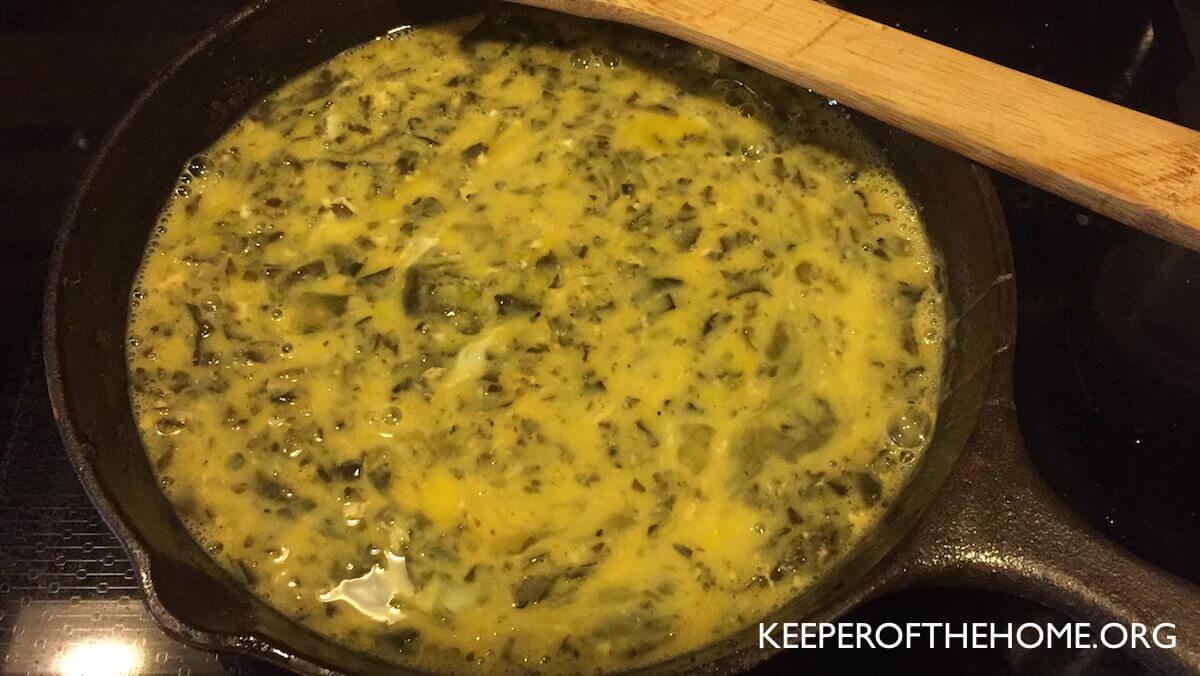 Add feta or goat cheese on top and remove from stove.
Place in oven and cook at 350º for 10 minutes.
Enjoy with freshly sliced tomatoes on the side, sprinkled with salt and pepper.
Feel good knowing that you prepared yourself and your loved ones a tasty, nutrient-dense, protein-packed meal that will help you thrive!
Wondering if you should invest in cast iron? 
Its exceptional heat retention abilities will keep your yummy eggs warm while you get the kids out the door.
It cooks evenly throughout the pan.
Cast iron goes from stovetop to oven.
I think it's important to note that iron deficiency is fairly common worldwide particularly among women. Cooking food in a cast iron skillet is said to increase iron content by as much as 20%.
Even though the care is a bit different than other pans, it's still super easy. I rinse it out and immediately wipe with olive oil after each use.
What's your favorite way to eat or serve a crustless quiche recipe?
Disclosure: This post includes affiliate links. Thank you for supporting our work and mission!