The Handbook of Vintage Remedies: Review and Giveaway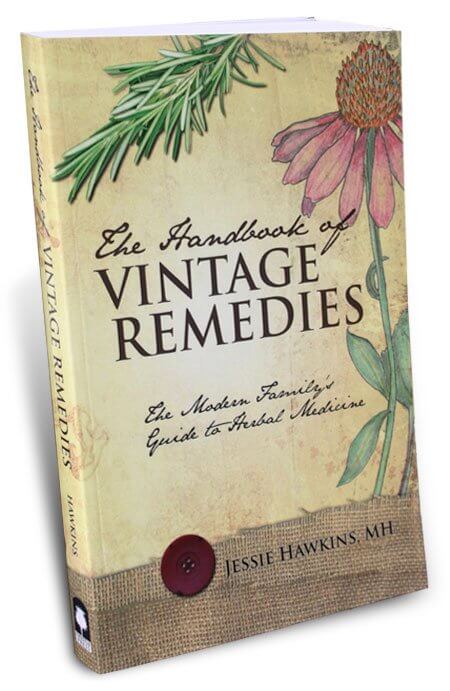 This year I've committed myself to studying up on herbs in greater detail, learning how to use them for treating sicknesses, discomforts and other ailments, as well as for boosting our overall health. It's been fascinating so far and I just love the in-depth learning that I am doing.
However, in-depth personal study on the topics of herbology and natural remedies certainly isn't for everyone. I know that many moms are looking instead for some sort of easy reference for natural and herbal remedies. The Handbook of Vintage Remedies really fits the bill, with information that is suited to the whole family, including pregnant and breastfeeding moms, infants, children, and the elderly.
It is not only a great go-to guide, but it also spends some time teaching in the early chapters about the concepts of natural and alternative medicine, about herbs, homeopathy, botanicals, nutrition and more. Author Jessie Hawkins, MH, works hard in the beginning of the book to really lay a foundation for why and how a family might want to use these types of remedies and how to pursue good health in a holistic way, and not just by treating symptoms of illness. Jessie is an ideal person to learn from, as she has completed numerous herbal programs herself, and has additional education in midwifery, childbirth education, environmental health, childhood health and modern disorders and birth doula certification. Best of all, she approaches natural health from a Christian perspective, which is so very needed with the vast array of options that are out there today!
The main section of the book works alphabetically through all sorts of common symptoms and conditions, such as Acne, Bed-Wetting, Canker Sores, Colic, Eczema, Gallstones, Pink Eye, Sinus Infection, and Urinary Tract Infections. I didn't count, but there are probably more than 100 ailments included. There are a few more chronic conditions listed as well, like Autism, ADHD, Diabetes and Ulcers. It's honestly hard to try to come up with something that isn't covered in the book!
Following this, Jessie goes into about 30 herbs and botanicals in more detail (focusing on ones that are used repeatedly throughout the remedies in the book), telling you briefly about the history of a herb, how it is usually used, some dosage tips, and when to avoid it. Lastly, there are a couple of short chapters with recipes for non-toxic, homemade cleaning supplies and beauty/skin care, which look wonderful and many of them are quite simple to make.
Now, I am one of those people who has umpteen books on natural remedies, alternative health, nutritional therapy and naturopathic treatments. Most of them are virtual encyclopedias of information, but that's actually part of the problem. When I go to look up a specific illness or complaint, I find pages and pages of information, and often a list of anywhere from 10-40 different supplements and herbs that might be useful. Filtering through it all can be very confusing and daunting, especially to those who are newer to alternative medicine.
What I appreciate about The Handbook of Vintage Remedies is that Jessie, who happens to be a mom herself, has written it specifically for moms. It doesn't bog you down, but succinctly and simply steers you in the right direction!
You may have noticed the advertisement for The Handbook of Vintage Remedies on my sidebar this past month or so. Although I have not received any compensation for writing this review (except for a book to review), I gladly chose to run the ad because this is a book that I would be happy to recommend to other moms. I love tools that give you a good foundation and some confidence in your own ability to make wise, natural choices for treating illnesses in your family. You'll also note that the ad includes a coupon code for free shipping when you buy the book, by using the word "KOTH" when you check out.
I have one copy to give away as well! Who would like to add The Handbook of Vintage Remedies to their own arsenal of tools for keeping their family healthy, naturally?
Here's how you can earn yourself some entries:
Leave a comment telling us either why you'd like to win this book, or a favorite natural remedy that you already use.
Follow Jessie on Twitter (@VintageRemedies)
Become a Facebook fan of Vintage Remedies
Follow myself on Twitter (@KeeperHome)
Tweet or Facebook the giveaway.
Subscribe to Keeper of the Home.
Strike up a new topic in the Forum, or join in on a conversation that's already happening (or become a member if you aren't one yet).
*Please remember to leave each entry as a separate comment!
Giveaway will end Saturday, February 20th at 3:00pm. Giveaway has now ended!