Getting Back in the Swing of Meal Planning (and My Two-Week Plan)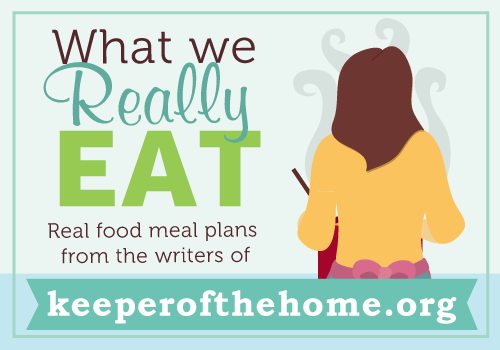 Do you ever wonder what the writers on Keeper of the Home really eat? Wonder no longer. This is the first of many posts to come, where one writer each month will take a turn to share an actual two-week menu plan. Natalie, a busy wife and mom of 9 is the first to share, and I love her honesty. And I want her rice cooker. Read on…
I snickered when Stephanie asked us to write up a two week menu plan. Ten years and five babies ago ago I was a menu-planner extraordinaire, and I could've written this post without feeling like such a hypocrite.
Today? Well, let's just say that I promptly took advantage of Stephanie's current eBook sale (her three awesome books bundled together for 50% off) in order to get a burst of inspiration. And a good kick in the pants.
It worked!  I've been motivated to get back to eating healthier…and planning plays a large role in making that possible.  While I have consistently planned out our weekly dinner menus, I've completely let breakfast and lunch go to pot. Breakfast has been cold cereal and toast, and lunch has been leftovers or sandwiches. Can anybody say PB and J?
So now you see why the pants needed kicking. I could just end it right there. I mean, that's what the name of this series is all about, right? What we REALLY eat? Ah…but the winds of change are blowing, and this old girl has made up a serious menu plan–all three meals— for the next two weeks.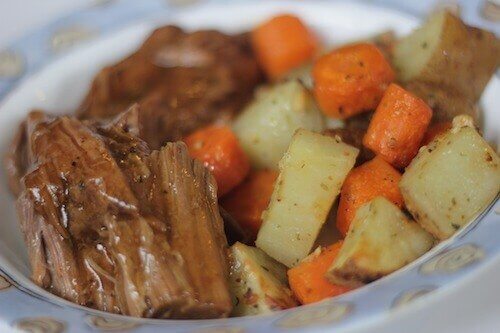 My Usual Menu Planning Method
I select menu options from a master list of our favorite meals.
I try to menu plan when I'm somewhat hungry.
I do a quick inventory of my freezer, fridge and pantry to see if there is anything I can use up…and select menu options that will utilize those items.
I make my grocery list.  On a small white board in my kitchen, I do keep a running list of other staples we need as we run out and then transfer those items to my grocery list as well.
We do have a few "set meals" that are the same every week. On Sundays I don't cook. Joe makes breakfast…scrambled eggs, bacon, toast and OJ. For lunch we grab pizza on the way home from church. For dinner we clean out the fridge of leftovers from the week before and have a smorgasbord. In the event that there are no leftovers, we eat tortilla chips and cheese…or popcorn and chocolate malts. Or something else weird.
Saturday mornings I make one of four breakfasts: waffles, pancakes, crepes or french toast. I usually heat up some frozen berries and jam for a berry topping…and whip up some heavy cream. It makes for a special family breakfast before we begin our weekly house cleaning chores.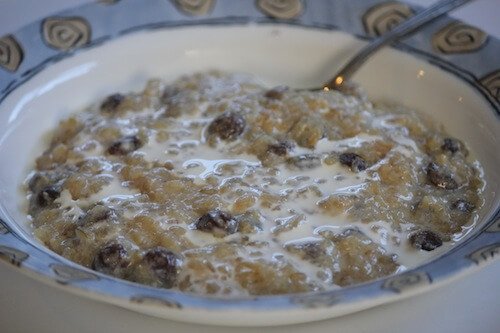 An Alternative Adventure
So that is what I USUALLY do when things are "normal" around here. But here's something else I do once in a while, just for kicks. You know…when things get boring, and you want to spice life up a bit. And it just so happens that I did it about four hours ago…so it's fresh in my memory, which tends to only go back about that far anyway.
I don't take a grocery list with me. (GASP!)  I know! It's like free falling! I grab my cart and make my way through the store looking for IDEAS, and then I throw the ideas in the cart. We're talking total serendipity. Gets us out of our "rut" once in a while. 
When I get home, I write out the meals I can make with my "idea" food, and then fill in the blanks with regular menu items from my tried and true list. Once I have all my meals planned out…I make a REAL grocery list of anything that is missing, and my husband will take the little kids out on Saturday morning for another grocery adventure while the older kids clean the house.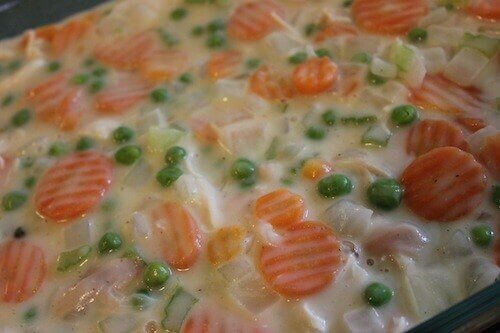 So without any further ado…here is my two week meal plan:
Week One
Sunday
Breakfast: Eggs, bacon, toast and orange juice
Lunch: Pizza
Dinner: Leftovers
Monday
Breakfast: Overnight egg strata and smoothies.
Lunch: Easy chili…just beans and pre-browned hamburger from the freezer, tomatoes and tomato sauce. I will put this in my rice cooker that I adore after breakfast on the slow cook setting…and it will be hot and ready at lunch.
Pot Luck with our small group from church: Big salad with all the fixins and a cheesy potato casserole with ham.
Tuesday
Breakfast: Cold cereal and toast~we'll be coming home late the night before…I'll be up at night with a baby…and the kids will have to fend for themselves the next morning because I will be a zombie.
Lunch: Egg salad and lettuce on whole wheat, vegie plate with dip and fresh fruit.
Dinner: Chicken stir fry with broccoli, cauliflower and red/yellow/green peppers and onions on a bed of rice made in my rice cooker that I adore.
Wednesday
Breakfast: Oatmeal in my rice cooker that I adore…I use the "porridge" setting for perfect oatmeal. I love to add raisins and chopped nuts when it is finished. And thick cream.
Lunch: Leftover stir fry
Dinner: Beef, bean and rice burritos and salad with the fixins. Again, I can whip these up fast with beans and pre-browned beef from the freezer along with extra rice that I made the night before for our stir fry. My rice cooker that I adore is BIG.
Thursday
Breakfast: Poached eggs on toast. I love a poached egg.
Lunch: Grilled Cheese on whole wheat and tomato soup.
Dinner: Chicken wild rice soup with crusty bread and fresh fruit.
Friday
Breakfast: Fruit and yogurt smoothies with almonds, coconut oil and flax seed.
Lunch: Leftover wild rice soup with whole grain crackers, fresh fruit, and sharp cheddar cheese wedges.
Dinner: Baked Almond Chicken and sauteed asparagus.
Saturday
Breakfast: Waffles with strawberry sauce and cream. I will need to put the two roasts into the crock pot this morning as well.
Lunch: Turkey and cheese wraps with chips and pickles.
Dinner: Roast beast (as we call it) with roasted root vegetables.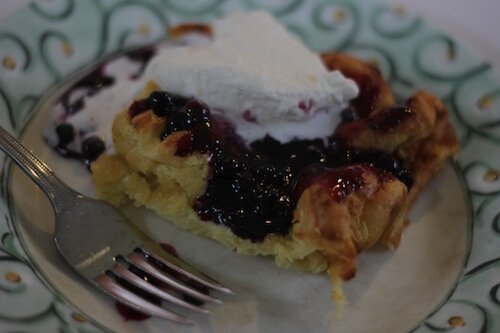 Week Two
Sunday
Breakfast: Scrambled eggs, bacon, toast and orange juice.
Lunch: Pizza
Dinner: Open faced roast beef sandwiches with gravy, salad, and fruit
Monday
Breakfast: Yogurt and granola
Lunch: Fajitas with bell peppers, onions, and the last of the beef.
Dinner: Spaghetti with meat sauce, salad, and french bread.
Tuesday
Breakfast: Hearty Oat Scones and fruit
Lunch: Leftover spaghetti sauce on french bread with melted cheese and salad.
Dinner: Chicken pot pie and fruit bowl.
Wednesday
Breakfast: Seven grain porridge made in my rice cooker. (Have I mentioned how much I LOVE this tool?) I put the ingredients in the night before and set the timer. Breakfast is ready when I roll out of bed.
Lunch: Tuna melts, vegie platter with dip and fresh fruit.
Dinner: Beef stroganoff on noodles and green beans.
Thursday
Breakfast: Hard boiled eggs and raisin bran muffins.
Lunch: Leftover stroganoff. I like to make a fresh batch of noodles…and just heat up the leftover meat part.
Dinner: Wild cod, baked, with roasted potatoes, peppers and onions.
Friday (I'm gone all day today…have a hair appointment and will be spending a few hours writing, so things need to be simple.)
Breakfast: Cold cereal and toast.
Lunch: Peanut butter and jelly sandwiches with carrot sticks and fruit
Dinner: Beef barley soup in the crock pot with crusty bread. (I will put this together in the a.m. before I leave.)
Saturday
Breakfast: Dutch oven pancake with blueberry sauce and whipped cream.
Lunch: Hoagies with pickles and chips.
Dinner: Honey pecan chicken salad with fresh fruit and strawberry scones.
P.S. In case you are wondering about my rice cooker, with money I received for Christmas this past year, I bought a multi-purpose 10 cup Zojirushi with neuro fuzzy logic technology, a porridge setting for perfect hot cereals including steel cut oats, and a slow cooker setting.

This slow cooker works better than any crock pot I've owned…the only bad thing is that it isn't as large as my HUGE crockpot…so I can't use it for everything. But it is perfect for  crock pot style chili and vegetable beef soup etc.

It's also perfect for cooking big batches of beans and, you'll never guess… rice (we love brown, organic, short grain "sticky" rice…good for you…and GOOD). It will cook up ANY kind of rice to tender perfection. Even brown, long grain rice.

It's one of those big purchases that I will never regret since it aids me in feeding our large family healthy, delicious foods.
Do you have set meals that happen on certain days? And which kitchen tool would you find it hard to live without?