10-Minute Lunches: Turkey Wraps
With a busy household it is always nice to find recipes that are quick to make, nutritious, and well received by the family.
These turkey wraps are just that!
In fact, they are one of my husband's favorites.
As warmer weather approaches, wraps are a welcome treat, since there is no need to turn on the oven or heat up the kitchen!
Next time you have a roast dinner chop leftover turkey into bite-sized pieces and store in the freezer. If a turkey dinner is not on the menu any time soon, you might like to prepare ahead by cooking turkey breasts in the crock pot or under the grill for future use.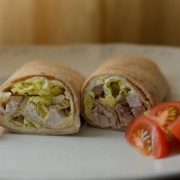 Print Recipe
10-Minute Turkey Wraps Recipe
Adapted from Saving Dinner by Leanne Ely.
Ingredients
1/3

cup

Cheddar cheese

shredded

1 1/2

tablespoons

sliced green onions

2

teaspoons

Dijon mustard

8

ounces

cream cheese

6 to

rtillas

1 ½

cups

cooked turkey

cubed

1 ½

cups

napa cabbage

shredded
Instructions
These turkey wraps are quick to prepare, especially if you have leftover or pre-cooked turkey. If not, turkey cutlets or breasts cook fast in a pan on the stove top or under the broiler. The quickest method is to cook turkey cutlets on the stove top: Melt 2 tablespoons of butter in a pan over medium heat. Cook cutlets for 3 to 5 minutes on each side until internal temperature reaches 165 degrees F.

In a food processor, blend the cream cheese, green onions and mustard until smooth. Add shredded cheese and pulse to incorporate. If you don't have a food processor, place the first four ingredients in a bowl and stir well. This will make a delicious spread for the tortillas (which is actually pretty good on crackers and as a dip for vegetables, too).

Spread 2 to 3 tablespoons of cream cheese mixture over each tortilla.

Sprinkle 1/4 cup cabbage and 1/4 cup turkey over each tortilla. Roll up and serve with a side salad, baby carrots and/or fruit.
Wraps are a great way to feed your family healthfully and without much fuss. Just roll some meat and veggies in a tortilla (or lavash bread) and you are good to go.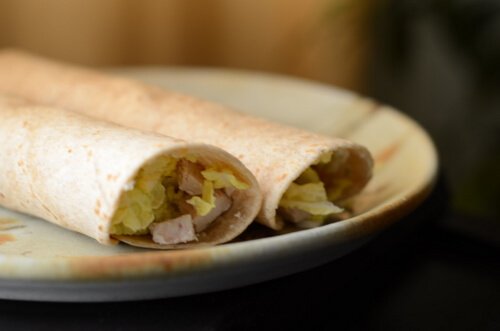 Another reason I enjoy wraps is because they are lighter than sandwiches. Without the heaviness of bread, a wrap provides protein, vitamins and minerals, and a moderate amount of carbohydrates. Sounds like a winning combination to me!
Another favorite wrap you might enjoy: Veggie Tortilla Wrap
Do you enjoy wraps? What is your favorite combination?