Organization in the Real Food Kitchen: Making Room for Bulk Storage
When you think of storing bulk food, what comes to mind? Do you wonder where you will ever keep it? Do you dismiss the idea because your kitchen storage is already on the small side? Do you envision hefty, 25 lbs bags of grains sitting in your dining room, with no where else to go?
Most homes these days aren't exactly set up for storing food in bulk. I long for the days when every home had some sort of a root cellar or storage room suitable for keeping food for the winter. Buying my whole foods in bulk and storing home grown and canned seasonal produce is key to keeping our food costs low, while still eating high quality, nourishing foods. In order to make buying in bulk a reality, I need to have a place to store it.
Time to get creative! What are some of the types of places that bulk food can be stored?
In the Pantry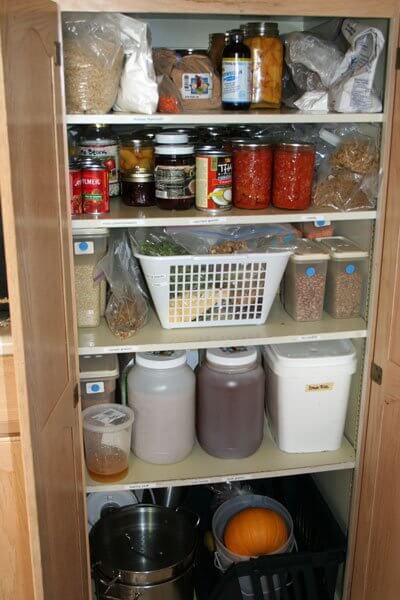 This is my recently re-organized pantry. It's not huge, nor is it a walk-in (my dream pantry!), but it's actually amazing just how much I can fit in it when I keep it neat and tidy.
I utilize the space very thoroughly, taking into account the height of different containers and jars, and storing things all the way to the very back. If I have something like jars of tomatoes, I can keep them mostly along the back and then a row of them coming up to the front, so that I can just take the front one. I don't need to see them all. When I have extras of items, I keep them in the back to preserve space up front, and I can dig for them when I really need them.

Having a lot of containers does help to keep it tidy and make the storage space well-utilized. I have quite a few older Tupperware containers for dry goods. I also save all of my 1 Gallon honey tubs to reuse. Glass jars are fantastic for storing so many pantry items. Large ziploc bags make it in there when I have nothing else to use. The white basket in the center holds all of my bags of bulk spices, and it contains the chaos that is my spices very well.
On Top of Kitchen Shelves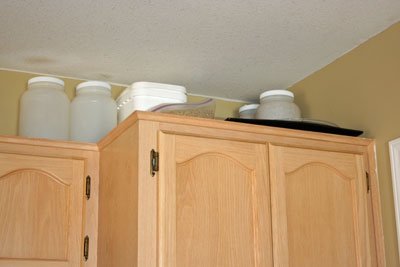 No, it isn't the prettiest sight, aesthetically speaking. It's beautiful to this frugalista, though. The extra foot or two above my kitchen cupboards allows me that space that I need when everywhere else is overflowing.
I try to keep it tidy at least by using my 1 Gallon containers, and some other storage containers and bags. I use it mostly for grain and sweetener storage, as well as home canning in the fall when my kitchen is bursting at the seams with harvest goodness.
I have on occasion (yes, really truly) heaved an entire 25 lb bag of grain up there when I wasn't ready to open it. Definitely not so pretty, but it served it's purpose until I was ready to divy up the grain to smaller containers.
In Drawers
Last year we acquired a gorgeous antique bankers filing cabinet. It sits in my living room as a display piece, because I didn't know what to use all of the itty bitty, and some oddly shaped drawers for.
Recently I've begun to use them for kitchen storage. They are currently holding all of my bulk herbs. In the summer, when I start dehydrating garden produce like crazy, that's where my extra bags and jars will go.
We don't all have a cabinet full of little drawers, but perhaps you have dressers that aren't being fully used, empty bathroom cupboards, or some other space that you haven't known what to do with. When in doubt, fill it with food!
In the Garage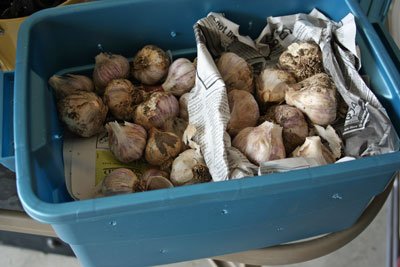 This is the bin of garlic from my garden last summer. I grew enough to last us a full year (including some to plant, and some to giveaway- I grew a lot of garlic!). This bin sits in my garage, where the cool temps help to keep it fresh longer.
I have another larger Rubbermaid bin that also sits in my garage. It is full of bags and containers of steel cut organic oats which I buy 25 lbs at a time, as well as Sucanat that I bought in a 50 lb sack (which made it half the price of buying it in smaller amounts). We keep the smaller containers and bags in the large, sturdy bin just to avoid rodent problems and to ensure that the food stayed untouched.
In Closets
I wish I had a picture to show you some of the things I've stored in our master bedroom walk-in closet. My favorite was a big tub of spaghetti squash from my garden two years ago. I've also stored cases of hemp milk, and some canned goods. No, it's not a large closet, but I needed space and it did the trick.
Many people have far larger closets that we do, and if you keep it wel -organized, that might be a really great place for storing bulk dry goods, like baking items, grains, or canned goods.
In the Laundry Room
Obviously not suitable for everything, due to some of the warmth and moisture from the washer and drier, some things can be stored just fine in the laundry room. Canned goods should keep well in a laundry cupboard, unless your laundry room is especially humid for some reason (the lids might rust then). Sealed bags of rice pasta, unopened jars of spaghetti sauce or apple cider vinegar, or bulk honey. There are lots of things that could still work in the laundry room.
In the Freezer
I think this goes without saying as a perfect place for storing many bulk foods. For more on keeping your freezer well organized, see this post.
When All Else Fails…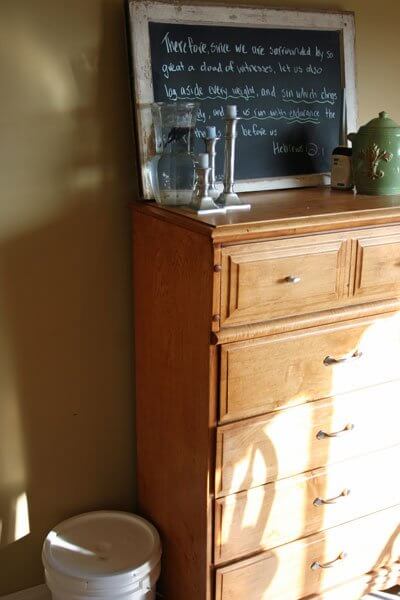 My 5 gallon tub of coconut oil, that has nowhere else to go. My kids think it's a fun little stool. It keeps the fish company, while it lives in my dining room. Yet another real and humbling confession from this everyday mama. It's the only thing I can't find a place for!
What nooks and crannies of your home do you fill with bulk foods? How do you get around lack of storage space?